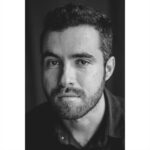 Bio
Hunter Franks creates art that intervenes in the social and physical landscape of our urban environments. His participatory installations in public space break down barriers and help us reimagine our relationships with each other, our neighborhoods, and our cities.
Projects include a 500 person dinner on a freeway, a storytelling exchange to connect disparate neighborhoods, a public display of first love stories, and a vacant warehouse turned community hub. His Neighborhood Postcard Project has been carried out in 23 communities from Chennai, India to Santiago, Chile and his League of Creative Interventionists has chapters in cities around the world from Cologne, Germany to Akron, Ohio.
In 2011 he walked from Los Angeles to New Mexico — an experience that continues to fuel his desire to tell the stories of underrepresented people and places. He currently resides in San Francisco, California.
Artist Statement
I create ways for people to share introspections, hear other people's stories, and reimagine social norms. My practice encompasses community-based public art, visual works, writing, and installation. I share cultural commentary and conduct actions that display that we are all far more similar than we are different. As people begin to contemplate their own role in shaping culture, they begin to reimagine the possibilities present for connection, love, and joy in their lives and the world.
Selected Work