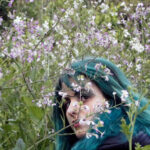 Bio
Natasha Carlos is a photographer working across mediums to explore her relationship to nature through self-portraiture that celebrates the mysterious moment when environment and identity come together.
Her latest project Remember There's Magic, was completed during her first residency at Zaratan - Arte Contemporânea in Lisbon, Portugal. Between photography, video and installation, the series explores the unpredictability of our individual existence and how that can impact our perspective.
Artist Statement
I am driven by a ritualistic compulsion to repeatedly visit the same sites. This need unlocks an obsessive curiosity of what still remains unexplored or seemingly unreachable. The tension between the known and unknown creates an innate safe space for me to uncover the layers of my identity, untouched by the constructs of society. My imagery encompasses multiple experiences in a single moment through photography that is layered and sculptural. My work is an archive of my continued collaboration with each site, presented through the veil of my personal experience. The perspective and interactions with my imagery are forced through their multidimensional presentation, demanding to be viewed on their own terms.
Selected Work