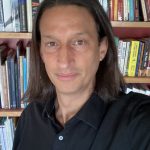 Bio
Nathan Suter's training as an artist is in photography in which he holds BA from Haverford College (1995) and an MFA from the San Francisco Art Institute (2002). It was there, in 2001, that his work expanded to include sculpture, installation and other conceptual projects. These outlets—in combination with his photography—better express his thoughts on our social and physical spheres. Nathan is currently exploring the seams, frontiers and holes between these spheres. In the case of Daruma Seven and Daruma Eleven—which are three meters tall and two meters in diameter—he is working with ideas of scale, the limits of our physical abilities, and the social elements of games. His statement about the sculptures is quoted below. Nathan and his wife, Morgan Lloyd, a Burlington, VT native, recently moved to Vermont from the Bay Area. For the last nine years Nathan has consistently exhibited his work in the Bay Area and Central Valley. Daruma Seven and Daruma Eleven are currently on loan to the University of California, Merced, installed in the Kolligian Library. For the last three years Nathan taught art at Eastside College Preparatory School in East Palo Alto, CA. In 2002 Nathan co-founded Root Division with Mitch Temple and Dennis McNulty. He currently serves on the Board of Trustees. His experience teaching youth and in arts nonprofits led him to pursue the directorship of the Helen Day Art Center in Stowe, VT. He is looking forward to immersion in the strong Vermont arts community, and the possibility of a bridge between Root Division San Francisco and similar organizations on the East Coast.
Regarding Daruma Eleven (Wood, Tyvek™(high density polyethylene), 2m x 2m x 3m), he writes: "I work with ideas of balance and change. My representations of these ideas reflect power relationships between ourselves and our environment and in this case, act as metaphor for our struggle to be centered. I think of Daruma Seven and Eleven as game pieces that are larger than we -the players- are. Their size and texture resist our grasp. They obstruct our vision and our movement, damp sound, and are difficult to move single-handed. Similar to the mathematics I used to design these pieces, they are man made attempts to describe what is beyond human scale.
"What is the game that they imply? Do we compete, collaborate or co-exist? How do we relate to one another? How do we conceptualize our physical presence? How do we describe our psychological and spiritual existence?"
Selected Work