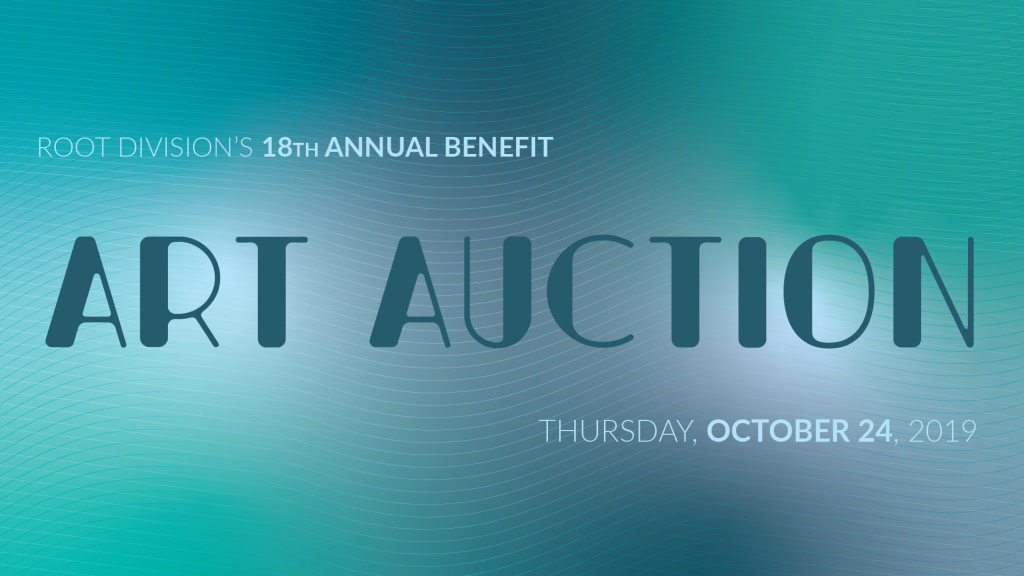 Auction 2019 | Thursday, October 24
Host: 6 PM | VIP: 6 PM | Event 7-9 PM
Live Auction beings at 8 pm. Silent Auction begins to close directly after the end of the Live Auction.
Collect art, support arts education, and be inspired by artists at
Root Division's largest annual fundraising event!
We are proud to feature an eclectic mix of high quality artwork from over 150 established and emerging Bay Area artists, including plenty of shining and rising stars! Proceeds directly benefit local artists, free art classes for Bay Area youth, and the continued success of Root Division's unique model for keeping artists working at the heart of San Francisco.
Root Division's Art Auction 2019 is an amazing opportunity to support a local non-profit arts organization in San Francisco. Money raised from this event enables us to support and train artists and to teach over 1,000 students who otherwise would not receive arts education.
We cannot do this without your support!
Starting at $400
At the Host Level, you can amplify your support while experiencing this event to the fullest!
First to view the artwork at 6 PM!
More time in the artist studios (6:00-7:45 PM).
Exclusive access to the Diamond Lounge.
Reserved seating for the Live Auction.
Includes all VIP benefits: complimentary valet parking from 6-10 PM, passed appetizers and specialty cocktails, and a limited-edition artist-designed tote filled with goodies and gifts!
Plus tickets to our Collector's Preview on October 15.
A generous part of your contribution is tax-deductible!
Starting at $150 ($200 after 10/21)
As a VIP, experiencing this event to the fullest!
Early entrance at 6:00 PM.
More time in the artist studios (6:00-7:45 PM).
A limited-edition artist designed tote filled with goodies and gifts.
Complimentary valet parking from 6-10 PM.
Plus all of the Event Level Benefits listed below.
Starting at $60 ($75 after 10/21)
As our guest, you have access to all the fun!
General entry to the event starts at 7:00 PM.
Sneak peek into our studios (7:00-7:45 PM).
A chance to bid in our Silent Auction.
Bites, libations, music and more!
Aaron Rosenstreich
AJ Oishi
Alexandra Bailliere
Alexis Arnold
Alice Combs
Aliza Cohen
Alyssa Aviles
Amanda Quiroz
AmberJean Young
Amy Ahlstrom
Amy Ellingson
Amy Kaufman
AmyM. Ho
Ana Bedolla
Andrew Kleindolph
Andrzej Michael Karwacki
Angelica Turner
Anoushka Mirchandani
Arielle Rebek
Azin Seraj
Ben Venom
Benjamin Guffee
Blaise Rosenthal
Blanca Estela Rodríguez
Bonny Nahmias
Brian Singer
Brigette Burns
Byron Ryono
Camila Magrane
Camilo Villa
Carissa Diaz
Carissa Potter Carlson
Carmina Eliason
Carrie Lederer
CarrieAnn Plank
Catherine Wagner
Cathy Lu
ChiChai Mateo
Chris Thorson
Christopher Reiger
Claire Astrow
Clint Imboden
Courtney Griffith
courtney sennish
Crystal Vielula
Cynthia Brannvall
Dana Hemenway
dani lopez
Danielle Nanni
Doris Mitsch
Dyanna Dimick
Ealish Wilson
Elizabeth Bernstein
Elizabeth Brooks
Enrique Chagoya
Eric Larson
Erik Parra
Eva Enriquez
Evie Leder
fnnch
Francesca Pastine
Garth Fry
Genevieve Quick
Gerald Wiggins
Hadley Radt
Hadley Williams
Hiroshi Sato
Hughen/Starkweather
Hung Liu
Hunter Franks
Irene Carvajal
Jaime Banes
Jaime Knight
Jamie Corley
JD Beltran + Scott Minneman
JD Green
Jenn Shifflet
Jenna Meacham
Jenny Phillips
Jeremiah Jenkins
Jeremy Fish
Jerry Carniglia
Jessica Snow
Joan Karissa Gallego
Jodi Connelly
John Casey
Joshua Solis
Julie Brookman
Kacy Jung
Kara Maria
Kate Nartker
Katherine Vetne
Kathryn Dunlevie
Kelley O'Leary
Kelly Inouye
Kelly Ording
Kerith Lisi
Kevin B. Chen
Kevin Earl Taylor
Kiana Honarmand
Kija Lucas
Kira Dominguez Hultgren
Laura Alexander
Laura Hapka
Laura Sanford
Leah Rosenberg
Liam Everett
Libby Black
Lindsay Stripling
Lisa Solomon
Liz Hickok
Lola
Lucy Stark
Lutz Hornischer
Makiko Harris
Margaret Dorfman
Marcia Barrow Taylor
Margaret Dorfman
Margaret Timbrell
Masako Miki
Matthew Floriani
Matthew Rogers
Maya Kabat
Megan Moriarty
Meghan Shimek
Mel Prest
Melissa Hutton
Meredith Leich
Michael Cutlip
Michael Gabrielle
Michael Goldman
Michael Krouse
Michael McConnell
Michael Napper
Michelle Mansour
Minoosh Zomorodinia
Nancy Brown
Natalya Burd
Natasha Carlos
Nathan Kosta
Ni Pan
Nicholas Price
Nick Maltagliati
nif hodgson
Nimah Gobir
Pablo D'Antoni
Palija Shrestha
Pamela Ybanez
Paul Merryman
Pegan Brooke
Peter Foucault
Philip Ringler
Piero Spadaro
Pilar Agüero-Esparza
Rachel Dwan
Rachel Liu
Rachel Rogers
Rachelle Reichert
Rafael Bustillos
Raphael Noz
Ray Beldner
ReaLynn de Guzman
Rebecca Kaufman
Rhiannon Evans MacFadyen
Robert Buelteman
Robert Minervini
Robin Apple
Robin Denevan
Rodney Ewing
Rohan DaCosta
Ross Bleckner
Ruxue Zhang
Ryan Jones
Salome El
Samu Cortez
Sandra Liu
Sarah HaBa
Scott Idleman
Shara Mays
Sherwin Rio
Sophie Feuer
Stephanie Rohlfs
Stephanie Steiner-Jacobi
Suzie Buchholz
t.w.five
Tallulah Terryll
tamara suarez porras
Tana Quincy Arcega
Taraneh Hemami
Terry Powers
Thomas McKnight
Tracy Taylor Grubbs
Travis Weller
Vanessa Marsh
Ven Voisey
Vincent Miranda
Whitney Lynn
Windy Chien
Yulia Pinkusevich
Yvette Molina
Zach Searcy
Zai Divecha
(*RD Studio Artist)
Platinum SPonsors
Gold Sponsors
Silver Sponsors
Bakerlane Vineyards
YBCA
Bi-Rite
The California Sunday Magazine
Humboldt Distillery
Rainbow Grocery
Hosfelt Gallery
Brigitte Bieyro
Drakes Brewing Co.
City College of San Francisco
Hotel Zeppelin
111 Minna Gallery
Bronze Sponsors
23andMe
All Gold
ARCH Art Supplies
Cole Hardware
DJ Raul
Framebridge
Graham Holoch
Hint Water
Lemoine
Meg Hart Design
Michael Thompson Framing
Mission Bowling Club
ODC
Rambler
Ritual Coffee Roasters
San Francisco Center for the Book
San Francisco Opera
San Francisco Symphony
Spoke Art SF
Spot Design
Sweet Sydney's
The Painter's Place
Yoga Garden
Hosts
Diamond
Lisa Danzig
Platinum
Adam J. O'Donnell
Andrea Crow & Fred Craves
Sapphire
Cynthia Loukides & Paul Harrison
Gold
Adam Polakoff & Kelsey Ahern
Ancel Martinez
Carrie Ann Plank & Blake Simmons
Heidy Braverman & David Skinner
Lizanne & Ben Suter
Primo Orpilla, Studio O+A
Sharon Tanenbaum & Matrisha Person
Other Sponsors
VIP Bags
ARCH Art Supplies
BLICK Art Materials
Clouds and Ladders
Hint Water
Michael Thompson Framing
Ritual Coffee Roasters
Root Division
Serendipity
Sweet Sydney's
The California Sunday
Food and Beverage
111 Minna Gallery
Acme Bread
Andrea Crow
Atlas Cafe
Baker Lane Vineyards
Bi-Rite Family of Businesses
Brigitte Bieyro
Broken Shed Vodka
Cole Hardware
Dynamo Donut + Coffee
Eats by E
Humboldt Distillery
Jigger + Jill
Madrone Art Bar
Mezcal El Silencio
Public Works
Rainbow Grocery
Ray Beldner
Ritual Coffee Roasters
Rambler
Shiner
Teeth
The Midway
Trader Joe's
TROOP Beverage Co.
Trumer Brauerei
Silent Auction Items
23andMe
Adobe Books
Adventure Cat Sailing Charters
Aldea Home + Baby
All Gold
A.C.T.
ARCH Art Supplies
Artist & Craftsman Supply
Baggu
Bare Republic
BLICK Art Materials
California Academy of Sciences
Cal Shakes
Cartoon Art Museum
CC Star
CCSF Extension
City Arts and Lectures
Cliff's Variety Store
Clouds and Ladders
Contemporary Jewish Museum
Dog Eared Books
Eggy Press
Fine Arts Museums of San Francisco
FLAX Art & Design
Flora Grubb Gardens
Framebridge
Golden Artist Colors
Heath Ceramics
Hotel Zeppelin San Francisco
Humboldt Distillery
Illustoria Magazine
Indigo Alice Designs
International Orange
Jenny Lemons
Josey Baker Bread/ The Mill
Kabuki Springs & Spa
Lemoine
Levi's
Linea Caffe
Mark Poulin
Mezcal El Silencio
Michael Thompson Framing
Mission Bowling Club
Oakland Zoo
ODC
Pacific Pinball Museum
Raff Distillerie
Rare Device
San Francisco Botanical Garden
San Francisco Museum of Craft and Design
San Franpsycho
SF Symphony
SF Center for the Book
SF Jazz
SF Opera
SFMOMA Artists Gallery
Sociale
Smuin Contemporary Ballet
Spirit Works Distillery
Spoke Art SF
Sports Basement
St.George Spirits
Teeth
The Aesthetic Union
The Circus Center
The Monk's Kettle
The Painters Place
Therapy Stores
Trick Dog
Twinberry Wood Vacation Home
Urban Putt
Walt Disney Family Museum
Windy Chien
Yerba Buena Center for the Arts
Yoga Garden
Zero Zero
CHECK OUT HOW MUCH FUN WE HAD AT THE EVENT!