Shirat Ha'Yam is an online and dispersed exhibition that examines the healing properties of the sea. It is said that people tend to go to the sea when they feel sad and that explains why the sea is salty. It is also said that the sea is the place where one can purify and shed their sins away. There are infinite tales, poems, and songs about the sea, some which Shirat Ha'Yam / Song Of The Sea explores. The exhibition's namesake is inspired by a biblical poem that is chanted every sunrise during morning prayer. It renounces the miracle that happened when Moses parted the sea and guaranteed the Israelites freedom at last.
During this moment of lock down, collective fear, and the inability to share art together, viewers were also given the opportunity to exhibit part of the show in their home by answering: "What dream did you have at sea?" in exchange for a mailed art object.
I had the honor and pleasure of interviewing Bonny Nahmias to discuss her practice and the impetus behind Shirat Ha'Yam. The dialogue was rich and fruitful, enjoy. – Chanell Stone, Root Division Exhibitions Fellow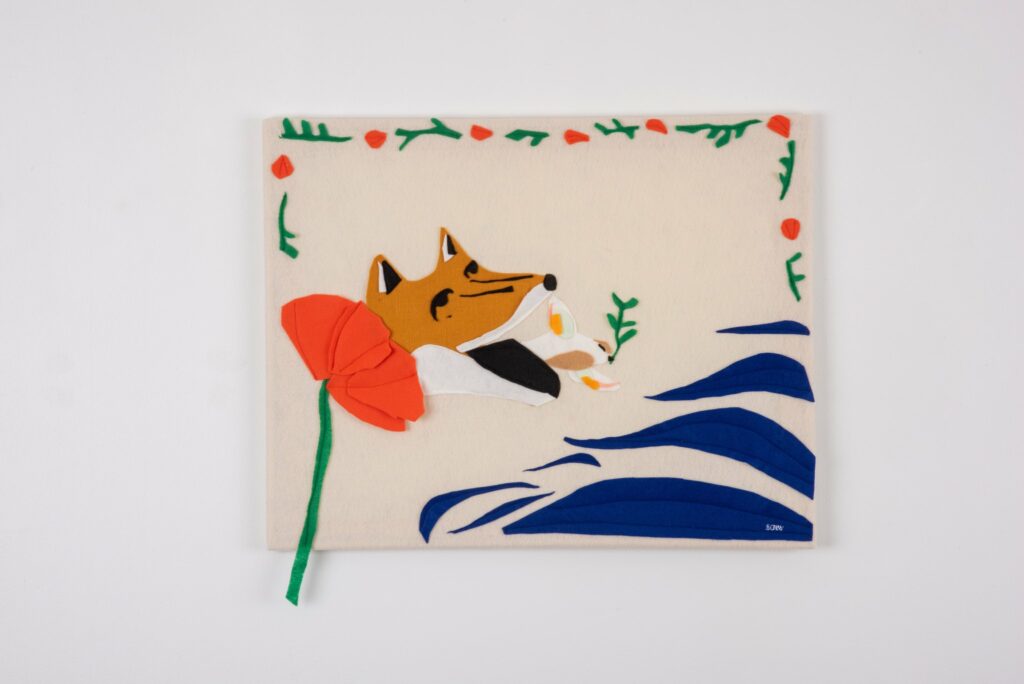 Chanell Stone (Exhibitions Fellow): Bonny, your practice is extensive and multifaceted. Can you tell me more about your relationship to art making?
Bonny Nahmias (Studio Artist): I think I am forced to make stuff through the process of understanding my purpose. I need to prove my existence, to remember that every breath should not be taken for granted. I spend a lot of time looking and always have been. Even in my report card from elementary school it is mentioned "Bonny tends to daydream often" sometimes people talk to me and I am just so amused by the shape of their face or the movement of the cheekbones. I then want to re explain what I witnessed, and I guess art making has become a way to process all the beauty I see and feel in my heart. There is constant magic and alignment that happens and if you don't see it, some art will show or remind you that it is there.
CS: How did participation become such an integral part of your practice?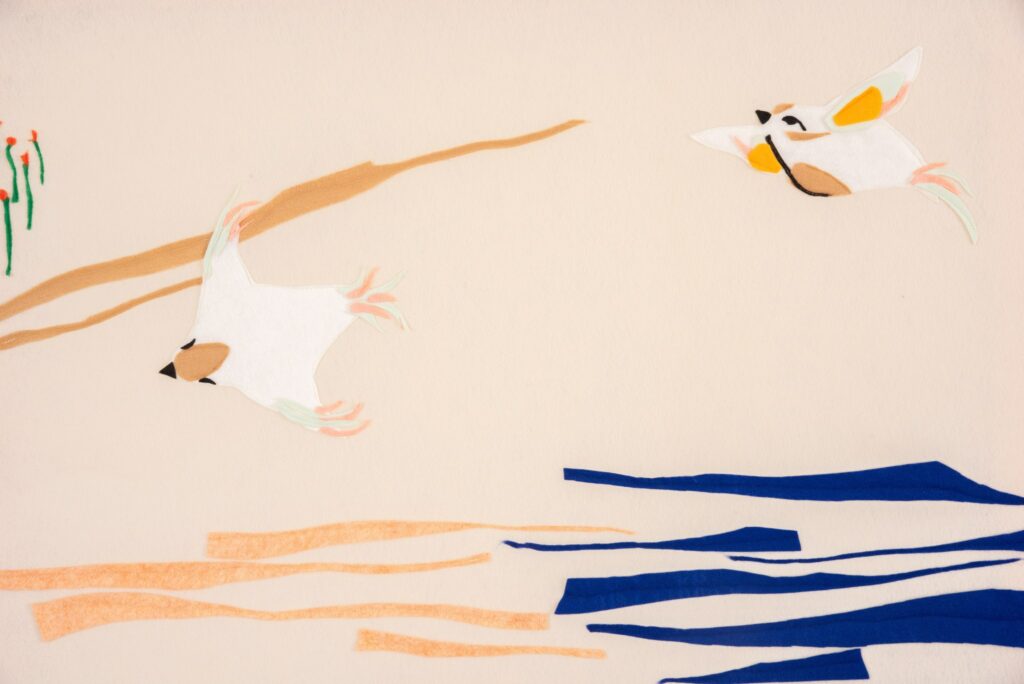 BN: I come from a background in theater, dance, and performance. They used to tell me that without an audience you don't matter. You basically don't exist without at least one audience member. So I guess I took this philosophy into my visual art practice as well. I must have a concrete exchange with my viewers in some way. I also really care about gatherings and community as a way to live life. We need each other in order to understand ourselves. I am the most happy when I am surrounded by the people I love.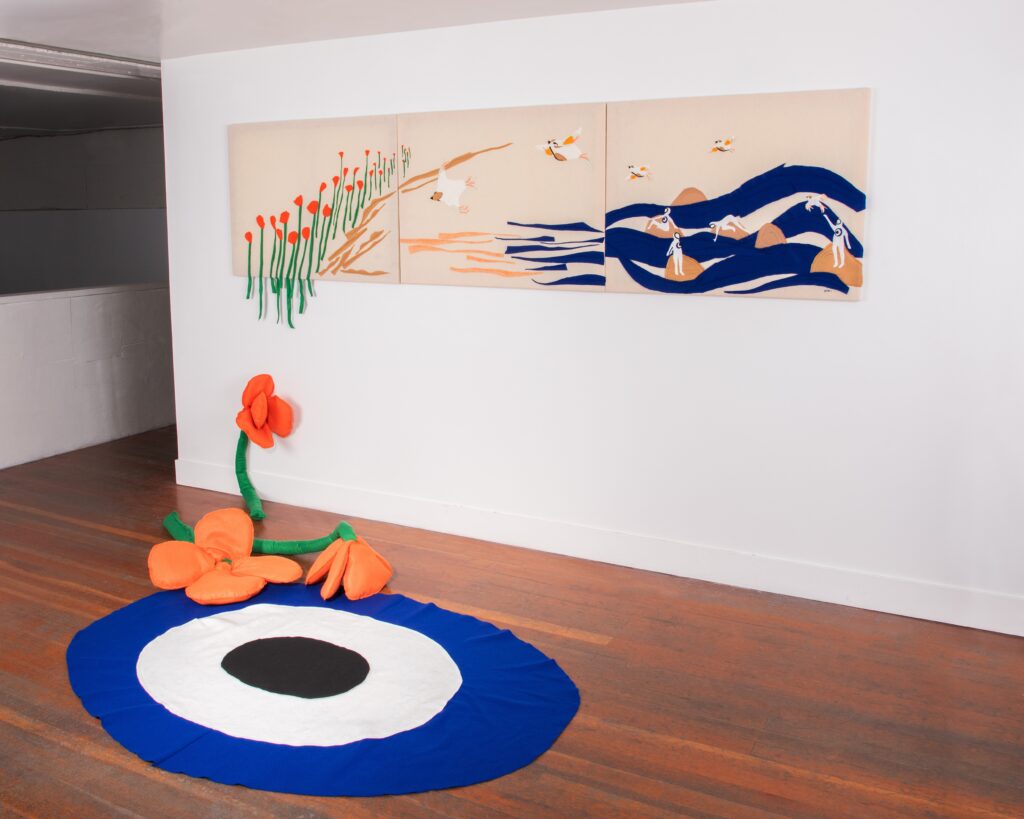 CS: Can you explain more about the impetus behind Shirat Ha'Yam? How are you re-imaging the origins of this prayer via your exhibition?
BN: Shirat Ha'Yam means Song Of The Sea, it seemed like such an appropriate name for this exhibition and I am ever more sure about it now. Since the exhibition opened, I have been getting so many submissions and reading people's dreams at sea, I have been having more dreams at sea myself. Last night I dreamt that I drove by the sea with a good friend and a tsunami washed us but we were fine. The night before I dreamt I was living right by the sea and I kept looking at the beautiful blue water from my balcony. I wonder if this is the same for the viewers who have been submitting their dreams to the exhibitions. I wonder if now we are connected through dreamland. People say "oh it was just a dream" but it cannot be "just" something, because we spend over a third of our life dreaming. It should be as valuable as mundane life. The biblical song Shirat Ha'Yam praises the miracle of parting the sea and guaranteeing the Israelites freedom at last. The sea has the ability to guarantee a fresh start. It is something that we are experiencing now with COVID. We lost a big portion of our freedom and we pray to get back. We took for granted so many things that are taken from us and now we know how valuable these things were. Simple thing; going on a walk with a loved one or having a meal, these simple exchanges are the most important things in life.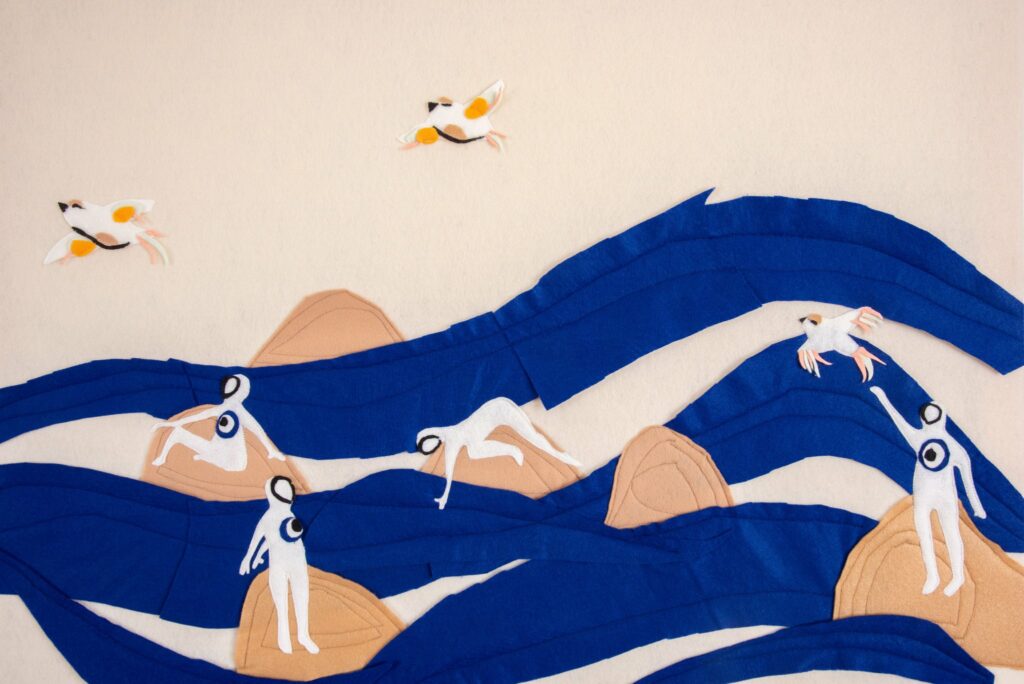 CS: Can you tell us more about the art object available & how does collective care play a role in your life and practice?
BN: The art object will be made by a selection of dreams I received that inspired me to create. Dreams of selected participants will come true by mail. They will be getting a small felt painting resembling their dream to look at, some herb from my garden to smell, a poem to read/hear, and the protective eye to guard and guide them at this time. I hope that this gesture from me to them would bring good things their way.
CS: What was your thought process behind your written & spoken poem? It is beautiful and reads like a guided meditation.
BN: It was actually written for my husband. It was his birthday and I wanted to celebrate with him. It ended up being a one on one performance meditation piece made specially for him. I hope I can write more such nuances, inspired by, and for those who sent their dreams to me.
CS: You've experienced major life transitions, one of which includes becoming a mother. How has this influenced you and where do you see this leading you next in your journey?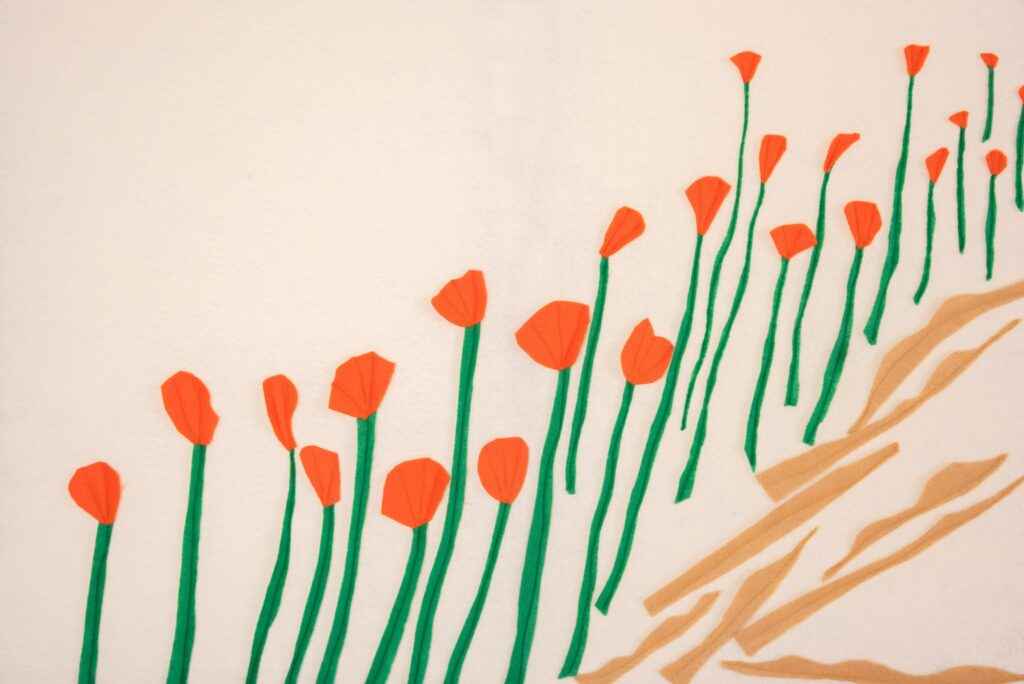 BN: I am not sure. I am still pregnant and hear that I am about to experience something I can't even imagine and can't be explained. I am just going to allow whatever needs to happen happen as far as my art and path in general. I really just want to be present in the moment. I think it is all I can do, or anyone can do. We want to control the future or the past all the time but then we miss what is right here. I might sound like a cliche, but I really believe in this ancient wisdom.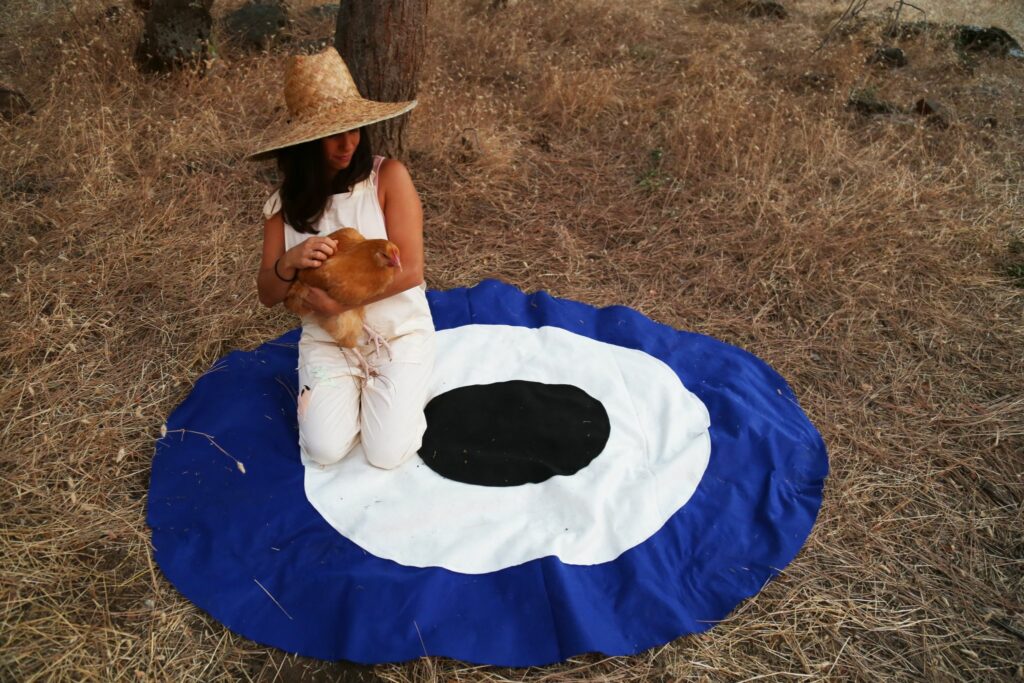 CS: Shirat Ha'Yam is quite the culmination for you. I've come to understand that your term as a Root Division studio artist is coming to an end this year. How has your time at Root Division affected you as an artist?
BN: It has been a beautiful ride. I am so happy I joined this community. It was a year of major growth and transition for me. I have experimented with new mediums and came up with a whole new body of work. I got to participate in some awesome exhibitions and even teach one adult art class, something I was not sure I was able to do prior. I feel like RD pushed me to try new things and take risks and explore. The community and staff have been such an amazing support and safety net as well. I am very grateful for all that has happened in those (almost) 2 years of residency.
Bonny Nahmias' solo exhibition Shirat Ha'Yam (שִירַת הַיָּם) is on view online in the Frank-Ratchye Studio Artist Project Space at Root Division from January 7th to January 22nd.