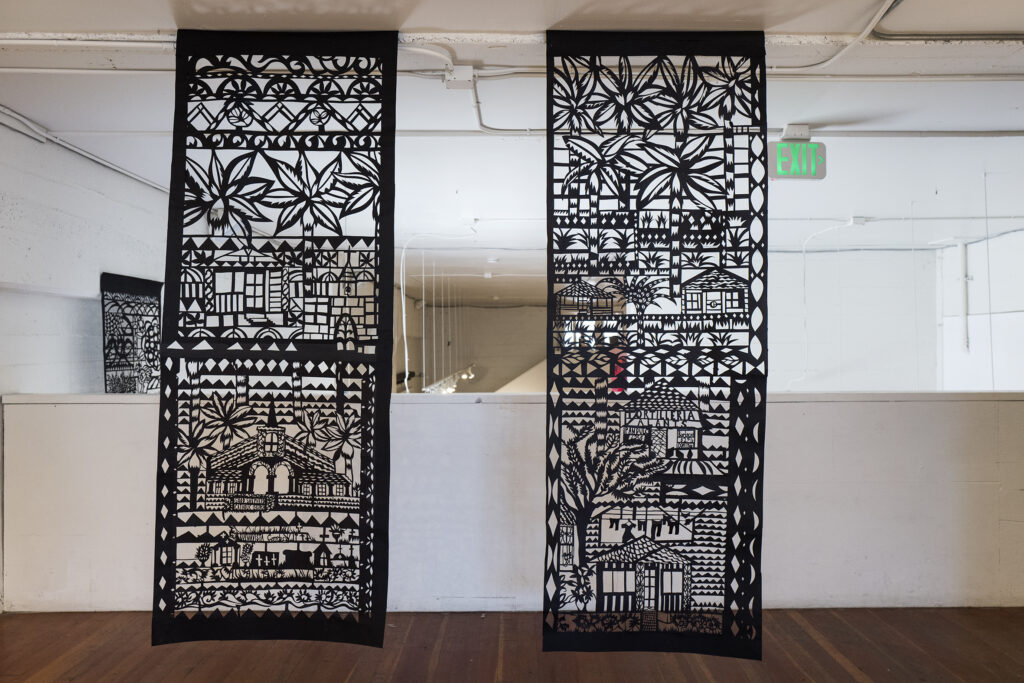 Hello everyone! My name is Renae Moua and I will be acting as the new Exhibitions Fellow for 2018-2019. As our past fellows have so meticulously done in the past, I am thrilled to continue the important work of documenting current events and studio artists featured in our Frank-Ratchye Project Space.
For the month of May, we celebrated the opening of New Growth: Vibrant Voices which showcased student visual work from Root Division's Youth Education Program and partnering organization, Youth Art Exchange.
Alongside New Growth, we are proud to highlight the practices of our three Teaching Artist Fellows in the Frank-Ratchye Project Space. Our fellows, Claire Astrow (Blau-Gold Teaching Artist Fellow), Greta Liz Anderson (Latinx Teaching Artist Fellow) and Beatriz Vasquez (Latinx Teaching Artist Fellow), each received a fully subsidized studio, as well as a teaching and artist stipend in exchange for teaching 20 hours per month at our partner school sites including Mission Education Center, Cesar Chavez Elementary and Buena Vista Horace Mann K-8.
Diverse in their individual practices, Astrow, Anderson and Vasquez apply aspects of their studio practice and areas of interest to their teaching practice enriching arts education for youth in our San Francisco community.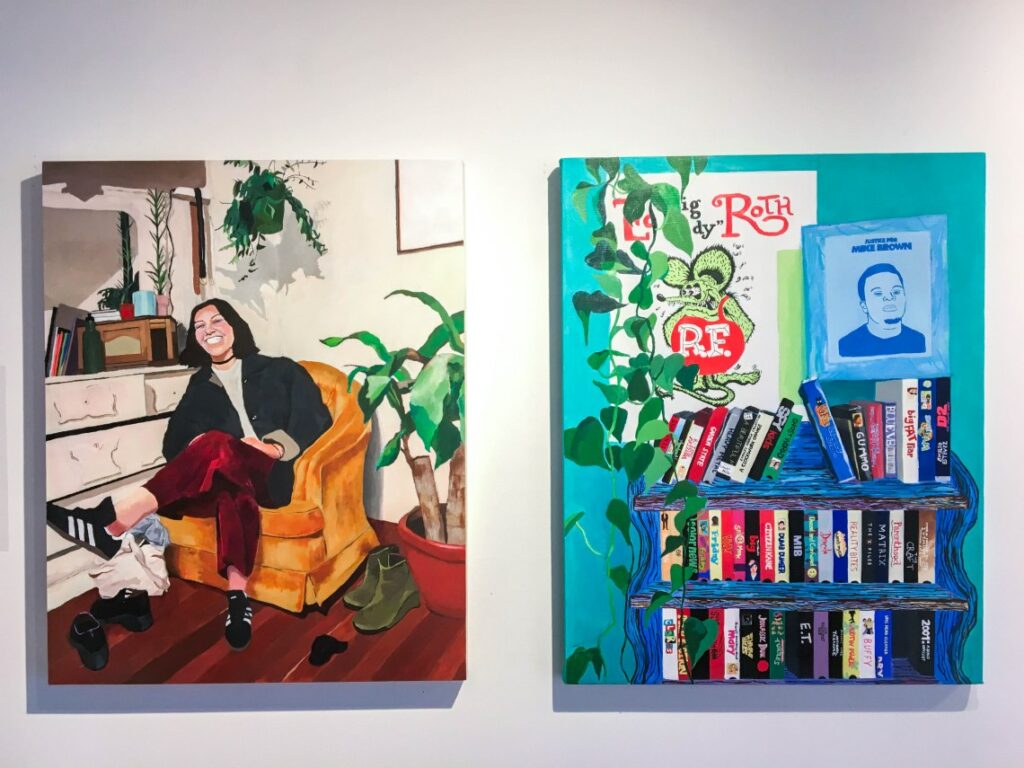 For Claire Astrow, life surrounded by urban landscapes followed by the sentiments of nostalgia and yearning have significant influence on her art practice. Astrow's latest body of work captures the temporality of her experiences as a transplant residing in the vastly diverse community of West Oakland.
Being subjected to the essence of Bay Area political activism and the pop-culture pleasures of her time, Ines' VHS Collection and Ashlyn reflect her life in constant flux while simultaneously preserving the people, places, and things that inspire her vivid hues of illustration and painting.
Having grown up in Los Angeles, Astrow holds a sincere love for Hollywood and DIY zine (short for "magazine") culture, both of which play an influential backdrop for The Hats by Harry Dean Stanton. This second collection works came to conception through her fascination of the late actor and musician, Harry Dean Stanton, who is known for his roles in cult classics such as Twin Peaks and Pretty in Pink.
Displayed as original prints and reproduced into zine format, Astrow pays homage to Stanton's Hollywood legacy hallmarked by his unique style of hats worn in his corresponding roles.
As part of the Blau-Gold Teaching Artist Fellowship, Astrow served as the Resident Teaching Artist at Cesar Chavez Elementary and Buena Vista Horace Mann K-8. Astrow's teaching practice values art through the lens of tactile and immersive experiences. In her lessons on printmaking, students learn to make their printing equipment out of materials on-hand, and develop their own artistic styles through experimenting with printing onto different mediums.
Looking forward, we can expect to see a shift in Astrow's art practice. Having spent a number of years studying and producing figurative works at the institutional level, she hopes to bring about a new challenge in breaking away from conventions of art theory and the expectations that follow. Though unsure of where this will lead her, "abstraction," "impromptuness," and "free-form" are amongst the few intentions named that will drive the progression of her upcoming projects.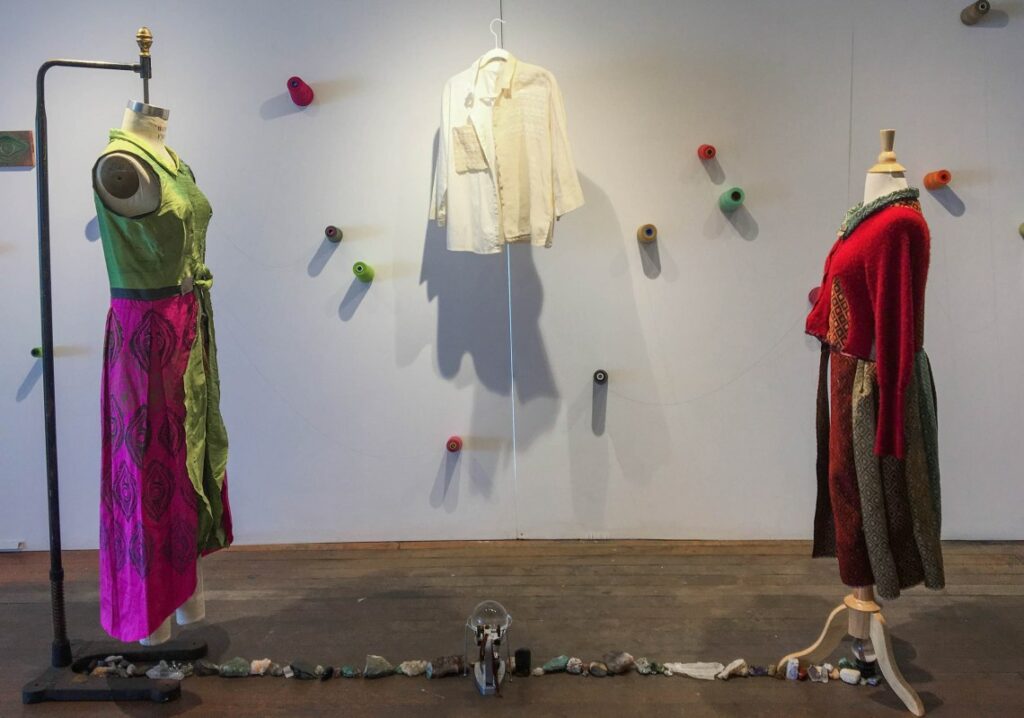 Sharing the Project Space with Astrow is Latinx Teaching Artist Fellow, Greta Liz Anderson, who holds place, memory, and cultural identity closely to her art and teaching practice. The Paraguayan born, former New Yorker, and now San Francisco resident threads together a visual narrative of resilience amongst a transcontinental divide, and brings into inquiry the boundaries between public and private persona in modes of multimedia installation and performance.
Her final project under LTAF, Siempre Juntas, features an installation constructed mostly from found materials that frame a collection of works developed during her time at Root Division.
For her performance piece, Pusseye, Anderson stood on a mirror for over an hour and cut away parts from her dress (pictured above) displaying the fragility of the human form. Installed directly across from Pusseye, this wearable dress is currently in progress for her latest performance piece, which she has informally named the "Crystal Gatherer" and based on deities found in Paraguayan mythology. Unlike previous installations which have played on surrealist intrigue to command awareness of important social and political issues abroad, her current works have embraced a vulnerable form of storytelling that reflect on her interpersonal experiences.
As the Resident Teaching Artist for recent immigrant students at Mission Education Center, she applies Paraguayan mythology and folklore as methods to resonate with the diverse experiences of students living in a cross-cultural context. Anderson's teaching approach not only allows room for challenging topics to be communicated via creative platforms, but it is distinctly the imagining of new and alternative possibilities that offer young people hope for better futures.
Amongst the number of enriching opportunities that Anderson has gained in her time at Root Division, she is proud to have fortified her passion for working at the intersections of art and activism. She hopes to continue teaching young artists while focusing on creating work that explores her inner sense of self.
Similar to Anderson, LTAF fellow, Beatriz Vasquez, uses the mesoamerican craft of papel picado, or perforated paper, to create "conceptual connections to social justice and cultural representation." Originally from the border towns of Brownsville Texas and Matamoros, Mexico, she found her creative talents from the desire to connect with her Mexican culture and heritage.
From this initial desire to learn about her community emerged critical connections made between papel picado and the enduring history of indigenous South American people. In that sense, she saw her designs as opportunity to not only reflect on her nostalgia for culture memory, but as a platform for social change that brings visibility to the disparities and injustices that indigenous and Latinx people face.
Suspended adjacent to the mezzanine entrance, visitors are greeted by Vasquez's Recuerdos de Sombras–decorative banners made of tissue paper and ornamented in intricately detailed hand cut designs that contrast between negative and positive space. In a recent statement to Root Division, Vasquez shares an important perspective in her latest body of work:
Through the My Two Homes [Youth Education] program, the conceptual design of casted shadows created by Recuerdos de Sombras or Shadow Memories reflects cultural memory and nostalgia of the immigrant experience, and things left behind in the wake of migration. For many immigrants, precious and beloved cultures, homes and families have become shadows of belonging. Recuerdos de Sombras is a project created to bring light of the immigrant experience and the loss that comes with migration, as well as upcoming experiences of a new home and country.
Recuerdos de Sombras represents the many memories that I too have lost with time, as I assimilated to America, and a need to regain those memories of connectivity to my Mexican culture.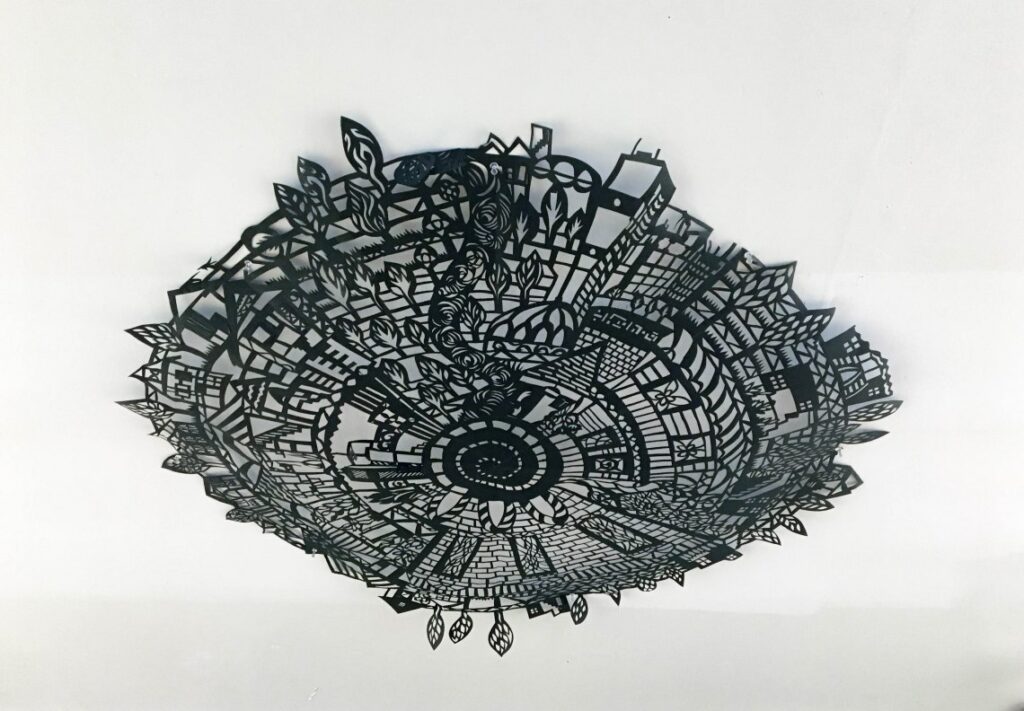 Having also split her fellowship between Root Division and the Mission Education Center as their Resident Teaching Artist, these detailed works have served as a way to connect with her students and inspire cultural relevance for a diverse audience of people.
With her fellowship coming to a close, she reflects on the valuable personal connections she has made with other fellows and artists in Root Division's Studios Program. She plans to return to the midwest momentarily to spend time with family. In the future we can expect to see her practice evolve into public art and sculpture through use of industrial and architectural mediums. Furthermore she will be attending an artist exchange to Sierra Leone, Africa through the U.S. Arts in Embassies Program in Spring 2019.
As we conclude the 2017-2018 academic year, Root Division is currently reviewing applications for the next round of Teaching Artist Fellows. In addition to acting as the Resident Teaching Artist at one of Root Division's partners schools, each Teaching Artist Fellow receives a free studio space for 12 months as part of Root Division's Studio Program, as well as a teaching and artist stipend. Visit Root Division's website for more information on opportunities and open calls.
In the following summer months we have curated a exciting list of artist features from Root Division's Studios Program. Up next is Guta Galli, a Brazilian transmedia artist from São Paulo working mostly with video performances, social practices and photography.
More to come soon!
Renae Moua, Exhibitions Fellow