By Alicia McDaniel, Exhibitions Fellow
For the first month of the new year, we are showcasing Studio Artist dani lopez in our Frank Ratchye Project Space. Inspired by Robin Campillo's 2017 film 120 Beats per Minute lopez's masterly body of work seeks to illuminate queer womxn who often go unseen in history and mainstream media. The artist's deliberate placement of vibrant sequins upon their black silky surface conveys faint traces of queer dance floors and bodies.
Referencing contemporary cinematography experiences such as Euphoria, 120 BPM, The Bisexual, and the San Junipero episode of Black Mirror, the tenderness and strength of this series demonstrates the artists desire to bring colorful, queer representation into the gallery space to inspire all generations of out and closeted viewers.
Read more about the artist's practice, inspirations, and her new body of work in our interview below.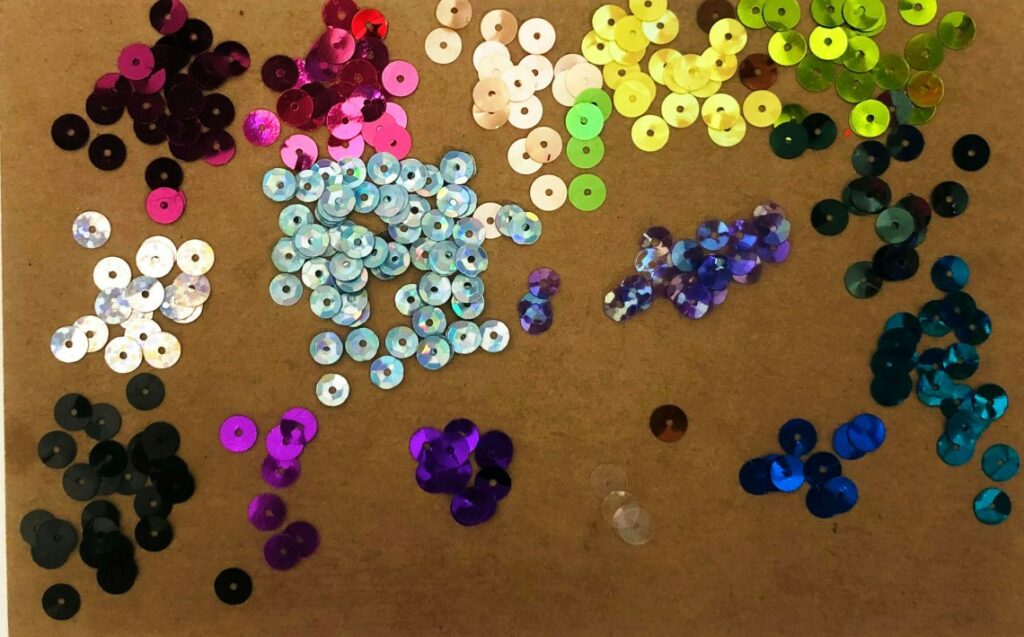 Alicia McDaniel (Exhibitions Fellow): A compelling and admirable quality to your work is your play with visibility. In regards to your sequin pieces, you are deliberate and precise in your application of this material. Instead of finishing the picture you cleverly leave a significant amount for the viewer's interpretation. How does visibility play within your work conceptually?
dani lopez (Studio Artist): Visibility plays a large role within this particular body of work because I'm taking stills from movies and tv shows where there is minimal light and queer characters are only partially shown on the dance floor. Queer womxn/Womnx of color (WOC) are historically left out of mainstream culture. As a queer WOC artist, I am trying to address this within this particular series, but also contending with the desire to not give everything away. Our bodies, stories, histories, experiences, and desires look different than the heteronormative examples in mainstream culture, which contributed to my more abstract approach with these works.
AM: I understand that Robert Morris has been a huge influence upon your shift towards floor to wall compositions. Can you elaborate further on this interest in spillage and mess in regards to queerness?
dl: Both Robert Morris and Harmony Hammond have had a profound impact on the work that either hangs barely above the floor, grazes it, or partially lays on it. The majority of my work engages in this in some way and I'm interested in moving past traditional hanging techniques, that are also tied to a white, male painter aesthetic. Queerness is inherently messy when compared to heterosexuality and that's how it is usually positioned in our culture. Anything I can do to push against the more traditional trappings within the contemporary art world, the better for me and the work. I'm not interested in presenting myself or my work as "contained" or "without mess".
AM: Elements of attitude and posture are strong components in this series, but there is also a vulnerability and delicacy. How do you arrive at this balance or in-between space?
dl: This is something I'm always thinking about in the studio in regards to my work in general. Working with textiles helps with this particular conversation, but also how I treat materials helps with this read. Everything I make has been touched countless times, from the materials to the processes used to the final work. I think about a lot of my work as abstract characters or as a pivotal moment in a larger narrative, which helps me create attitude and vulnerability.
AM: What is the role of femininity within this body of work?
dl: From the historically gendered methods (weaving, sewing, embroidery, etc.) to the materials (often pink or purple, purchased at craft stores) to titles (often lifted from pop songs by female singers) the role of femininity plays a large role within my studio practice. I'm also interested in queer readings and interpretations of femininity. From a high femme's outfit for a night out to a drag queen's wig and makeup, the way that the LGTBQ community interprets femininity is an endless source of material for me. The differences between a heterosexual read of femininity in contrast to a queer version of it is also fascinating to me.
AM: Can you expand upon your interests that have led to the creation of this show?
dl: This show came from me watching a French movie called 120 BPM. There is a moment where the characters are on the dancefloor after an ACT-UP action and there was a particularly beautiful moment when a lesbian character is only partially illuminated. This is the moment that led to me thinking about the dancefloor as a place of self-discovery, introspection, celebration, and mourning. It also got me thinking of how the majority of queer narratives have been historically focused on gay men.
Lately, within the past 5-10 years, there has been a slow influx of queer women portrayed in media and culture, but before that, it was really sparse. I wanted to contribute to a slowly growing archive of queer art that is focused on queer womxn. Also, as an older queer (being in my late 30s and only recently coming out) I'm interested in the vast differences between the generations of queers that now exist which essentially oscillates between pre-internet coming out and post-internet coming out. As someone who came of age pre-internet and came out post-internet, I feel stuck between these two spaces and feel that this particular point of view gives me a unique perspective. And lastly, these five works are only the beginning of a much larger exploration with these materials and source material.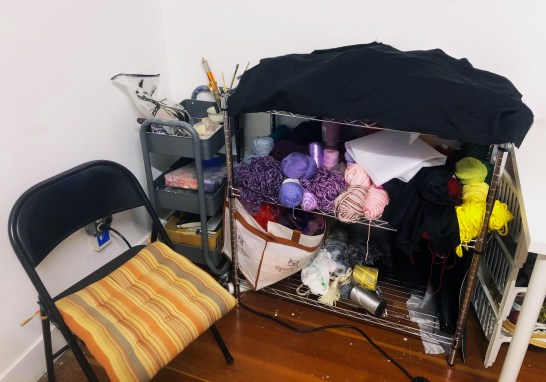 AM: Do you see your work as self-portraiture?
dl: Yes and no. My work is sometimes about me, but often times it's about alternate versions of me (the me who came out at age 18 instead of 34) or it's based on stories/experiences from people I know. I spend a lot of time on Instagram looking at lesbian instagrammers to learn about the current and even more historical parts of queer culture. This comes into the work a lot in sometimes direct ways and other times in indirect ways. When a queer womxn sees my work and sees herself within it, that's when I know my work has been successful. Maybe it's the title of the piece that resonates or maybe it's the text on a particular piece. If I can make the work have a queer energy to it, that's my ultimate goal.
AM: How has your work changed within your time being a RD Studio Artist?
dl: The space at Root Division was instrumental to this current body of work, but also to my practice as a whole. I was graduating from the MFA program at CCA and needed a studio. Root Division has a great community built-in with a lot of opportunities, it felt so right and seamless at a time where my life was going through massive transitions (graduating and finding a full-time job).
AM: Do you have any upcoming shows or projects that you would like mentioned?
dl: I am currently in a group show at Amos Eno Gallery in Brooklyn, NY that opens January 10th on the Friday before my Root Division opening. I also have a weaving that will be in the 33rd Annual Materials: Hard + Soft International Contemporary Craft Exhibition in Denton, TX that will be up from February 7th to May 9th, 2020.