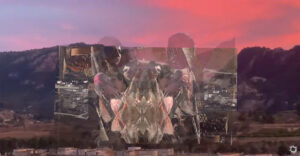 Venue: 27
MATRIX, curated by Tracy Ren, centers the collective learning, healing and dreaming of artists who deviate from hegemonic norms.
The artists featured in MATRIX are diverse in their approaches, each possessing highly nuanced and multivalent practices that draw from a wellspring of deep personal wisdom. What they have in common is the desire to connect—to themselves, to others, and to the world at large. They lovingly create entirely new languages with which to speak through a poetry of material, space, and action.
The closing reception will feature and embodied dance workshop, Emergent Connections, by Chi Chi Chang, and a food offering by Black Feast.
Emergent Connections is an invitation to connect with ourselves and each other. Movement can expand what feels possible in ourselves, bringing awareness to the space already within us, space through which pleasure, sensation, and loving awareness can pour through our bodies. Movement can also expand what feels possible in our connections, inviting us to drop-in to a deeper listening to ourselves and the other, providing a space for experimentation, vulnerability, and witness.
The workshop will begin with a warmup for us to center in our own bodies through meditation and imagery prompts. We will then open our awareness through group and partner activities that invite play and connection. This workshop is designed for people of any and all movement experience. Activities will include lying down, standing, and moving through the space, and modifications and alternatives will be offered as needed.
Emergent Connections will take place from 7:15-8:00 pm during the closing reception for MATRIX.
We can't wait to see you at our August 2nd Saturday event!
MATRIX will be on view in the Root Division Gallery (by appt.) or online in our Square Store from July 8 – August 13, 2022.
—
* For the safety of our extended community, we are still requiring all guests to bring proof of COVID-19 vaccination for entry into this event and to wear masks throughout their time in the space.
We ask this as a show of community care and a move towards continued safety at our in-person events. You may bring a physical copy of your vaccination card or via digital download through the State of California Digital Vaccine Record Portal here.