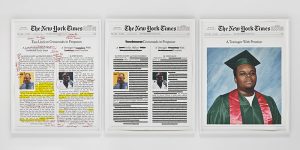 Join Root Division on August 14, 2021 from 7-9 pm for a limited capacity closing reception in honor of "I AM…" curated by Adrianne Ramsey.
This group exhibition features 15 artists who question and challenge established definitions and historical narratives in regards to personal identity, while levying questions of representation, commodification, and the value of one's identity.
The interdisciplinary works in "I AM…" respond critically to the idea that American identity is complicit and bound to patterns of violence and rampant discrimination. Adrianne Ramsey, the exhibition's curator shares that: "over the past few years, we as a nation have witnessed people from several marginalized groups—Muslims, African-Americans, Latinos, undocumented immigrants, indigenous peoples, and members of the LGBTQ+ community— protesting on and off the internet to fight against the ideological and physical violence they often face.
This exhibition explores a historical throughline starting with the civil rights era imagery conjured by the exhibition's title, moving into a recognition of the energy and urgency of the identity politics of the 1980-90s, and into our current era—where the language of discrimination and state violence simply shifted—finding viable stakes in the age of social media and Donald Trump.
As we transition back into in-person events, our 2nd Saturday reception will be open for a limited number of guests*, so we request that you RSVP in advance. We're excited to see you in person!
* Please note that for the safety of our extended community, we will be requiring face coverings at this event. Additionally, in response to upcoming updates to San Francisco's "Safer Return Together" City Health Order, we'd like to suggest that all guests* bring proof of Covid-19 vaccination for entry into this weekend's event. You may bring a physical copy of your vaccination card or via digital download through the State of California Digital Vaccine Record Portal here.