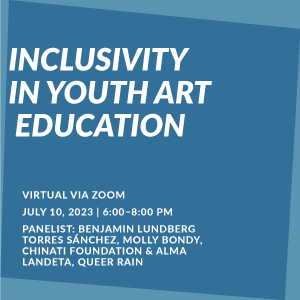 Instructor: Benjamin Lundberg Torres Sánchez, Molly Bondy & Alma Landeta
Sessions: 1
Dates: Monday, July 10
Time: 6:00-8:00 pm
Tuition: $20
This virtual workshop will examine approaches and philosophies to equitable and inclusive Youth art education. Each panelist will bring their perspective regarding the importance of inclusivity in either a classroom setting, a non-profit organization, or a museum and have an extensive conversation regarding how to develop strategies to place Youth perspectives in the utmost importance. Please note: This class will take place virtually over Zoom.
Special Rates!
Register with a friend and get 10% off the class fee.
Register with 5 friends and one person can take the class FREE OF CHARGE!
Registrations must be made at the same time by the same person for the discount to apply. For inquiries and to take advantage of special rates, email: classes@rootdivision.org
And if you don't see what you want here, we would love to hear your suggestions for future classes.
Please email Tamara Berdichevsky at classes@rootdivision.org with your ideas!