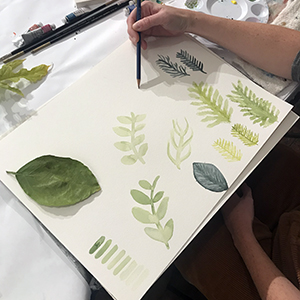 Instructor: Nicki Aquino
Sessions: 4
Dates: Thursdays, September 7, 14, 21, October 5 (No class September 28)
Time: 6:30 pm - 8:30 pm
Tuition: $210
Building on skills from either Acrylic 101, Oil Painting 101, or anyone with previous painting experience, this four-session in-person course will lead students in painting landscapes and nature. Students will explore botanical progressions, as well as how to develop depth in a landscape painting while learning a variety of techniques. The instructor will help students learn intermediate techniques with painting through class demos and individual direction. A materials list will be included upon registration. We partner with Arch Art Supplies which creates a specific class kit for Intermediate painting, we recommend you purchase the kit via this link. Please note: This class will occur in person at Root Division, located at 1131 Mission Street in SF, as well as at some outdoor locations in SF. There will be no class on September 28.
Special Rates!
Register with a friend and get 10% off the class fee.
Register with 5 friends and one person can take the class FREE OF CHARGE!
Registrations must be made at the same time by the same person for the discount to apply. For inquiries and to take advantage of special rates, email:classes@rootdivision.org
And if you don't see what you want here, we would love to hear your suggestions for future classes.
Please email Tamara Berdichevsky at classes@rootdivision.org with your ideas!