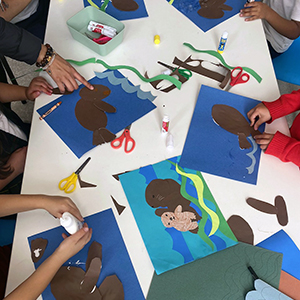 Instructor: Rachel Dean
Sessions: 1
Dates: Saturday, May 20
Time: 10:00 am-12:00 pm
Section: A
Tuition: Sliding Scale
This class will be focused on creating a collaborative piece of art that you can take home and enjoy immediately! Each week we will explore color and form, through the lens of the child's eye, with guidance from the adult to bring everything together onto canvas. Techniques will include collage, layering, line drawing, and simple printing. Themes will include but are not limited to: nature, repeating patterns, color theory, and play. Materials will be provided by Root Division for students registering 48 hours in advance of the class. Please note: This class will occur in person at Root Division, located at 1131 Mission Street in SF.
*Sections A, B, and C are the same level and general course content. They occur on different dates and may have different instructors.
Special Rates!
Register with a friend and get 10% off the class fee.
Register with 5 friends and one person can take the class FREE OF CHARGE!
Registrations must be made at the same time by the same person for the discount to apply. For inquiries and to take advantage of special rates, email: classes@rootdivision.org
And if you don't see what you want here, we would love to hear your suggestions for future classes.
Please email Tamara Berdichevsky at classes@rootdivision.org with your ideas!