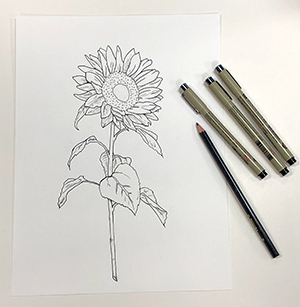 Instructor: Alicia McDaniel
Sessions: 3
Dates: Mondays, August 7, 14, 21
Time: 6:00 pm -8:00 pm
Tuition: $135
This three-session virtual class is an introductory course to Pen & Ink Illustration, so no prior experience is needed. You simply need the desire to learn how to draw and ink your creations! Students will be introduced to the fundamental principles and elements of drawing (line, shape, space, perspective, texture, value, and composition) to create their unique illustrations. We will look at different illustrators and an array of inking techniques. Upon registration, a materials list will be provided; supplies must be purchased independently. Please note: This class will take place virtually over Zoom.
Special Rates!
Register with a friend and get 10% off the class fee.
Register with 5 friends and one person can take the class FREE OF CHARGE!
Registrations must be made at the same time by the same person for the discount to apply. For inquiries and to take advantage of special rates, email: classes@rootdivision.org
And if you don't see what you want here, we would love to hear your suggestions for future classes.
Please email Tamara Berdichevsky at classes@rootdivision.org with your ideas!