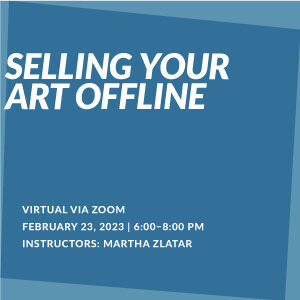 Instructor: Martha Zlatar
Sessions: 1
Dates: Thursday, February 23
Time: 6:00-8:00 pm
Tuition: $20
Do you think that being a good salesperson requires you to be pushy and manipulative? Are you confused about what to do or say when someone walks into your studio to look at your work? Do you frequently wonder how the art sales process works and how to do it right? If you answered YES to any of these questions then this workshop is for you!
This workshop will teach you how to handle conversations with potential buyers in person so you can start selling your work with more confidence. Selling your art does not have to be hard. There are stages to the sales process and if you learn and practice these stages you will start to see results.
In this 2-hour workshop you will learn:
The top 6 limiting beliefs that most artists have about the sales process preventing them from selling more art
A new paradigm for selling that feels more authentic, engaging, and fun
The 8 stages of selling art (from starting conversations, handling objections to closing the sale) giving you a clear framework on how to handle the sales process
How to speak about your art in a more compelling and engaging way so that people are more likely to buy
Tips and ideas on how to cultivate relationships with fans, buyers & collectors
About Your Instructor: Martha has advised emerging and mid-career visual artists on realizing their artistic goals for the last 20 years. She coaches on clarity of vision, relationship with money, embracing the business owner within, time management, unleashing your creativity, and many other issues relevant to artists and art entrepreneurs.
Please note: This course will take place virtually over Zoom.
Special Rates!
Register with a friend and get 10% off the class fee.
Register with 5 friends and one person can take the class FREE OF CHARGE!
Registrations must be made at the same time by the same person for the discount to apply. For inquiries and to take advantage of special rates, email: classes@rootdivision.org
And if you don't see what you want here, we would love to hear your suggestions for future classes.
Please email Tamara Berdichevsky at classes@rootdivision.org with your ideas!