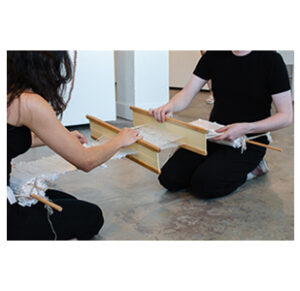 Instructor: Carolina Cuevas
Sessions: 1
Dates: Friday, January 19
Time: 5:00 pm -7:00 pm
Tuition: Sliding Scale
Register
In this event, you will be learning how to weave on a backstrap loom, but with a twist!
The backstrap loom traditionally requires only your body and a sturdy structure to attach yourself to. In this version, you will attach to another person, weaving towards each other. Through this process not only will you will be learning how to weave, but you will also be learning about your partner. Through this rhythmic act of moving the shuttle back and forth and beating your threads into place you silently (or not talking is encouraged!) learn more about your partner. The point is to get to know someone while learning a craft together, a weaving circle! Materials will be provided by Root Division. Please note: This class will occur in person at Root Division, located at 1131 Mission Street in SF.
Special Rates!
For inquiries and to take advantage of special rates, email: classes@rootdivision.org
And if you don't see what you want here, we would love to hear your suggestions for future classes.
Please email Tamara Berdichevsky at classes@rootdivision.org with your ideas!