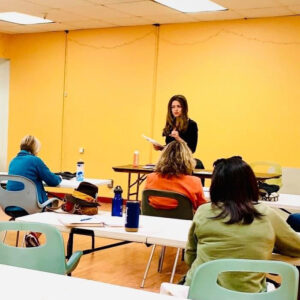 Instructor: Martha Zlatar, Artist Success Coach
Sessions: 1
Dates: Wednesday, March 23
Time: 6:00-8:00 pm
Tuition: $20
Selling your art can feel very daunting for many artists, and if you add to the equation the world of e-commerce, social media platforms, and online galleries & marketplaces this whole process can feel even more overwhelming and confusing. In this 2 hour workshop you will learn:
Most common misconceptions artists have about selling art online

How to build and nurture your mailing list so you create meaningful relationships that can lead to sales

Key features that your website needs to have in order to generate sales and grow your following

How to create compelling content that tells your story and grabs your audience attention in your email blasts and social media posts

Marketing strategies used by artists who are successfully selling their art online
About Your Instructor: Martha has advised emerging and mid-career visual artists on realizing their artistic goals for the last 20 years. She coaches on clarity of vision, relationship with money, embracing the business owner within, time management, unleashing your creativity and many other issues relevant to artists and art entrepreneurs.
Please note: This course will take place virtually over Zoom.
Special Rates!
Register with a friend and get 10% off the class fee.
Register with 5 friends and one person can take the class FREE OF CHARGE!
Registrations must be made at the same time by the same person for the discount to apply. For inquiries and to take advantage of special rates, email: michael@rootdivision.org
And if you don't see what you want here, we would love to hear your suggestions for future classes.
Please email Michael Gabrielle at michael@rootdivision.org with your ideas!