Curated by:
Amy Cancelmo
billy ocallaghan
2nd Sat Reception:
Saturday, June 11, 2016 -

7:00pm

to

10:00pm
Exhibition Dates:
Jun 8, 2016

to

Jun 25, 2016
Gallery Hours (or by appointment):
Wednesday-Saturday, 2-6pm
ISO (In Search Of) Queer Gods features 16 contemporary queer artists whose work mines historical religious iconography and responds to diverse representations of homosexual, transgender and non-binary content that has been preserved through the mythology of world religion.
Responding to the curators' research based call with a diverse range of historical inquiry and artistic practices, the artists in this exhibition explore iconography from Aztec, Norse, Bahamian, Afro-Cuban, Greek and Chinese mythology, as well as the stories of Hindu Gods, Sufi saints, Islamic Jinn, Biblical figures and Pagan Gods, through a queer lens.
The historical precedence that each artist has unearthed affirms the presence of queerness in cultural and spiritual storytelling, long before clinical terms were used as divisive and discriminatory categories.
The works featured in this exhibition are history lessons, personal explorations, and queer utopian divinations.
Accompanied by an inclusive artist zine, queerer: the gods sure are queer volume 2, this exhibition and publication offer the opportunity to look back and examine the preservation (and erasures) of queer representation through artifact and mythology, and to look forward to how these histories might manifest visually and conceptually in contemporary queer experience.
This project is presented as part of the National Queer Arts Festival, and co-sponsored by the Queer Cultural Center.

Participating Artists
Corey Brown
Craig Calderwood
Gerardo Castro
Orlando de la Garza
Nicki Green
Julz Hale Mary
Dorian Katz
Gardener Miller
missTANGQ
Shayne Punim
Carol Queen
Mohsin Shafi
Michael Starkman
William Ulrich
Charlie Watts
Angie Wilson

ISO Queer Gods Exhibition Images
SEE MORE EXHIBITION DOCUMENTATION »

Special Event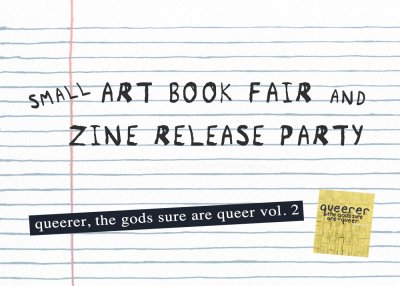 Small Art Book Fair & Zine Release Party
Thursday, June 23, 2016, 4-8 PM
Free and open to the public.
This event is being presented in tandem with the zine release of queerer, the gods sure are queer vol. 2, produced by billy ocallaghan, and including content from each of the artists exhibiting in ISO Queer Gods.
This book fair is not exclusively queer in content, and aims to highlight the breadth of artists working within print media and editions.
Featuring: 2nd Floor Projects, Adobe Books, Penelope Anstruther, Art for a Democratic Society, Ana Bedolla, Amy Burek, Craig Calderwood, Francis Calimlim, Peter Cochrane, Leigh Ann Coleman, Beth Davis, Dorian Katz, Sarah Klein & Maggie Gosselin, Jon Macy, Modest Press, billy ocallaghan, Mitsu Okubo, People I've Loved, Kate Rhoades, Super Classy Publishing, Mohsin Shafi, and Keith Wilson!


ISO Queer Gods is free, open to the public, and includes a Creative Station - all ages art activities hosted in our classroom during the 2nd Saturday opening reception.