20-YR Anniversary:
Performance Event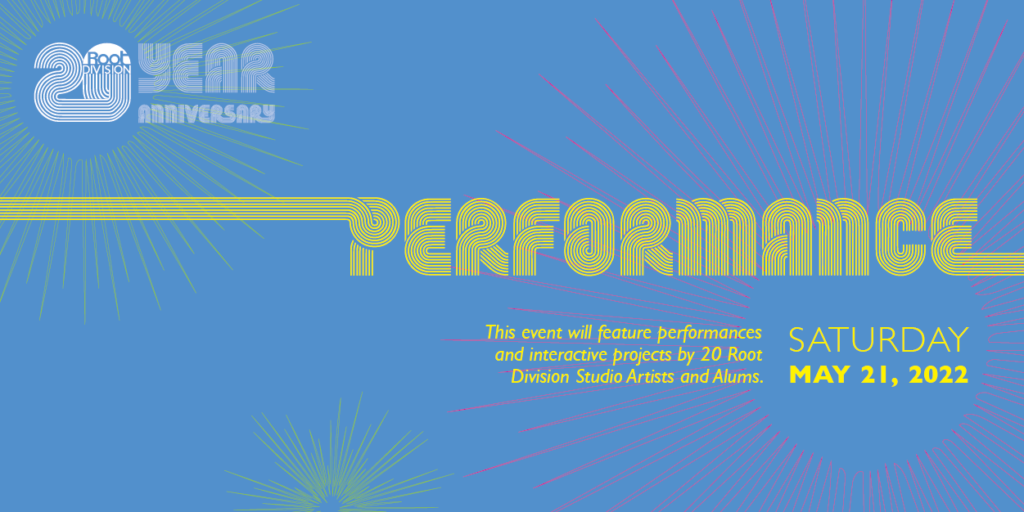 20-YR Anniversary: Performance Event
Join us as Root Division commemorates 20 years of cultivating community-minded artists and arts-minded community.
Next up in Root Division's exciting line-up of events and special projects is the 20-Year Anniversary Performance Event on Saturday, May 21! Hosted at SOMA-neighborhood Kapwa Gardens from 2–6 pm, this free outdoor event will feature over a dozen Studio Artists and Alums from Root Division's Studios Program. Guests will get to witness a variety of different performances over the course of the afternoon, including musical, interactive, interdisciplinary, and durational performances among others. Other features include local food and drink pop-ups and free all-ages art activities.
The cohort of performing artists represents the 20-Year history of Root Division as an incubator for emerging artists. The span illuminates the connectivity and pathways to other arts organizations, awards, and galleries– participants in the Venice Biennale; artists in residence with Contemporary Jewish Museum and Chalk Hill; facilitators and artist projects with NIAD, deYoung Museum, and MAPP; and other collectives such as Aguas Migrantes, Glttr Collective, WeDaPePo, and more.
The Performance Event is free or pay-what-you-can with registration and will take place at Kapwa Gardens from 2-6 pm. RSVP here.
PARTICIPATING artists
Greta Liz Anderson
Samu Cortez
Hunter Franks
Courtney Griffith
Kiana Honarmand
Leah King
Chhoti Maa & band
Raphael Noz
Dimitra Skandali
Joshua Solis
Lonnie Taylor
Thorne
Chris Treggiari
Jasmine Zhang
With a special appearance by TNT Traysikel for SideCaraoke (Michael Arcega and Paolo Asuncion)
This outdoor event is free with registration and open to the public from 2–6 pm. RSVP here.
* Note per COVID-19: Since this venue and event are outside, we suggest following the CDC's guidance for outdoor gatherings.
Kapwa Gardens requests all visitors to complete this tracking tool before entrance to the space.