Annual Art Auction 2023 Exhibition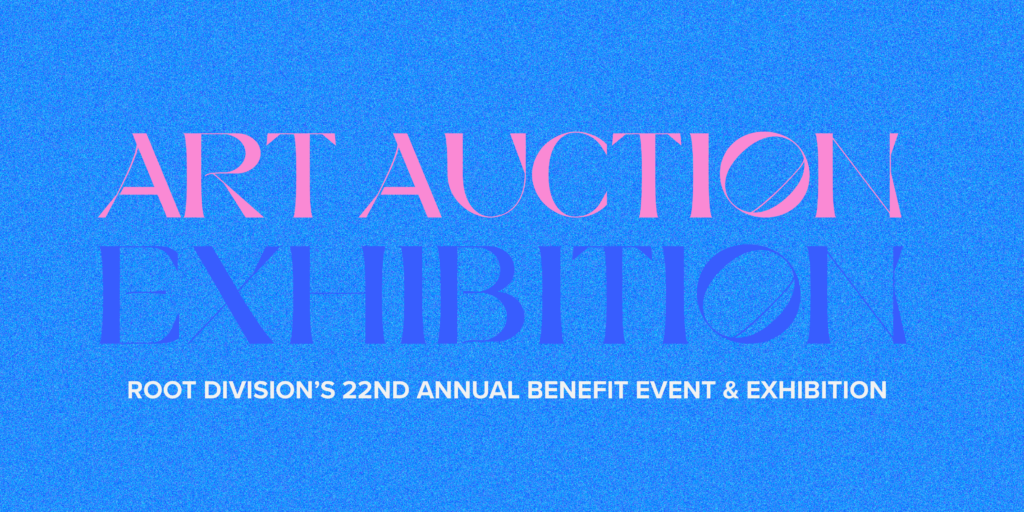 Annual Art Auction 2023 Exhibition
We are proud to feature an eclectic mix of high quality artwork from over 175 established and emerging Bay Area artists, including plenty of shining and rising stars! As a reprise of last year's success, we're planning to have the artwork installed in Root Division's gallery, a continuation of online bidding, and a suite of in-person events.
Get a first look at the work and meet the artists at this FREE PREVIEW of our 22nd Annual Art Auction Exhibition.
This event on Saturday, October 14 is free and open to the public, including refreshments, and an all-ages Creative Station art activity.
Find ticket information here for our 22nd Annual Benefit Art Auction Event on Thursday, October 26.
You can view the artwork in our Auction 2023 Digital Catalog and can bid / BUY NOW online today!
Exhibition Dates
October 4–26, 2023
Second Saturday Reception
October 14 | 7–9 PM
Gallery Hours
Wednesday – Saturday from 2-6 PM
Joseph Abbati
Pilar Agüero-Esparza
Amy Ahlstrom
Nibha Akireddy*
Inas Al-soqi
Lorene Anderson
Gale Antokal
Nicki Aquino*
Michael Arcega
Irman Arcibal
Alexis Arnold
Annie Artell
Roger Ballen
Charlotte Beck**
Ana Bedolla**
JD Beltran
Tamara Berdichevsky
Dominique Birdsong*
Ross Bleckner
Tianna Bracey
Pegan Brooke
Lizzy Brooks**
Natalya Burd
Adrian Burrell
Rachelle Bussières
Natasha Carlos**
John Casey
Kellen Chasuk
victoria 程*
Jeffrey Cheung
ChiChai**
Windy Chien
Kim Cogan
Tom Colcord
Holly Coley**
Anjelica Colliard
Jodi Connelly
Lynse A. Cooper
Arleene Correa Valencia
Carolina Cuevas*
Scott B. Davis
Rea Lynn de Guzman**
Rachel Dean*
Laura Lani DeAngelis
Reniel Del Rosario
Nykelle DeVivo
Dyanna Dimick
Patrick Dintino
Nimisha Doongarwal
Kathryn Dunlevie
Ebti
Dave Eggers
Amy Ellingson
Anisa Esmail*
Rhiannon Evans MacFadyen
Rodney Ewing
Roni Feldman
Brett Flanigan
Matthew A. Floriani**
Peter Foucault
Hunter Franks**
Maya Fuji
Michael Gabrielle
Linda Geary
Nimah Gobir**
Rebecca Goldfarb
Casey Gray
Courtney Griffith**
Payal Gupta
Laura Hapka
Makiko Harris**
Mercy Hawkins
Victoria Mara Heilweil
Taraneh Hemami
Liz Hickok
Kiana Honarmand**
Shao-Feng Hsu
Melissa Hutton**
Mitch Iburg
Clint Imboden
Chase Irvin*
Alexis Javellana Hill*
Grace Jin*
Jeremiah Jenkins**
Kacy Jung**
Maya Kabat
Rebecca Kaufman**
Chanel Choranay Kim*
Nahyun Kim
Leah King**
Susan R. Kirshenbaum
Sasi Kladpetch
Andrew Kleindolph
Nathan Kosta
Alma Landeta*
Kris Lang
Noah P. Lang
Amy Lange
Danielle Lawrence
Evelyn Leder
Ahn Lee
Josie Licavoli*
Sandra Liu**
Dottie Lo Bue
LOLA
Cathy Lu**
Kija Lucas**
Pablo Manga
Michelle Mansour
Kara Maria
Vanessa Marsh
Christopher Martin
Viviana Martínez Carlos**
Shara Mays
Alan Mazzetti
Jenna Meacham
Stephanie Metz
Christine Meuris
Robert Minervini**
Marco Minetti
Mary Mocas
Yvette Molina
Jessica Monette
Vince Montague
Meg Moriarty**
Bonny Nahmias**
Michael Napper
jamil nasim**
Amy Nathan
Nathalie O'Brien*
Valeria Olguín*
Kari Orvik
Yulia Pinkusevich
Carrie Ann Plank
Carissa Potter
Helia Pouyanfar
Mel Prest
Marilet Pretorius
Tana Quincy Arcega
Amanda Quiroz
Hadley Radt
Lucky Rapp
Rachelle Reichert**
Leonard Reidelbach
Christopher Reiger**
Yunfei Ren
Stephanie Robison
Lisa Rock
Blanca Estela Rodríguez**
Julio Rodriguez
Blaise Rosenthal
Byron Ryono
Elizabeth Ryono
Leyla Jamil Rzayeva
Maya Salcido White*
Laura Sanford**
Courtney Sennish
AJ Serrano
Jenn Shifflet
Meghan Shimek
Brian Singer
Corey Smith
Hassel Smith
Jessica Snow
Christine So
Selby Sohn
Lisa Solomon
Piero Spadaro
Lucy Stark**
Lindsay Stripling**
Jennifer B Stuart
The Tracy Piper
Ileana Tejada*
Tallulah Terryll
Margaret Timbrell**
Kieu Tran
Angelica Turner**
Gina Tuzzi
Isaac Vazquez Avila
Katherine Vetne**
Camilo Villa**
Ven Voisey
Catherine Wagner
Christopher Williams**
Margo Wolowiec
Adrian Kay Wong
Holly Wong
Amber Jean Young
Wanxin Zhang
Haoyun Erin Zhao
Minoosh Zomorodinia
Our 22nd Annual Art Auction is on October 26, 2022 from 6–10 pm.