Black Warrior Mentorship Project & Fellowship Exhibition
Black Warrior Mentorship Project & Fellowship Exhibition
Root Division commemorates 20 years of cultivating community-minded artists and arts-minded community. This event celebrates Root Division's Studios Program cohort, including Open Studios offering the community an opportunity to meet artists and learn more about our unique incubator program. The exhibition presents 7 Studios Fellows and features the Black Warrior Mentorship Project, a culminating show from Aambr Newsome, the 2021–22 Bay Area Black Artist Studio Fellow.
Participating Artists:
Nicki Aquino, Filipinx Teaching Artist Fellow
Aik Brown, Artist-in-Action Fellow
Rebeca Flores, Latinx Teaching Artist Fellow
Alma Leppla, Latinx Teaching Artist Felloww
Aambr Newsome, Bay Area Black Artist Studio Fellow
Ileana Tejada, Blau-Gold Studio/ Teaching Fellow
Christopher Williams, Black Teaching Artist Fellow
Exhibition Dates
June 9–25, 2022
Second Saturday Reception
June 11, 2022 | 5–9 pm
Open Artist Studios & Gallery: 5–7 pm
Gallery Reception: 7–9 pm
Front Gallery: Black Warrior Mentorship Project: Aambr Newsome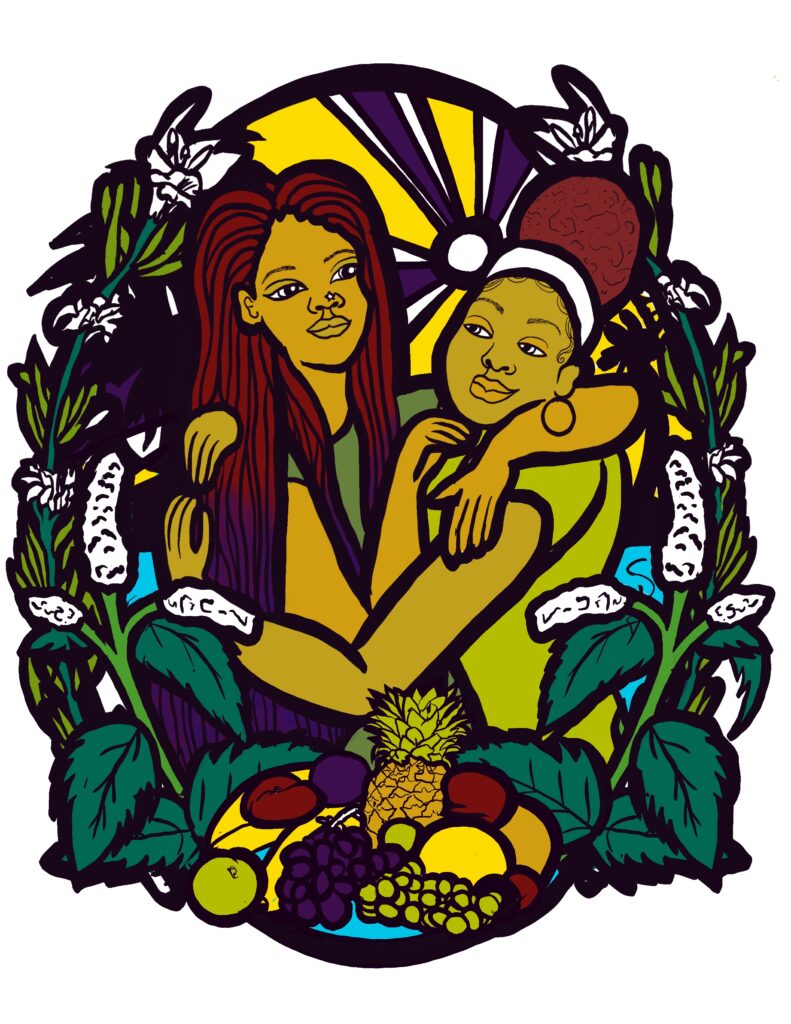 Aambr Newsome, 2022, Portrait of Niqueen Jones, a creative educator at Peartree middle school where they teach students the consistent practice and love for art and culture in all that they choose to do.
The Black Warrior Mentorship Project highlights four Black Bay Area educators (Nakachi Clark-Kasimu, Sienna Melissa, Khalid White, and Niqueen Jones) and shares their experiences finding and curating safe space within their lives. Developed by Aambr Newsome, Root Division's Bay Area Black Artist Studio Fellow, the show features four large-scale dimensional wood paintings, one in homage and dedication of each educator. Aambr selected the imagery and colors based on thoughtful interviews with the mentors and their stories. The Black Warrior Mentorship Project aims to showcase how these mentors appreciate, motivate, and educate within their communities while practicing self love. The exhibition honors the belief that these practices offer healing, grounding, and help in not only uplifting the self, but in aiding these educators to be warriors in their communities.
Back Gallery: Group Exhibition of 2021-22 Studio Fellows
The exhibitions highlight work made by Root Division's 2021-22 Studio Fellows during their time in the fellowship program. The eclectic array of work in the show includes painting, drawing, sculpture, and mixed media and spans themes of Black Joy, identity, and play.

Root Division's Fellowships offer local artists free studio workspaces and a monetary stipend in exchange for volunteer service that aligns and enhances Root Division's mission to empower artists, foster community, inspire youth, and enrich the Bay Area through engagement in the visual arts. Our hope is to provide fellows with space, resources, and community so that artists can share their creativity and experience with the community through the organization.
Mezzanine Gallery: Frank-Ratchye Studio Artist Project Space
Additionally on view in the Frank-Ratchye Studio Artist Project Space will be works by our current Studio Artist cohort, offering a window into the diversity of media and practices happening onsite. Works can also be viewed and purchased online.