Diasporic Futurism Part II: The Future Futures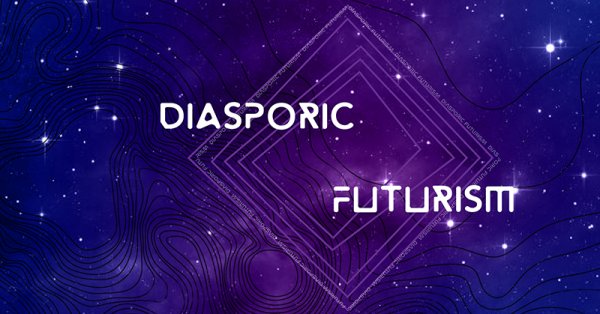 Diasporic Futurism Part II: The Future Futures
Diasporic Futurism was born out of the desire to showcase and celebrate emerging and established Black, Indigenous, People of Color (BIPOC) artists whose work reckons with the themes of imagination, identity, place, and joy. Diasporas honor the history of forced migration as a result of political, cultural, and physical subjugation that is the story of many BIPOC peoples currently living on occupied land. Futurism envisions imaginative, alternate realities full of beauty, possibility, and liberation, systematically denied to those populations because of a patriarchal, capitalist, white supremacist society.
This show is evolving, and asks for your participation. Due to COVID-19, the exhibit has been restructured into a two-part series that launched in July, 2020, with a virtual exhibit, and continues into February, 2021, with Diasporic Futurism Part II: The Future Futures. This iteration of the exhibition will feature a series of video-based and live activations throughout the Bay Area, while also featuring an immersive and multidimensional experience in the gallery with video installations, 3-D art work, surrealist painting, sculpture, comic and graphic drawings, plus all new performances by Madame Bessie Snow and Ze Royale.

Diasporic Futurism is firmly rooted in the desire to find joy in dynamic chaos of systemic upheaval, while unapologetically centering the voices, lives, and stories of Black people.
About the Curators:
Leah King is a multiracial Oakland native with an extensive costume collection and abhorrence for subtlety who has been in the 99.9th percentile for height and weight since the day she was born. A producer, DJ, and vocalist, King is a member of international electronic arts network female:pressure and CTRL+SHFT Collective in Oakland. She is the host of Culture of Consent with King, "C.O.C.K. Podcast," Center for Cultural Innovation 2019 grantee, and 2018-2019 Yerba Buena Center for the Arts Political Power Fellow. King tours internationally and has collaborated with artists Mykki Blanco, Shantell Martin, and Ebony Bones, and has shared stages with Margaret Cho, Marc Jacobs, Eve Ensler, and Big Freedia. King has taught arts education courses with over 20 organizations, including Brazil's Rosas Urbanas Breakdancing Crew, InterACT English in Berlin, Center for Anti-Violence Education and the New York City Department of Education, and she is currently the Director of Education at Women's Audio Mission.
Juan Carlos Rodríguez Rivera is a queer boricua visual communicator and educator, passionate about food, lover of ephemeral objects, gradients and anything with glitter. Juan's work focuses on challenging colonial perspectives in design from the point of view of a boricua diaspora. In 2019, in collaboration with musician/artist Leah King, they created GLTTR Collective a group working with artists of color creating Diasporic Futurisms. Juan Carlos is an organizer of the Decolonial School at California College of the Arts and a participant of Arts Accelerator at Intersection for the Arts. Juan Carlos holds an MFA in Communications Design from Pratt Institute in NY. Throughout his career, Juan Carlos has participated in many exhibitions, conferences and fellowships; including the Museo de Arte de Puerto Rico, Yerba Buena Center for the Arts, and the Dialogo Global: Decolonizing Knowledge and Power School in Barcelona.
Curated by:
Leah King
Juan Carlos Rodríguez Rivera
Exhibition Dates
 February 1, – 24, 2021

By appointment: visit@rootdivision.org
Second Saturday Reception
February 13, 6-8pm

Exhibiting artists
Pansee Atta
Madame Bessie Snow**
Sofia Cordova**
Nimisha Doongarwal
Eseosa Edebiri

Carla Golder
Haldane Charles King
dani lopez*
Alicia McDaniel*
Afatasi the Artist
Richard-Jonathan Nelson
Ze Royale**
Mohsin Shafi**
Mimi Tempestt
Tanna Tucker**
Amy Vázquez
Allison Yasukawa
*Current Root Division Studio Artist
** Diasporic Futurism Part II: The Future Futures Artist
"I AM…" will be on view from July 9 – Aug. 14, 2021.
Email us at visit@rootdivision.org to schedule an appointment.
2nd Saturday Openings:
Saturday, July 10, 7-9 pm | Opening reception
Saturday, August 14, 7-9 pm | Closing reception featuring live performance by Reniel del Rosario