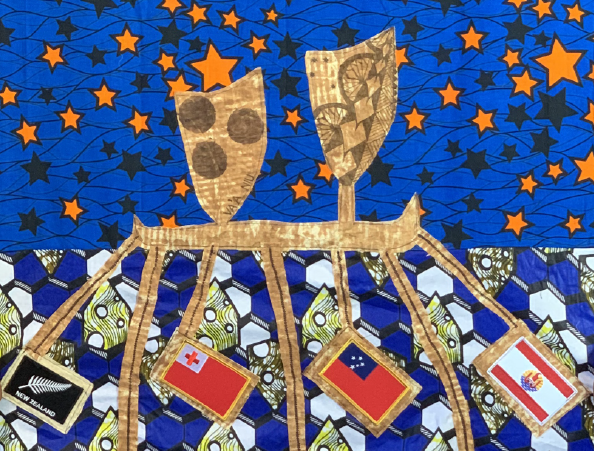 Image Above: Global Warming (detail) by Afatasi the Artist, 2019, African Fabric, Polynesian Nation Flag Patches, Siapo (Sāmoan Barkcloth), Fabric Marker, 28.12 x 61.12 in.
Diasporic Futurism
Diasporic Futurism was born out of the desire to showcase and celebrate emerging and established Black, Indigenous, People of Color (BIPOC) artists whose work reckons with the themes of imagination, identity, place, and joy. Diasporas honor the history of forced migration as a result of political, cultural, and physical subjugation that is the story of many BIPOC peoples currently living in occupied Northern American land. Futurism envisions imaginative, alternate realities full of beauty, possibility, and liberation, systematically denied to those populations because of a patriarchal, capitalist, white supremacist society.
We put out a call for work in early 2020, and received a number of stunning submissions full of color, history, journeys, and life. The show would be an immersive and multidimensional experience where gallery-goers could engage with dynamic video installations, 3-D art work, surrealist painting, sculpture, comic and graphic drawings, as well as view several live activations featuring robot erotica and burlesque classes. Due to COVID-19, we have restructured the exhibit itself, but the message remains the same: Diasporic Futurism is firmly rooted in the desire to find joy in the dynamic chaos of systemic upheaval, while unapologetically centering the voices, lives, and stories of Black people.
This show is evolving, and asks for your participation. Join us for a two-part series that launches in July, 2020, with a virtual exhibit, and continues through February, 2021, with a series of video-based and live activations throughout the Bay Area.
Curated by:
Leah King & Juan Carlos Rodríguez Rivera
Exhibition Dates
July 13 – August 8, 2020

Gallery Hours (or by appointment):
Online Anytime
Exhibiting artists
Joseph Abbati
Dena Al-Adeeb**
Pansee Atta
Madame Bessie Snow**
Sofia Cordova**
Nimisha Doongarwal
Eseosa Edebiri
Carla Golder
Hal King
dani lopez*
Alicia McDaniel*
Afatasi the Artist
Richard-Jonathan Nelson
Ze Royale**
Mohsin Shafi**
Mimi Tempestt
Tanna Tucker**
Amy Vázquez
Cristina Victor **
Allison Yasukawa
* Current RD Studio Artist
** Diasporic Futurism Part 2 Artist