We Are Home: Visions & Voices of the Tenderloin Community Quilt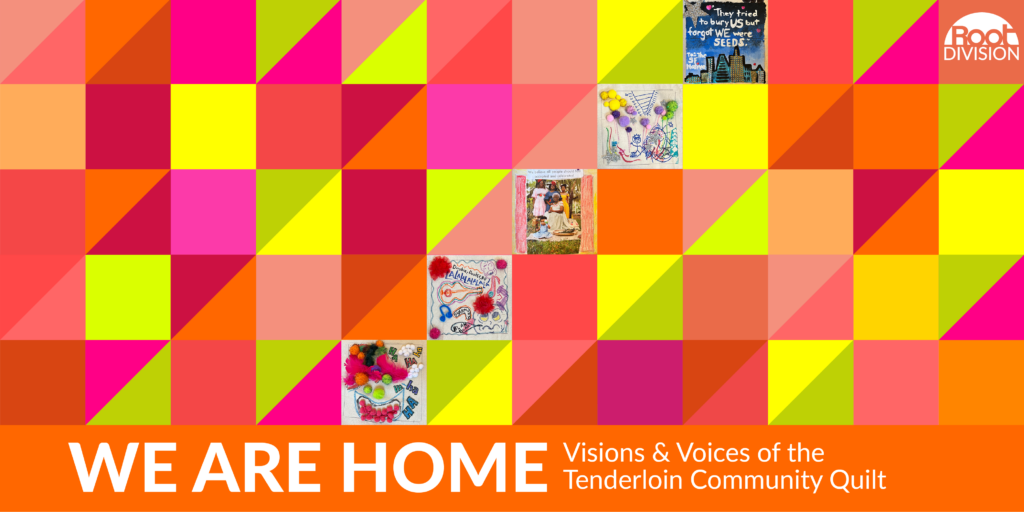 We Are Home: Visions & Voices of the Tenderloin Community Quilt
Root Division presents We Are Home: Visions & Voices of the Tenderloin Community Quilt, facilitated and co-curated by Mattie Loyce of Delivering Innovation in Supportive Housing (DISH) and Mary Hogue of Mission Praxis, featuring art by over 70 artists and participants across the Tenderloin neighborhood.

We Are Home: Visions and Voices of the Tenderloin Community Quilt is an exhibition presenting the work of the Tenderloin Community Quilt project. Beginning in the Fall of 2022 the project engaged the extended Tenderloin through collective quilt-making workshops to express the significance and meaning of 'home'. The exhibition is the culmination of one year of work, featuring a film of interviews with resident artists, archival print content from the SFPL Tenderloin Archive, and the large-scale collaborative quilts created through its workshops.

In the face of the pandemic, overdose epidemic, and housing crisis that disproportionately affect the Tenderloin neighborhood, the Tenderloin Community Quilt focuses on amplifying the voices of people who have the lived experience of homelessness, and those that care for, or live and work in community with unhoused neighbors. Extending the collaboration and contributions of the project throughout the Tenderloin community, Mattie Loyce hosted workshops at the nine DISH sites and throughout the Tenderloin with Hospitality House, The Healing Well, The Tenderloin Museum, Skywatchers, Faithful Fools, and CounterPulse. With support from Mary Hogue of Mission Praxis, the quilt squares will be joined into a series of large-scale community quilts and exhibited for the first time at Root Division this November.
Alongside this exhibition will be the following programming:
Wednesday, October 25, 6-8 pm: What Does it Mean to Create Home? – panel discussion hosted by Mattie Loyce at San Francisco Public Library, Civic Center Branch (free and open to the public)

Thursday, November 9, 2023 3-5pm: Public community reception for resident artists, Root Division (free and open to the public).

Saturday, November 11, 4-6 pm: 2nd Saturday reception, Root Division (free and open to the public)

The 2nd Saturday reception will feature a performance by Tenderloin resident based performance group Skywatchers, and will overlap with visiting Root Division's artist spaces as part of ArtSpan Open Studios.
Wednesday, November 29, 2023, 6-7:30 pm: Radical Histories of Housing and Community Care – panel discussion hosted by Mattie Loyce at San Francisco Public Library, Civic Center Branch (free and open to the public)

We Are Home: Tenderloin Community Quilt Project was created with support of California Humanities, Humanities for All Grant awarded Summer 2022.
Register for our Community Reception here.
Register for our 2nd Saturday Reception here.
Exhibition Dates
Nov 9 – 29, 2023
Community Reception
Nov 9, 2023 | 3-5 pm
Second Saturday Reception
Nov 11, 2023 | 4–6 pm
Gallery Hours
Wednesday – Saturday from 2-6 PM
Exhibiting artists ( by first name only )
Aarav P.
Adriana
Ahmed
Alex
Alex S.
Andre
Angel Eyes
Angela S.
Angelina
Angelina W.
Anne-Marie
Anthony J.
Antoine
Anya
Ashley
Babaji Puri
Barbara
Barry
Benito
Betty
Betty T.
Blue
Boo
Brian B.
Calvin
CAP Art Studio
Cesar
Chandra
Chano
Charles
Charles W.
Christian
Claire
Coco
Cricket
Cynthia
Damien
David
David James Crenshaw
Dee
Deje
Denise
Dennis M.
Egur
Elaine
Eli
Elizabeth
Euselyn
Felicia
Felix
Fidel
Francisco
Gabe
Gabrielle C.
Garlan
Gerardo
Hank
Hazel R.
Helen G.
Ibrahim
Inary
Isabella K.
Ivan
Ivy Rose
Iyari
Jai
Javier
Jeremy
Jimmy
Joel Y.
John
John H.
Johnny B.
Joseph
Joseph S.
Josue
Josue G.
Katie
Keisha
Ken
Kristi
Krystle
Lani
Lashawn
Laura and Grandson
Lauren S.
Laurie
Leslie
Lewis B.
Liam F.
Lord Fredrick
Lotus
Marcela
Martin
Mary
Mattie
Maya
Megan
Michael
Miguel T.
Mike
Mili
Miriama
Misty
Moe
Ms. Janet
Ms. Lynda
Naomi
Nazelah J.
Neke
Nene B.
Noelle C.
Ocean
Olivia
Oscar
Otis
Peter
Race
Ralph
Regi
Rich
Rodney
Roger
Ruben
Sam
SBL
Shakiri
Shavonne A
Shay
Sheeka A.
Sherri L.
SHJ
Sirah
Spencina
Squirrel
Star
Sundiata aka Sunny
Tammie B
Taquwa
Tasunna
Theresa
Theresa M.
TNDC
Tomas
Trice
Tricia
Trujillo
Vincent
Wanda
Winnie
X.D.
Yunus
Zen
Zoe