Weave, Bundle, Cut and lAyer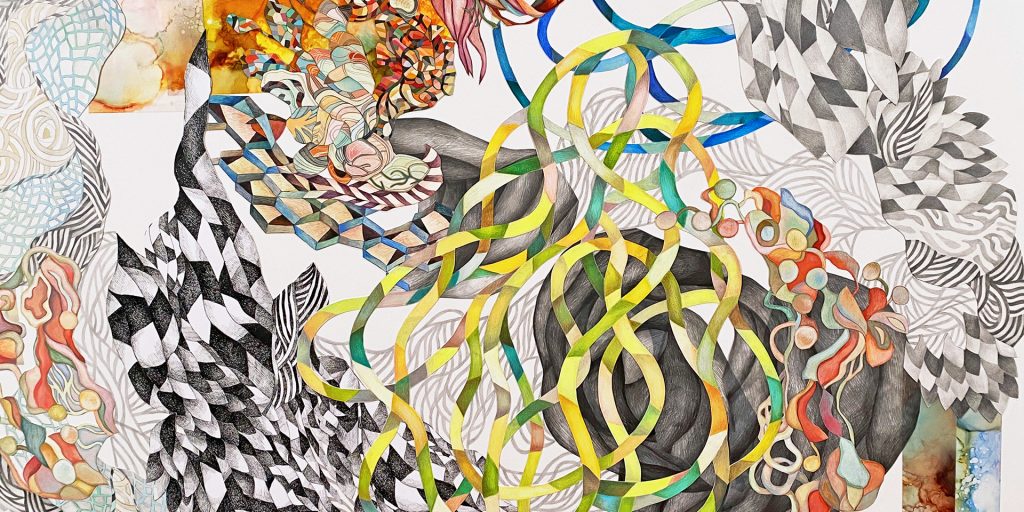 Weave, Bundle, Cut, and Layer: Artists with Material Instincts
Join us this November for Weave, Bundle, Cut, and Layer: Artists with Material Instincts, curated by Lisa McCutcheon. This dynamic group exhibition features 21 artists who share the ability to transform non-traditional materials into a personal visual language — a language that illuminates the beauty and reflection to be found in the mundane. Fabric, rubber, screening, wood, shards of paper, and discarded plastic are just a few of the materials these artists gather, manipulate, and resurrect.

The curatorial thread of this exhibition unravels and binds together works that reveal a timely interest in utilizing and reviving objects otherwise left as waste. The artists featured in this show engage in dedicated processes of re-purposing and re-building with non-traditional materials, like smoke, bottle caps, cardboard, and string — each utilized to illustrate the beauty in revision. Important notions weaving through this show include the humility of everyday materials as they transform towards the sublime. Each artwork in Weave, Bundle, Cut, and Layer uses a thoughtful materiality and process-centered style to build a narrative that fuses together both the history and the inherent beauty of the materials themselves.

This exhibition implements visionary artworks, realized through the manipulation of unexpected materials, and the resulting forms range from minimalist sculptures, to gestural paintings, to environmental installations. The materials in many ways become a part of the narrative. While some of these artists utilize the most delicate items, others resurrect downright cumbersome materials, yet each brings an artist's lightness of vision to the everyday world around us.
Curated by:
Lisa McCutcheon
Exhibition Dates
Nov. 5-30, 2021
In-person by appointment:
Second Saturday Reception
Nov. 13, 2021 | 7-9pm
Exhibiting artists
Barry Beach
Jan Blythe
Glenn Carter
Julia Couzens
Tara de la Garza
Michele Foyer

Ellie Fritz
Shelia Ghidini
Nancy Ivanhoe
Sasinun Kladpetch
Denise Laws
Pam Martin

Steven Vasquez Lopez
Victoria May
Jenny Phillips
Alicia Renadette
Stuart Robertson
Blaise Rosenthal

Leigh Wells
Holly Wong
Maria Vasconcelos
Weave, Bundle, Cut and Layer: Artists with Material Instincts will be on view from November 5 to November 30, 2021.
The Second Saturday reception for this show is on November 13, 2021 from 7 to 9pm.