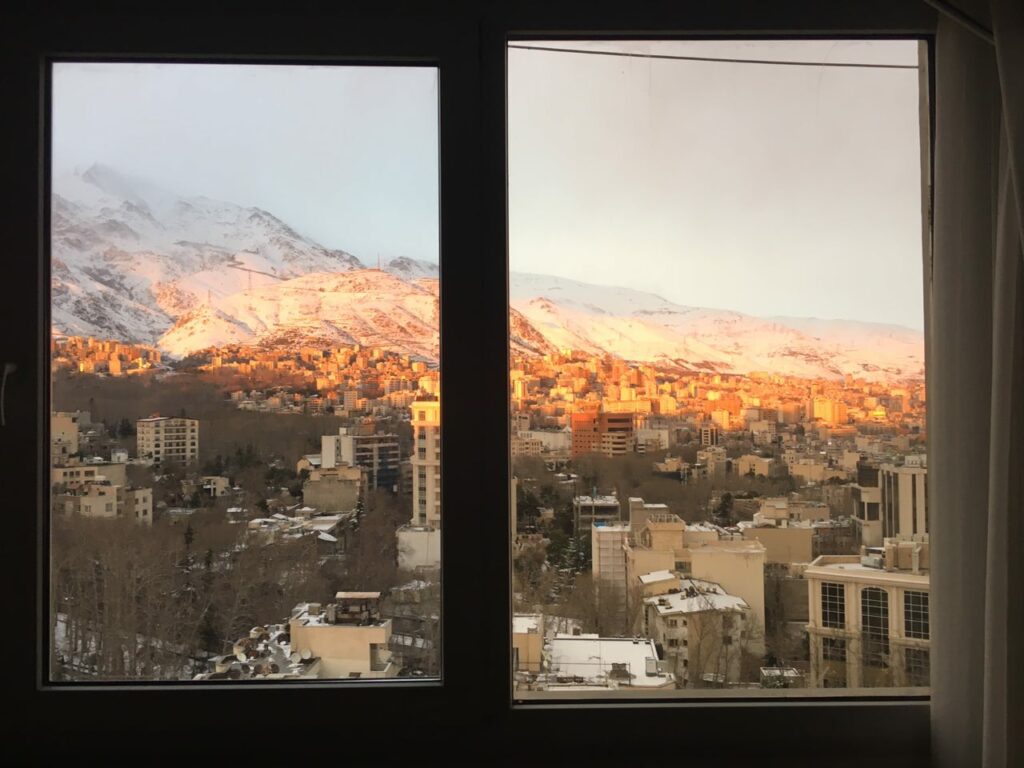 The twenty-five artists included in Root Division's biennial MFA Now exhibition are in the midst of a two or three year program, in which they focus on their respective development as individual artists and experiment with the possibilities of their work. While the artworks produced during this time function as extensions of specific MFA programs, they also represent the emerging artist – one who has not yet been defined, pinned down. The MFA candidate is uniquely positioned to make powerful critiques of institutional structures that they function through, for, within, and around. On the periphery of institutional confines, yet immersed in them, these artists have a vantage point to mark moments of transformation and reconstruction.
Natalia Mount, exhibition juror and director of Pro Arts, Oakland, noticed several commonalities amongst the artworks she selected for MFA Now 2017. The ideas of home and displacement, networks and isolation, and collaboration and participation come up again and again. Often utilizing site-specific installation and impressive new media production, these artists are thinking about what they are doing as a tool to critique the environment around them, and dealing with identity through social and political interaction.
Several artworks included in the 2017 iteration of MFA Now make poignant critiques of political, social, and economic structures. These structures are invisible and tangible: they influence sociality while they occupy physical space and direct the body. Four artworks deal specifically with architecture as a means to profoundly examine setting, space, and identity. Taking up architecture as real and symbolic power, the following works delve into how physical space is divided, arranged, and prescribed, and how that space can be questioned, critiqued, and reimagined.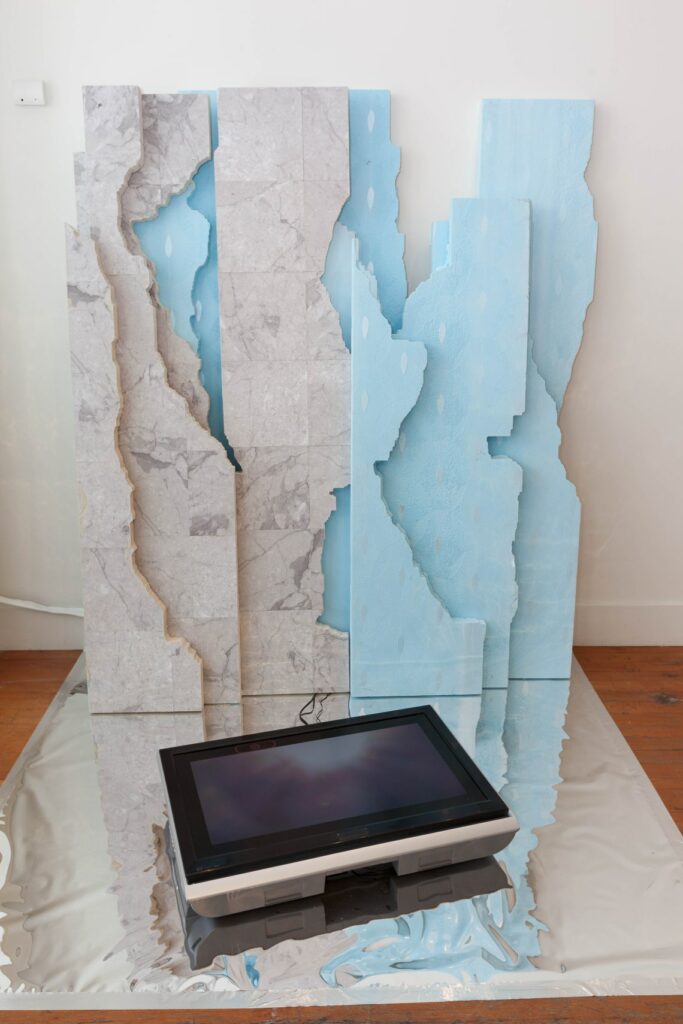 Prima Sakuntabhai's immersive installation takes up architectural structures of power, and their socio-economic implications on bodies. She invokes Adolf Hitler's chief architect Albert Speer's, theory of ruin value, in that a building should be designed so that it eventually collapses to leave ruins behind in its shadow. This idea was supported by Adolf Hitler, who saw value in the potential of these future ruins as symbols of the greatness of the Third Reich.
Principle of Ruins or The Future is Decay is a structure of several jagged cutouts that rise above a video monitor. The ruinous setting is made from marbled vinyl tiles and blue foam core which has been etched by automated tools directed by computer code. Using CNC (computerized numerical control), Sakuntabhai programmed the physical etchings to translate the glitches from an iPhone's panorama photo application. The marble is of course, only a façade, as a ruin would only need to indicate that this was once valued. Like the planned ruins commemorating Nazi Germany, the technologies that are available to us to mark history often end up obscuring it.
These ruins house a video monitor that shows interior pans of a sterile, garage-like space. The work illuminates the space, performing fascist architectural projections.
Sakuntabhai examines what it means to translate the self in this neoliberal space. A mylar foundation provides the viewer with the means to enter this space through one's own reflection. We are always already living amongst the ruins of the future.
Running through all of these works is a connection to identity – tied up in architecture is a specific body who is always affecting and being affected by space. Dislocation and displacement are tethered to social and political interaction and tension, and therein lies a statement.
Elina Peduzzi considers the communication between the people and those with political power by focusing on architectural details, adornments to the larger structure. "Democracy, the day after" III, is a cast bronze, lion's head door knocker with a Latin inscription. At first glance, one might guess it was taken directly from a grand home in London, or a foreign embassy in San Francisco. It is no doubt marking the entry to a significant place. The hanging knocker is glass, transparent, and holds the forms of anonymous, bodiless heads blankly staring out toward the visitor. To knock on this door, would be to shatter the glass.
The inscription above the majestic lion's head reads: "OBLITI PRIVATORIUM, PUBLICA CURATE," "FORGET PRIVATE AFFAIRS, TAKE CARE OF PUBLIC ONES." "Democracy, the day after" III looks specifically to the rupture between the communication of a presidential candidate with the people during a campaign, and the privacy that ensues after election. This dysfunctional door knocker is an architectural symbol of how the system of democracy is designed to not allow the general public access to elected officials.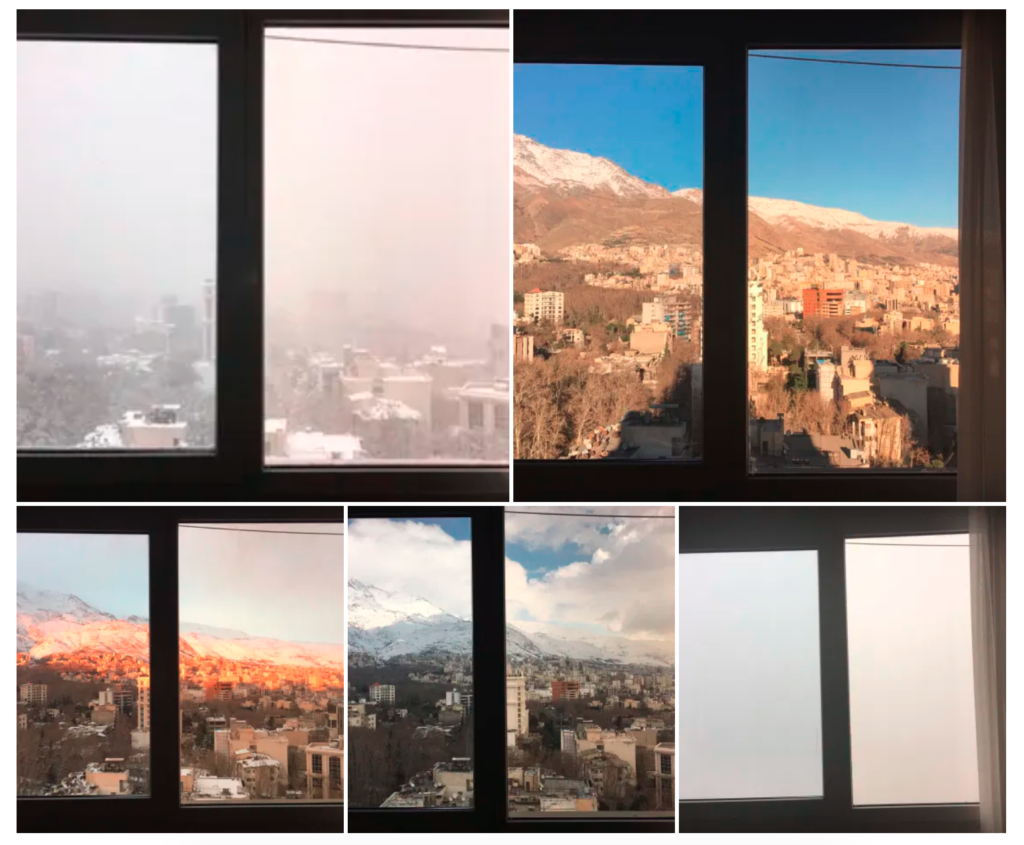 Shaghayegh Cyrous takes up a common trope in art historical imagery: the window. The window has long been employed in painting and sculpture as a means of transporting the viewer to another world – the magical illusion of art. Cyrous immigrated to the United States five years ago, and has not been able to return to her home in Iran since. In Root Division's galleries she presents A Window to Tehran, diptych videos: a sunrise seen from a friend's window in Tehran and a simultaneous sunset in San Francisco. Tehran and San Francisco are connected by a twelve and a half hour time difference. Cyrous compresses time, and is able to connect to her home through this window.
In conjunction with this work, Cyrous has accumulated several photographs taken from the same window in Tehran. As days pass, the changes to the cityscape are documented.
On February 3rd, the sunset was beautiful on the snow-covered mountains. On December 25th, it was so foggy that this window could be in San Francisco. Handling these photographs is an intimate experience: the close friendship between Cyrous and her proxy photographer is palpable, while Tehran becomes more real with each photo one picks up and examines. The photograph, along with the live video feed, transport the viewer to a place the artist cannot return. The common architectural feature has taken on the function of arbitrating physical distance.
Marissa Geoffrey invites us inside, into domestic spaces that are significant to her. She photographs these spaces, cuts them apart, draws on the images, and reassembles them into architectural objects, which are photographed. Mirroring the process of perception, memory, and recall, the alterations, loss of clarity, and addition of personally significant elements manifest themselves in this single image.
The transparent revelation of this process and the inclusion of the hands holding up the mirror within the photograph reveal a specific agency that is always constructing the spaces of memory, of history. This force is often forgotten in the conception of the "universal" world. Geoffrey makes space in several ways, honoring a reality that is more truthful than facticity.
Social, political, and personal histories are all tied up in the idea of space and its regulation, from Albert Speer's ruin theory to the physical making of the process of memory,. To focus on architecture – to transport it, ruin it, reflect it, nullify it – is a powerful, conceptual and aesthetic tool to alter the structures of power who define it.
A showcase of the work of emerging artists, MFA Now necessarily provides an indication of how the future of Bay Area contemporary art might appear. All of the works included in this exhibition are thoughtful, and respond to the constantly reconstructed environment. Mount notes that the artworks included in MFA Now 2017 indicate an emergent, but steady trend in contemporary art, exposing structures of power in the world around us, and affecting social change. The selected artists indicate a deep understanding of the power of artwork to critique certain structures in a way that cannot be done in other arenas. Working in this specific socio-political moment, these artists are responding with deep and powerful critiques, offering pathways for change.
Bio:
Kathryn Barulich is an independent curator, writer, researcher, and founding editor of DISSOLVE Magazine. Her research interests focus on how nationalism and language influence contemporary visual culture and politics. In 2015, she completed a Masters degree in History and Theory of Contemporary Art from San Francisco Art Institute, after studying French and Art History at Fordham University. She lives and works in the San Francisco Bay Area.