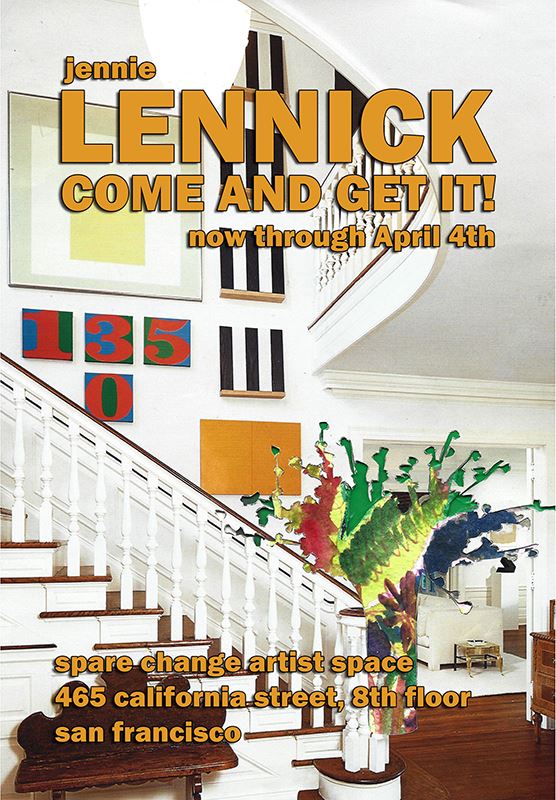 Jennie Lennick is a Studio Artist at Root Division where she teaches art to adults and children. Lennick's work reinterprets traditionally domestic and feminine imagery into collages, sculpture, animations, and drawings. Her current solo exhibition at the Spare Change Artist Space is on view through April 4th.
Amy Cancelmo: When Jennie first approached me with a proposal for the Spare Change Artist Space, I was excited by the possibility of transforming a space traditionally associated with wealth, value, and thoughtful investment into a kitschy, lowbrow wonderland. As we discussed the show in more detail, the idea of image repetition and devaluation through reproduction in craft, and domestic materials expanded into what is now, one part Betty Crocker acid trip, and one part museum gift shop. Jennie's work plays with the notion of "high" and "low" art in a variety of media. In a series of collages titled, "Me and Others," Jennie challenges the distinction between her own production and that of highly collected, blue chip artists. Shown alongside her sculptural, watercolor and video reproductions of "Cantaloupe Salads," and her newest series, "Cheeses of France," Jennie challenges all viewers to decide for themselves, what the distinction is between art object and art ephemera, and why we value one classification over another. This point is particularly interesting curatorially in a space where assessments of value, investment or otherwise, are made on a daily basis.
I asked Brooke Westfall, former Root Division Studio Artist, past artist exhibitor at the Spare Change Artist Space, and great friend of Jennie's to lead this conversation amongst the three of us.
Brooke Westfall: I first met Jennie Lennick in grad school at the San Francisco Art Institute about four years ago. Way back then, Jennie was already considered a prolific artist, and I aligned her with the greats – Mike Kelley, Claes Oldenburg, Charles LeDray to name a few – as she was making crazy, fun, colorful animations, scrunchie sculptures, and cat paintings! It's always exciting to see what comes out of Jennie's studio. I'm really looking forward to her artist talk at the Spare Change Artist Space, but couldn't wait to find out more about her work and studio life.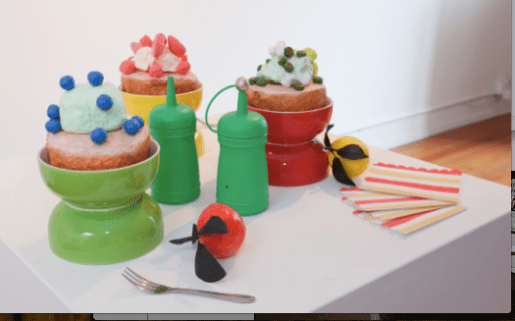 BW: I was really excited to see some of your new work at Spare Change Artist Space, can you tell me a little about some of the specific pieces?
JL: Me and Others is a series of collages that are forced collaborations between myself and famous artists. I make them by combining my discarded drawings and paintings with pages torn from auction house catalogues and art magazines. Cantaloupe Salads and Cheeses of Franceare installations which began with images found in vintage cooking and reference books that are later recreated in multiple mediums including: drawing, animation, watercolor, embroidery, sculpture, jewelry, and more.
AC: What context does it add to this work to have it shown in a financial planning office? What were your goals, and how do you see the work being read differently in this context.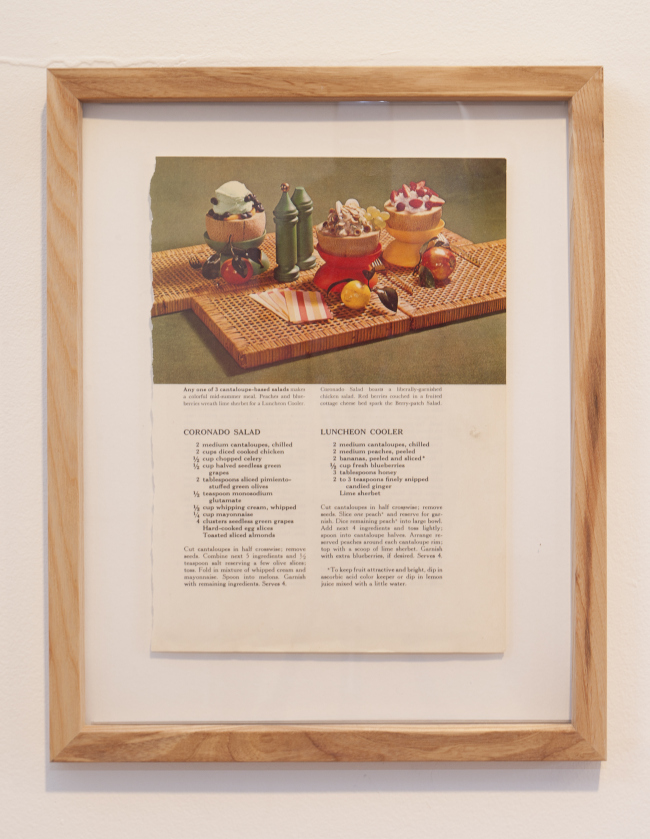 JL: Since my work is so connected to the act of buying, selling, and collecting artwork, I was really excited for the opportunity to propose a show at Spare Change to Amy. I think it is really interesting to show my work, which comments on art and commodity, in a place where wealth is discussed so frequently.
The Cheeses of France series was made specifically for Spare Change. My goal was to create a series that was like a gift shop full of similar items with lower prices than other "fine art." I did this to comment on the value and definition of capital A art. Since my work is presented in a place in which money, and money management is the primary topic of conversation, I feel like it's easier for my viewers to more quickly view my work with a more critical eye.
AC: What is the relationship of midwesterners to cheese!? And how do you see cheese as a sort of high/brow & low/brow food? I see a connection between the high-brow and low-brow art– a cheap reproduction of a masterwork (kraft single) vs. the masterwork itself (some kind of organic hand crafted fancy cheese)
JL: Cheese is huge in the Midwest! In Wisconsin there used to be a law that every meal purchased in a restaurant came with a side of cheese to help support the dairy farmers. Although cheese helps fuel the economy in the midwest, Midwesterners don't eat the fancy stuff. Everything is smothered in cheddar and only cheddar. I never tasted any fancy artisanal cheeses until I got a job at a Whole Foods when I was in college.
The Cheeses of France series is definitely a nod to highbrow and lowbrow art. The book I stole the image from is a midcentury reference book about the craft and history of the finest cheeses. By repeating the cheese motif so many times I feel like it makes the original, fancy cheese "cheesy" and cheapens the high-class, foodie intention behind the book and the image.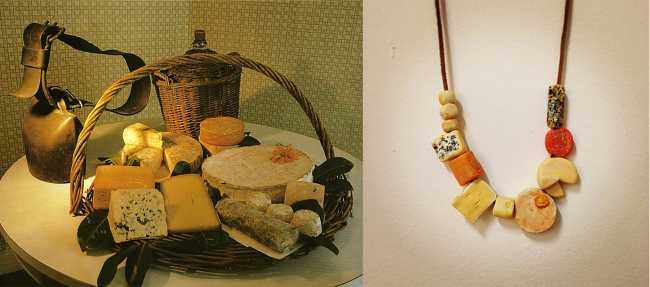 AC: Your show is sort of like a museum gift shop, harping the one masterpiece, or favorite from the exhibition in every form. Can you talk a little bit about how the idea of art related "stuff" differs from the original, or "fine art?" Do you make that distinction in your own work?
JL: Art related stuff is fascinating to me. When I was a teenager, my mom gave me a Van Gough Starry Night pillow that lit up when you pressed a button hidden behind the painted moon. It is the perfect example of how fine art is degraded to commodity and kitsch. Instead of only being available to the wealthy and elite, it is mass produced, cheaply made, and inexpensive. In my food series, the "masterpiece" I am harping off of is strange and undesirable to make a point. I want the replicated stuff to have more energy and value than the original.
BW: I'm really interested in the parallels you make with domesticity, craft, and western abundance. And there is a great variety of forms in which your work manifests. How does this relate to western abundance, kitsch or commodity?
JL: I am interested in the ways in which people decorate their homes, the revival of craft & DIY, and ideals stemming from the 1950's homemaker and how these ideas affect people today. Currently, I am particularly fascinated with Instagram and how people document elements of their daily life in an obsessive way. For instance, let's say I make a meal for you, Brooke, I am going to need to take a photo of the food, and share it with everyone on Instagram, Facebook, Twitter, and Tumblr, so I can feel like this moment reeeaaaalllly matters. I think that we are starting to not only consume material items to make ourselves feel better, but now we are producing images of us consuming to somehow create a little bit of immortality and combat the fickleness of daily life.
I am also interested in selling my artwork (obviously) and creating work in many different mediums. That way a potential collector could choose the medium that is their favorite when purchasing my work. Additionally, working in multiples moves my artwork from being a precious, single object, to one that becomes a commodity or kitsch item. My work directly references midwestern craft aesthetic and traditions including: garment construction, watercolor, ceramics, jewelry making, and embroidery.
BW: I noticed your interest in interior spaces through the "Me & Others" series, where you cut out sections of interior scenes and remove some recognizable art works. Where did you find these images? How did you choose which "famous works" for those pieces?
JL: One of my first jobs after graduate school was at a blue chip gallery in downtown San Francisco as a gallery assistant. I LOVED it. I was able to handle artworks from some of my heros, like Wayne Thiebaud, Claes Oldenburg, John Baldassari, Squeak Carnwath, Julie Mehretu, Robert Crumb, and Mark Friedman. I also saw their artworks sell for tens of thousands of dollars to collectors and the whole act of buying and selling made me depressed. These artists meant a lot to me as a student, not for their monetary value, but for their intention, energy, and heart. I identified with these artists, and I felt as if they had sold out- Somehow, selling a Thiebaud lithograph to some people (who I am sure are lovely) to hang in their kitchen for $50,000 cheapened the art work for me. It felt unfair that someone could own something so precious, but it also felt inevitable.
Christies and Sotheby's catalogues were sent to the gallery on a regular basis and I began rescuing them from the recycling bin. I would page through them in my studio and tear out the artworks that were pleasing to me, either aesthetically or because of who the artist was. I also began stealing artworks from Art Forum and Art in America magazines.
AC: Can you tell us what you were trying to do by placing your own work in the me & others series?
JL: I really like the work of the artists I borrowed from and also like that their works are for sale for such a high ticket price. When I make my collages, I spend a lot of time cutting the outlines of stock images and clip art flowers from the catalogue pages- I do this to represent the aesthetic beauty and desirability of the famous pieces. I then place my work behind the catalogue page which exposes my drawings through the flower cut-outs. I do this to align myself with the famous artists. People seem to like their work and want to buy it for a lot of money, so why not steal some of their fortune and force them to collaborate with me.
AC: Do you think that working in a fine art gallery, and seeing the artists work you were handling as a commodity changed the way that you think of that work, or those artists? Do you find that you idealize them more or less?
JL: It is not a matter of idealizing them more or less, I feel like I am just more deeply aware of what they are doing and what it means to make it as an artist. When I see a Thiebaud painting or an Oldenburg sculpture, my heart still skips a beat- I appreciate the color, the form, and the history. It makes me cringe to know the extent to which their work is commodity, but I understand that it is just the way is has to be if you are to make a career of being an artist. I want that life more than anything else.
AC: What happens when you place your own work in that context- does it change for you?
JL: Sometimes. Whenever I sell a piece of artwork, I am obviously happy. It's the end goal, right? The two bodies of work, Repetitive Food Motifs & The Me and Others series, are both nodding to the capitalist system artists are part of. I am making work specifically about buying, selling, and value. However, when I sell a piece of work it always makes me a little bit sad because, since my work is almost always a series of labor intensive, hand-made objects it will no longer be available to show and will make the entire series smaller and weaker. I am trying to work out a way in which to make serial work that will not be as hard to replenish once a piece is missing.
BW: What are you working on now that you are super excited about?
JL: I am working on a couple projects. One is a series of necklaces based on food still lifes from midcentury cookbooks. It's really fun to make the beads and to more obviously combine the functional and conceptual in artwork.
I am also beginning a series of work based on wicker baskets. I just love wicker baskets. Wicker baskets are also so disgusting. I find them at thrift stores all the time and think of them as reminders of failure. They are like broken dreams. You buy or give a basket with so many good intentions- I am going to be organized! Or, in the case of a gift- "Here's some fruit!" Eventually the baskets rip, or are filled up with clutter and garbage, and are either disposed of or left back at the thrift store for someone else to make a wish.
AC: The cycle of commodity….Thank you both so much, I am looking forward to hearing you speak tonight Jennie!