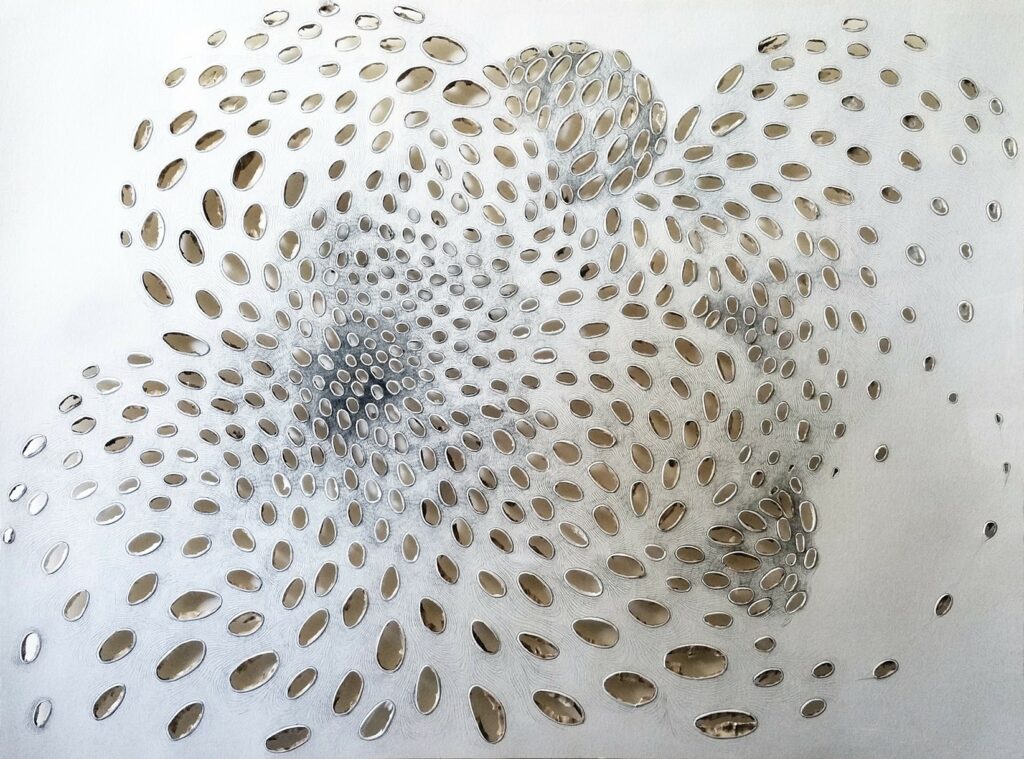 Joyce Nojima's work exemplifies the capacity for paper to be both durable and vulnerable. Using a heated iron rod, Nojima carefully manipulates, burns, and marks her chosen medium to create new, emerging forms. Her process of controlled mark making – inspired by the desire to find beauty in destruction – produces a captivating constellation of imperfect patterns.
For her installation in the Frank-Ratchye Project Space this November, Nojima has introduced bright, vibrant color into a large-scale work. In Rumination, a teal glow heightens the contrast between the whiteness of the paper and the remaining burn marks. Nojima is interested in understanding the complexity and inherent duality of the self; the one portrayed outward and the one that remains facing inward. Her subtractive process ultimately parallels this concept as new internal forms conceived through varying depths are revealed for viewers to uncover.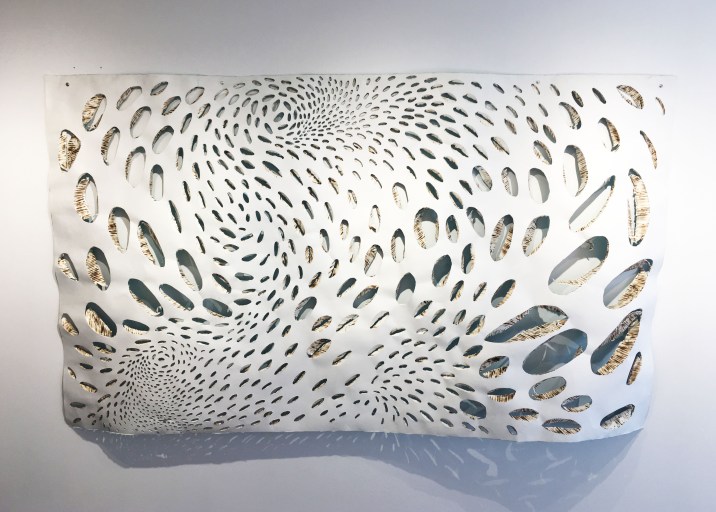 Samantha Reynolds: You work with a variety of mediums, but paper has remained a constant in your practice. What interests you most about working with paper? Its physicality? How do you experiment between its simultaneous physical strength and vulnerability?
Joyce Nojima: I see paper as another material surface and membrane for my drawings. Similar to plastic, the duality of how it can be both rigid and fragile is largely the reason why I use it. I can only manipulate it to a certain extent or else it tears. It is not forgiving when mistakes are made. It accentuates the play between control and chaos.
SR: I love that you have chosen to install one large work within the FR Project Space. Your various sizes and techniques of marks become that much more heightened. This piece reminds me of a constellation… the marks and resulting forms are similar, but never completely uniform. Is this intentional?
JN: Thank you. Not having any one mark be the same is intentional. With closer observation many of the burned holes are awkward or on the verge of ripping. I find myself continually drawn to this process because it is as if there is something more revealing and vulnerable in the break down and the handmade.
SR: You create beauty through a process of (seemingly) destruction. How did you begin working with a heated iron rod?
JN: I began working with a soldering iron during graduate school at UC Davis. It was during this time that I decided to reassess what exactly it was that I wanted to see in my work. In a way, I went back to square one with a blank studio. I began grabbing any material I found around me that caught my eye.
I first gravitated toward the plastic sheeting discarded at construction sites. First, I started marking it with pens, then added hot glue. It was when the plastic hit my glue gun, I was intrigued with how it melted. It was then that I turned to the soldering iron and I haven't set it down yet.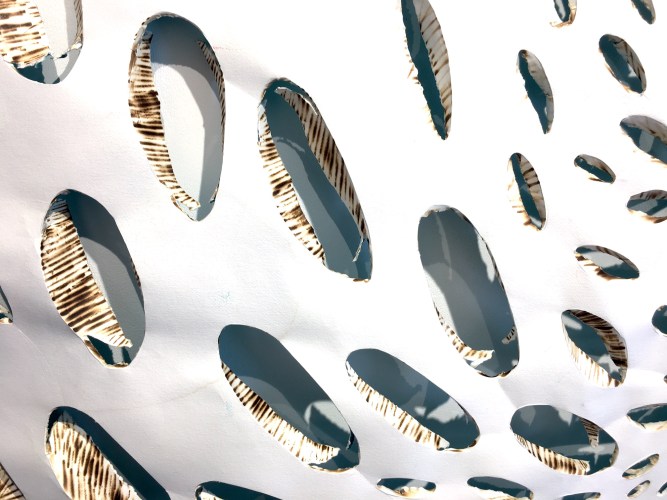 SR: During our studio visit, we discussed the relationship of how we choose to portray ourselves and our own individuality to the outside world. Many of us have two separate selves – one that faces outward and one that faces inward. How does this concept align with your process of removing to reveal a new internal form?
JN: My work is an extension of myself and in a way is my self portrait. But not a self portraiture in the conventional sense. I don't see it as an ideal image or something that is construed by the impressions I have on others. If anything, I am hoping my identity is more than what is on my driver's license or the history feed on Facebook.
Through what I create and all the marks I make, I search for what makes me, me. I believe the subtractive process is very much aligned with this mission.
SR: A recent development in your work is this insertion of color which creates a a greater contrast and shadow behind the marks. What appealed to you about utilizing bold, vibrant color?
JN: I wish I can say this was entirely all my idea, but it was brought up as a suggestion to use color behind the paper pieces when I had a studio visit from Charles Woodman a couple years ago. Afterwards, I experimented and it clicked.
I observed that the brighter neon colors worked best. I wanted the color to be bold yet not be the first thing that confronts you when you see the piece. I want these details to become more pronounced over time, to be like a reward for the time spent looking. Again, playing off of the metaphor that each piece is an extension of the self. The more you spend time with someone, the more you will see, flaws and all.
I also think of my choice of color as a way to rebel when I was told by others that both my personality and work are quiet. I'm not quiet.
SR: Which contemporary artists do you look to for inspiration?
JN: Yayoi Kusama, Tara Donovan, Agnes Martin, and Vija Celmins
SR: What do you ultimately hope that people will walk away with after spending time with this work?
JN: Ultimately, what I want to see and experience in my own work is what I hope others do as well. And that is, a form of slowing down. To focus on the looking. To separate the noise that is in our everyday busy minds and just look. To feel the surface with your eyes and to dull and heighten the sense of being present.
I think it is best stated by Agnes Martin "It was not a matter of representing nature, but of representing those sensations of exultation which nature commonly elicits – feelings of leaving the ego behind and merging into a field of vision without objects, interruptions, or daily cares."
ABOUT THE ARTIST:
Joyce Nojima is a second-generation Japanese American. She received her BA in Art Practice from University of California, Berkeley and her MFA at University of California, Davis . Recently, she was a Graduate Fellow and then Affiliate Artist at the Headlands Center for the Arts. Nojima approaches her materials actively by puncturing, disfiguring, welding and drawing with a heated iron rod. Mark-making is at the center of her practice. By continually manipulated various medium, Nojima is in constant search for beauty amidst destruction. Nojima is a current studio artist at Root Division and teaches as a Youth and Adult Instructor through Root Division's Art Education program.
ABOUT THE FRANK-RATCHYE STUDIO ARTIST PROJECT SPACE:
The Frank-Ratchye Studio Artist Project Space provides a gallery for Root Division artists to connect and engage in dialogue around the work being made on site, and to exhibit their art to the public. The Project Space is free and open to the public during gallery hours in conjunction with the current exhibition. This space is currently curated by Root Division's Exhibitions Fellow, Samantha Reynolds.