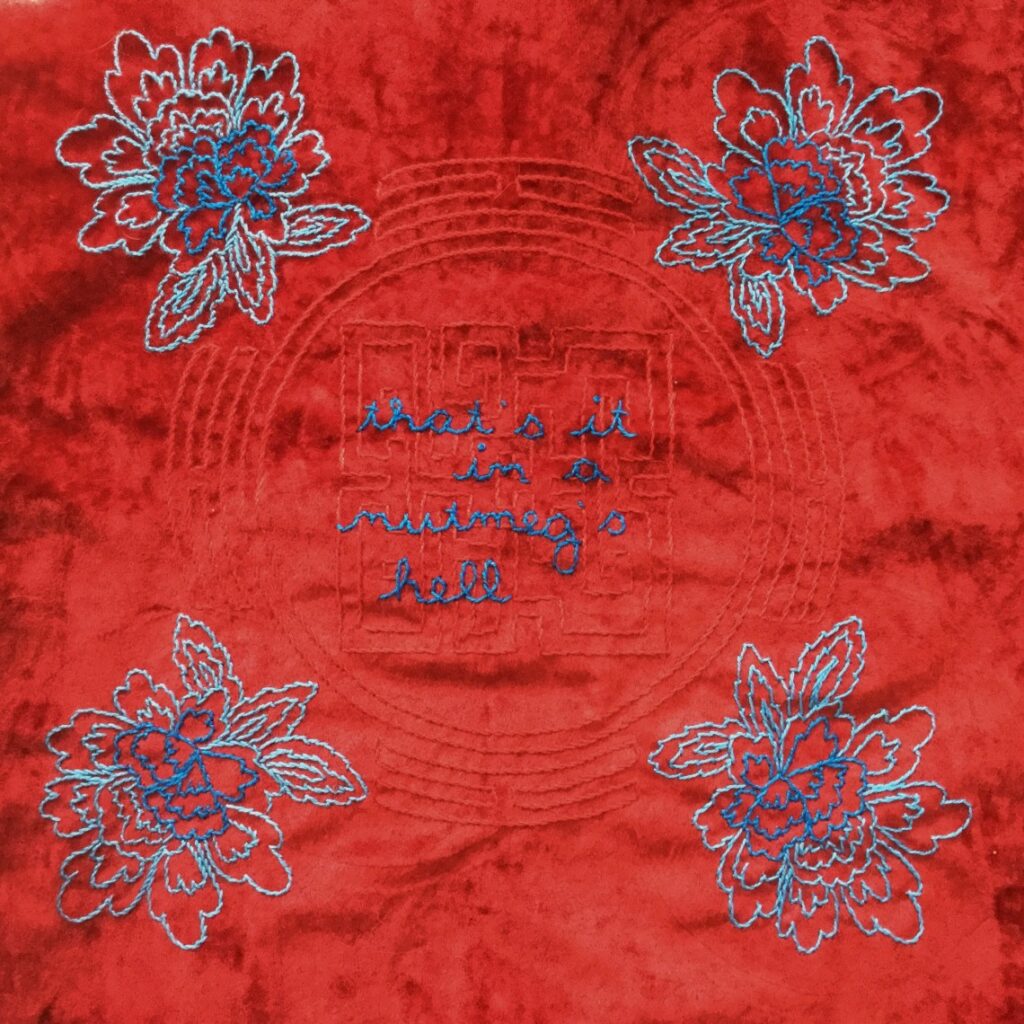 If there was ever a time that I needed to be surrounded by contemporary feminist art, it was certainly this month. Luckily, Pulling Threads, an exhibition that places contemporary Bay Area women artists in conversation with Feminist art history, is open now through November 30. If you haven't seen the show yet, I urge you to check it out before it closes next week. As an added bonus, this month the Frank-Ratchye Project Space features new work by RD Studio Artist Margaret Timbrell, whose work fits in rather seamlessly with some of the contemporary craft found in Pulling Threads. I sat down with Margaret to talk about her new body of work, which she has aptly titled Life Fails.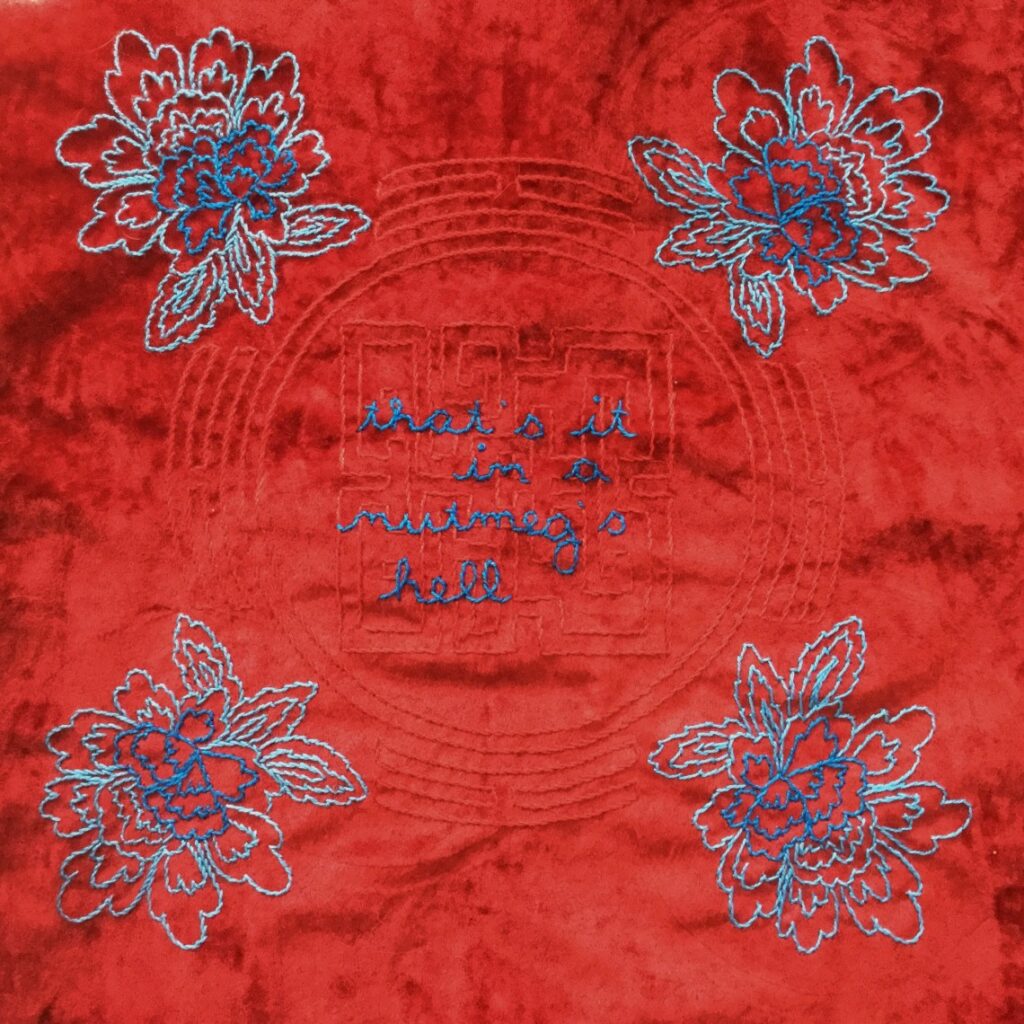 LE: Thanks for taking the time to talk to me, Margaret. I understand that you have transitioned into embroidery from painting rather recently. How did you get into needlework?
MT: I actually started my career as a photographer, but after I was run over by a truck, printing in a dark room–lifting paper boxes, standing for many hours, the general physicality of it, etc.–it just wasn't a possibility. I turned to writing and painting as therapy, and my honey bought me an easel. At the same time, a friend and I took up needlepoint together and I became obsessed with it. For a while I was painting my paintings but stitching other people's designs. I wanted to make needlepoints that were my own work but I couldn't quite figure out how. I was very locked into the idea that there must be a pre-painted image on the canvas in order for me to stitch it. Finally I started printing my paintings on canvas mesh in order to create needlepoint canvases that matched my painted canvases. This finally unleashed my creativity within needlework.
LE: What drew you to autocorrect fails as a source for material?
MT: One unifying thread in my work over the decades and between mediums has been my interest in accidents and fuck-ups. I really enjoy linguistic errors and wordplay so autocorrect fails particularly interest me. They are a very universal, humorous, and sometimes revealing quirk to our technology-centered lives. My mom, of course, sends me the best ones and I have been saving them since before I had a clear idea that I would use them in my work.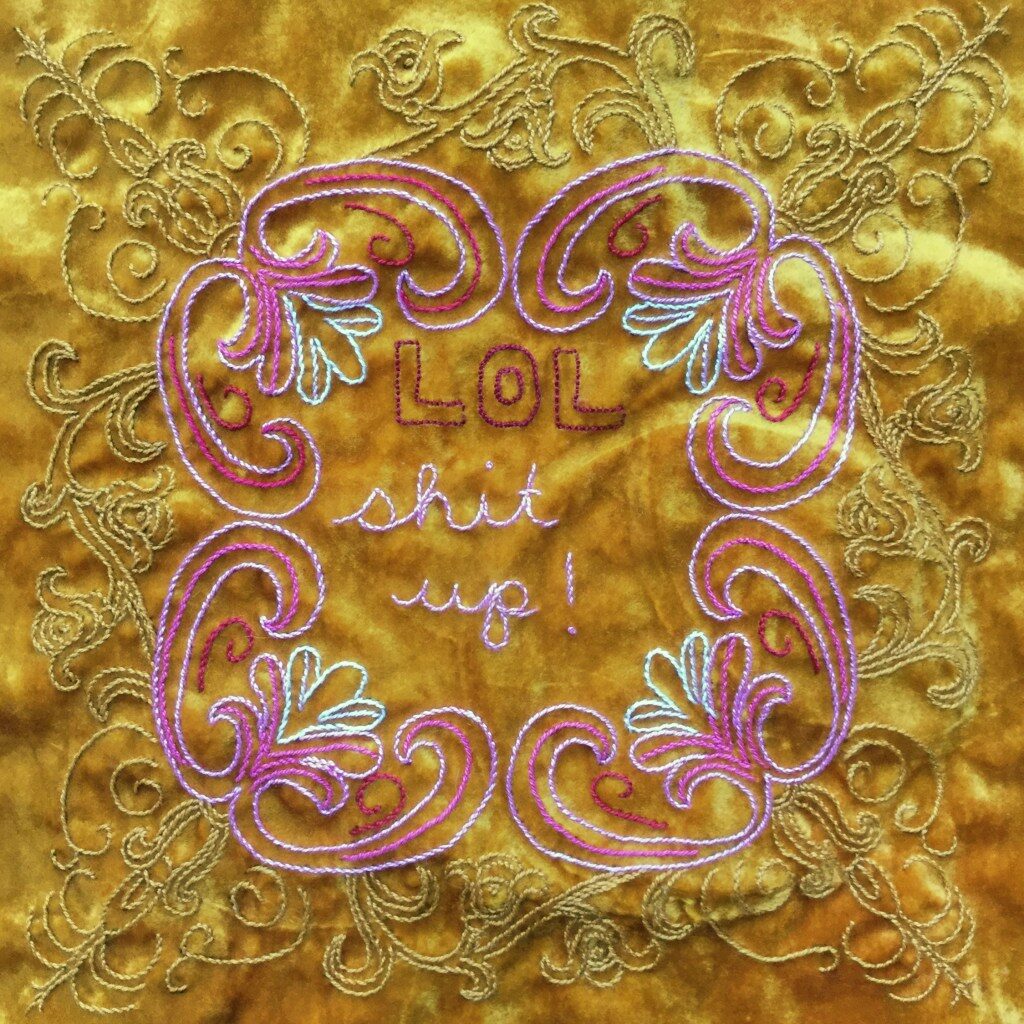 LE: What makes for a good autocorrect fail?
MT: I love the authentic autocorrect fail. There is usually a little diamond, a clue in each one that reveals something about the sender or about auto-correct. Maybe something about the context of the original conversation or some insight into the will of the auto-correct application. Auto-correct has a distinct personality and the more fails I read, the more clear this personality becomes. It is impish, but has a pretty strict line it won't cross. It weighs word choices fairly evenly despite their very different meanings so long as they are similar in letter distribution. An example of this is pergolas versus perhaps. They are two very different words for you and me, but auto-correct reads them as being similar.
LE: What's your process been like for this series?
MT: My process is that I collect "donated" autocorrect fails from friends and family, usually through social media but also from my donation box. I rely heavily on the social activity of soliciting donations to be able to make my art. Simultaneously, I hunt for vintage stitch kits at the Goodwill and eBay. I lay them out around my studio, taking my time to pair the imagery with the donated fails. Sometimes I pick the canvas to underscore a funny aspect of the fail, sometimes to highlight something poignant, and sometimes just to provide a contrast. Then I lay out the wording as I would like it to be on the canvas and stitch it. I use a variety of stitches. Then, I hand-wash the finished piece to remove my pencil or quilters ink, iron the piece, and stretch it on canvas bars.
LE: Why do you pair the autocorrect fails with the vintage stamped canvasses?
MT: The pairing started with convenience. I found some stitch kits at Goodwill and 'rescued' them. At the same time I was trying to figure out how to work larger because needlepoint takes a very long time. A 2 x 3 foot piece takes me about a year to complete. I liked nostalgic and idyllic look of the stamped linens in the stitch kits. It started as a funny idea to pair the sometimes rude autocorrects with the saccharine scenes–a contrast that revealed the underlying humor. But it also was very practical because the prefab imagery allowed me to work faster and larger.
LE: Can you speak a little more about this newest piece, Madness in Redwork? It seems like you are tackling some different themes here.
MT: I've found that there are many daily moments in parenthood where I am at a loss for to what to do or what is needed of me. Pair that with exhaustion, too much coffee, dogs, errands, work, etc. and I think parenthood is just a perpetual state of madness. At the same time, everyone else is working toward Martha Stewart levels of perfection and voila–there's this never-ending contest for parental and domestic perfection that is utterly unattainable. Madness in Redwork is a piece that works to expose the imperfection. In embroidery there is a practice of looking at the back of a piece to judge the skill level of the stitcher. So not only does your execution need to be perfect, but the back must be perfect too. For me, this is a parallel to parenting and homelife. So I stitched the piece both front and back, and also included the hours my babies cried, both as a reflection of the madness they cause but also the madness of the standards to which we are held. Reality is that babies are crying, the stitching will be left undone, that even the perfect family dinner tablecloth is imperfect.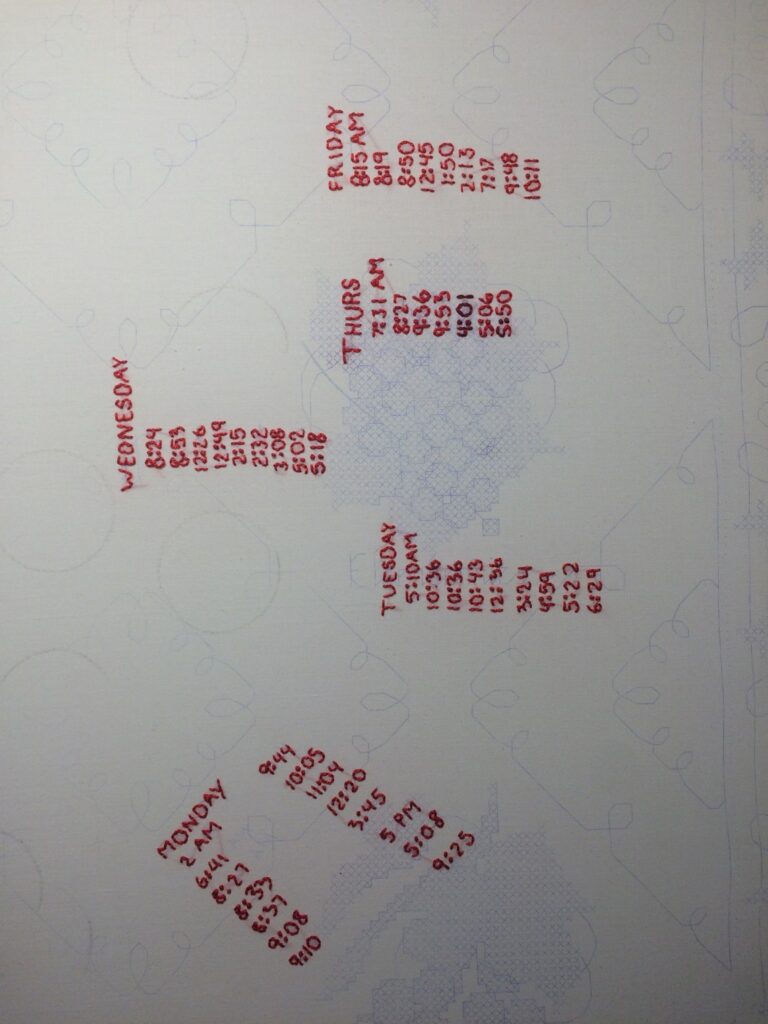 LE: Where do you see this work going?
MT: I want to stitch a series of large redwork pieces that examine issues and imperfections within domestic life. We live in a world of very curated social media which creates a lot of pressure. I have had very dark moments in my life where I've struggled with the perfect appearance of the lives around me. When it feels like things are falling apart I find that I, too, curate my social media to reveal just the best moments. I want this series to pull back the curtain some, to show that not just being a mother is hard but a lot of life is very hard for everyone. It's like airing my dirty laundry, but it's also an attempt to be honest.
LE: Are there any other artists you're looking at right now?
MT: Jenny Holzer is a big inspiration for me as a text based artist. I've also been looking at On Kawara for his daily practice and concepts of time, Lenka Clayton for using motherhood as artistic inspiration, Jacqueline Royal for needlepointing graffiti-ed walls and using traditional craft to depict street art, and Ana Teresa Barboza for turning embroidery into installation art.
LE: What's it like having a studio here at Root Division?
MT: It is so freeing for me! It inspires me to take my work to the next level. I love the stimulation of the creativity happening around me, but I also appreciate that I can lay my materials out around my studio floor, leave for the day, come back and everything is just as I left it. In my house with one-year-old twins, dogs, and my honey, it's impossible. I feel very supported and encouraged by Root Division and extremely lucky to be one of the RD studio artists!
LE: Thanks so much for talking to me Margaret. I can't wait to see what you do next.
Make sure to check out Margaret's work, plus Pulling Threads, on view at Root Division now through November 30th. Please note that Root Division's gallery will be closed Thursday, November 24th & Friday, November 25th in observance of the Thanksgiving holiday.

The last days to see Pulling threads will be open Saturday, November 26th, Monday November, 28th and Tuesday November 29th from 2-6 pm.
**You can purchase Margaret's work on Root Division's online store here:https://squareup.com/store/root-division