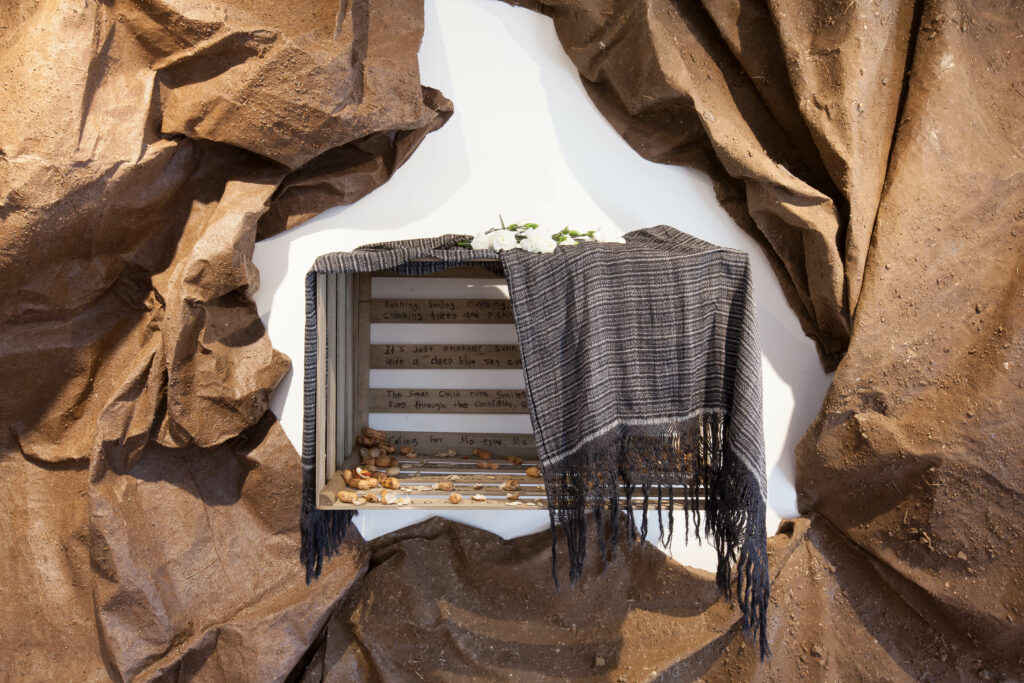 Right now, it feels so difficult to find hope amidst all of the hatred and ignorance that permeates our national dialogue and threatens the safety and well-being of millions of people. Root Division, however, continues to stand in resistance to our current political climate by providing an oasis for creative expression, diverse perspectives, and open dialogue between emerging artists and their community. RD's current exhibition, A Call for Beauty, curated by Three Point Nine Art Collective, reminds us to seek beauty in the ugliness while honoring the historical and ongoing creative presence of black artists in the Bay Area. Upstairs in the Frank-Ratchye Project Space is another testament to the beauty we can unearth within ourselves and our memories. Mi Tiera, a new installation by RD Studio Artist Susa Cortez, is an immersive shrine to Cortez's memories of her hometown in Mexico, but also the perfect place to reflect on identity, nostalgia, and how our origins shape our selves.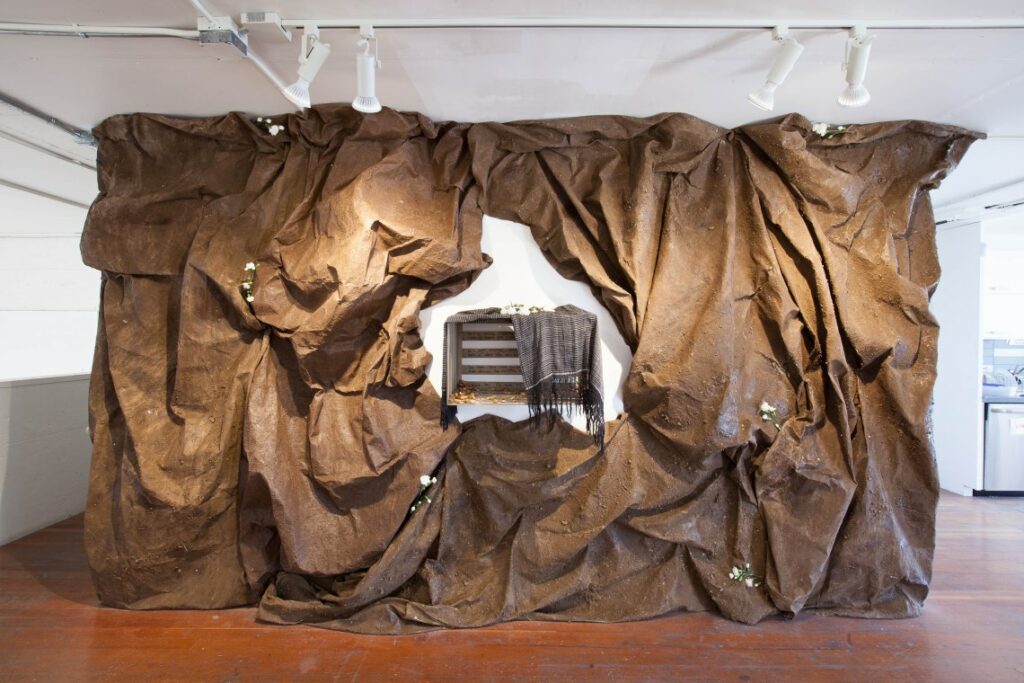 Lauren Etchells: Susa, your new work in the Frank-Ratchye space is absolutely stunning. I understand that this piece is largely inspired by your hometown and memories of your grandmother. Can you tell me more about your thought process and the inspiration behind this work?
Susa Cortez: Often my process begins with a specific object, feeling, or thought. Lately, I have been thinking about cajónes (wooden boxes), my hometown, my childhood, and my 92-year-old grandmother. These memories led me to think deeply about the beautiful Saturdays that I spent visiting my grandmother and the many adventures I had at her house as a child. To get to her house, we walked 15 minutes through a narrow dirt trail surrounded by vegetation and luscious trees that you could see for miles. My grandmother earned her living by knotting the fringe at the ends of the rebozos (shawls), and every time I visited, she was hard at work. She had a chair and on that chair, she would set the cajón with the rebozo laying over it. This helped elevate the fringe of the rebozo to be at eye level. She would place a rock on the rebozo to hold it from moving around as she knotted the ends. In the cajón she often had peanuts and pepitas (pumpkin seeds) as snacks that I would take as I sat there watching her do this very elaborate work.
LE: Can you tell me more about the personal significance behind some of the objects you've chosen for this installation?
SC: The wooden box is called a cajón, often use to transport fruits and vegetables. Most people in Mexico have multiple uses for them. My grandmother and many women from my community used it as support to work on the rebozos. The rebozo is also a major icon used to represent women from rural communities in Mexico. Working on these rebozos is the main source of income amongst women in my hometown.
I chose to use the white carnations because they symbolize purity and hope. This piece for me is a gesture of hope for everyone from my community, and everyone who grew up in rural Mexico. In addition, my grandmother's name is Esperanza, which means hope. I used peanuts and pumpkin seeds because those are my grandmother's preferred snack. It is all connected.
LE: I know you have used dirt as a material in some of your past installations. Can you tell me more about your decision to use dirt in your work?
SC: Dirt has been part of my practice for quite a while. I began using it in 2012 when I was in graduate school. For me, dirt represents those individuals or communities that society looks down upon. But just like dirt, those communities are necessary and play an important part in our day-to-day lives. I consider myself dirt. Recently, I have been thinking about how to beautify dirt, how to make it appealing to the eye. Dirt represents beauty and it represents where I come from. I use it to honor my roots and the struggle of my community.

LE: What do you want the viewer to feel/take away from this piece?
SC: I aim to connect them to their roots and the unforgettable memories of themselves. By interacting, the viewer can visualize my memories, but also trigger their own.
LE: The rural environment of your hometown seems to be a major theme in your work and an integral part of your identity. Does living in San Francisco a more urban environment influence your work as well?
SC: Yes it has. When I first moved to San Francisco I was influenced by the issues that the city faces, especially homelessness and class segregation. But, the Mission District inspires me more because of the culture and how it reminds me of home. There is a lot of respect for our roots and striving not to forget where one comes from.
LE: Does the contrast (between the urban and rural) drive the nostalgia found in your work?
SC: Yes, the more I live here the more I crave the rural fresh air, connection to the earth, and the more I notice the lack of physical space around me. The pace of these two worlds is also very different–one encourages always being on the go and the other allows for taking time to appreciate who and what surrounds you.
LE: I understand that you have created an artist residency program in your hometown in Mexico. Can you tell me more about how the program and how it started?
SC: The project was just an idea I had until about 4 years ago when I met my friend Vreni Michelini Castillo at Root Division–we were both Latina Teaching Artist Fellows at the time. Vreni happens to be from the same state as me and one day I told her my idea about creating a summer residency program in Mexico. She was as excited as I was and we decided to make that idea a reality. That is how Aguas Migrantes (Migrant Waters), our art collective, was born. The purpose of the summer residency program is to connect a diverse group of artists to our home communities through art by exploring and learning about the cultural productions of rural and urban Guanajuato. This is accomplished by interacting, learning and connecting to members in our communities and offering free art workshops in exchange. As migrant artists from Mexico, we find ourselves in the Bay Area at a time when gentrification is a threat to artists communities, migrant communities and working class communities–all of which we belong to. We thought, "how can we bridge the gaps between migrant communities and artists at a time where xenophobia against migrants is at an all time high? How can we dismantle negative stereotypes of Mexicans?" Thus, we thought about creating a bridge between Guanajuato and the Bay Area and the rest of the world through an annual summer residency in our home state.
We envision this connection as a long term participatory project where artists from all over the world are invited to look beyond the stereotypes of Mexico and Mexican people and learn from our rich cultural traditions.
LE: Is there a difference–emotionally, creatively, or otherwise–when you are making art here in San Francisco versus in your hometown? Does being an artist feel different here versus there?
SC: Definitely, the inspirations and emotions I experience are always influenced by the place. But, somehow I always focus on the struggles. I guess the struggle is part of my life and it is what drives me. When I am in the city I think about the struggles of my community, my ethnicity, and my own identity. When I go back home I also think about their struggles. Being an artist here versus there in a way is the same thing just with different drives.
LE: We've spoken before about how being an immigrant affects your sense of identity here in the U.S. Does it also affect your identity as an artist?
SC: Yes definitely, as an artist many times I feel as if I do not belong to any specific art scene. I do not feel I fit in the Latino/Chicano art scene and I definitely do not fit in the North American art scene. I studied art on the East Coast and in the Midwest, and as a result my practice is heavily influenced by contemporary practice, minimalism, conceptual art, and theory. This influence is reflected in the manifestation of my creations but the core inspiration derives from growing up and living in rural Mexico for the first twelve years of my life.
LE: What is it like being a studio artist here at Root Division?
SC: Being an artist at Root Division has been amazing, I have met many great artists and a great staff that works harder than any place I have even been. Balancing my studio time has not been easy, but I am used to it. I consider Root Division my home. I have been with the organizations for 3 years–we've had highs and lows, this place is like a little child that we all are helping grow and succeed in this drastically changing city.
LE: Thank you so much for taking the time to speak with me, Susa. Congratulations on this new work!
You can see Mi Tiera in the Frank-Ratchye Project Space, as well as A Call for Beauty in the main gallery, during Root Division's gallery hours now through January 27th.