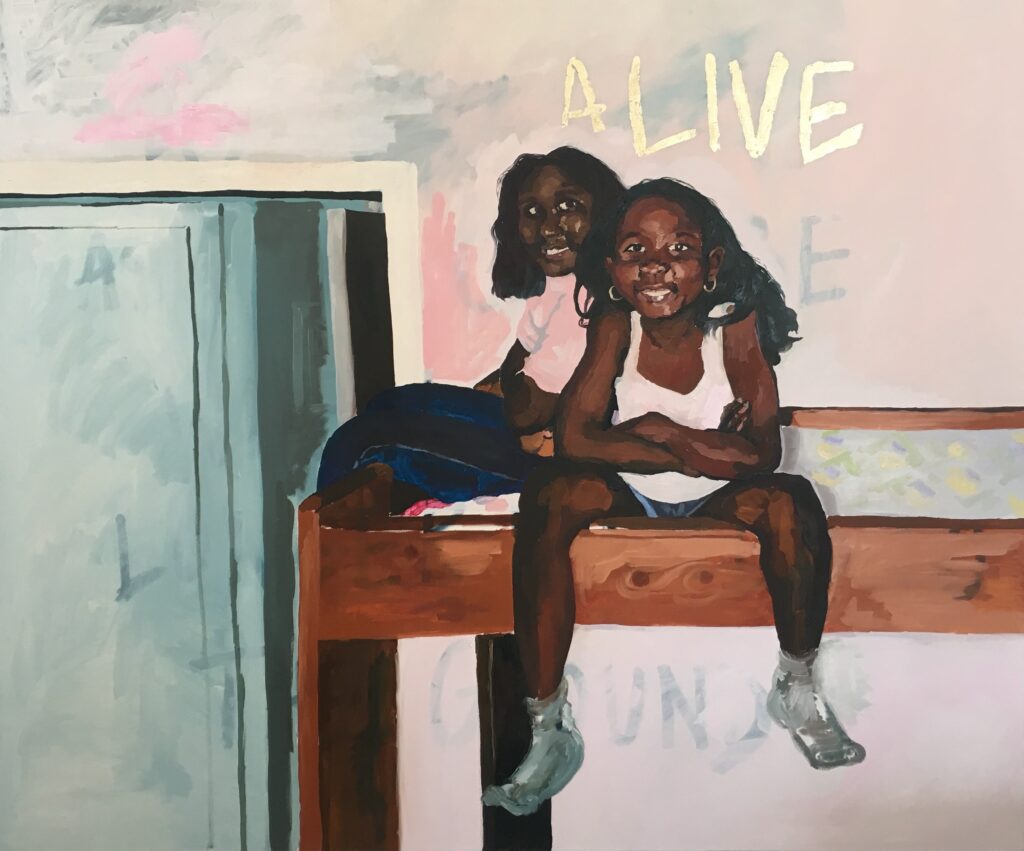 By Sherwin Rio
As Root Division's Exhibitions Fellow, I often sit down with our artists and discuss artworks they have made, are making, and will make during their time here– which alone is a quite enjoyable and informative process. It's inspirational getting to see, in its many forms, the drive to create thoughtfully and express passionately within a diverse group of artists that have had studios here. As an artist myself, it's incredibly helpful to see what drives others' practices in a life-giving way. But I was especially moved by what happened when I sat down with Nimah Gobir, Francesca Mateo, Greta Liz Anderson, and Camilo Villa this past week. There were remarkable expressions of overwhelming hope, pride, and joy– whether it was the gesture of firmly placing a hand over a beating heart, a shining glimmer in watering eyes, or an exuberant grin– while we discussed a topic of clear impact: Their practices as Teaching Artist Fellows this past year. These gestures signaled to me the immense ways teaching has supplemented their growths as artists.
The Frank-Ratchye Studio Artist Project Space is exhibiting works by Anderson, Gobir, Mateo, and Villa in conjunction with New Growth 2019: Shared Stories, an exhibition of student artwork from Root Division's free after school Youth Education Program. The four artists have each taught at various programs in San Francisco: Cesar Chavez Elementary, Filipino Education Center, and Mission Education Center. Read about their practices below.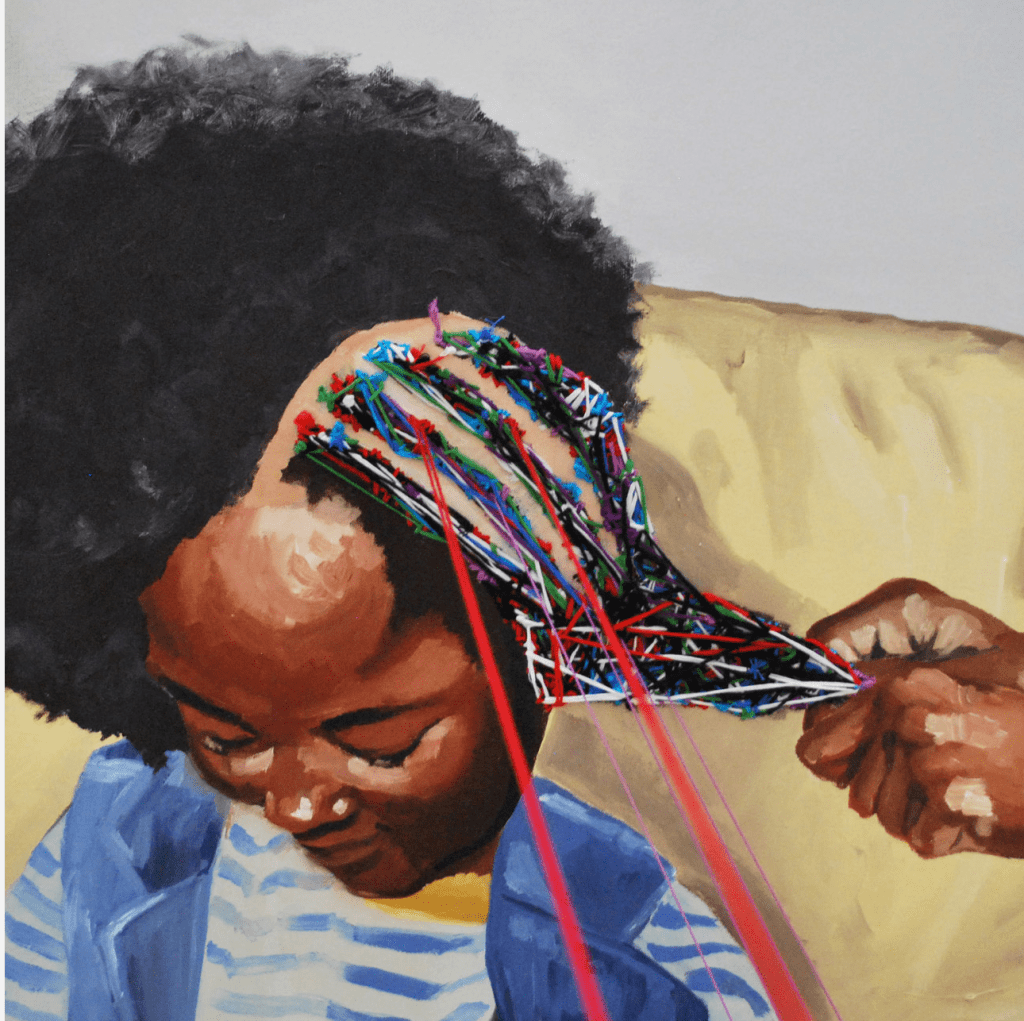 Nimah Gobir is a painter, sculptor, and illustrator who explores the nuanced and shared experiences of being a black woman. In 2018, Gobir received the Blau-Gold Studio Teaching Fellowship after receiving an M.A. in Arts in Education from Harvard. Gobir's recent work roots embroidery into oil-painted canvas and weaves nostalgia in the form of family figures from photographs. Gobir synthesizes experience directly into the work saying that, "art-making and sense-making are synonymous for me at this time."
Gobir's large oil painting when no longer rooted to the ground reads in large bold letters, "As alive as you can be when no longer rooted to the ground" behind semi-transparent washes of paint and compositional layers, obscuring the text. Inspired by the poetic phrases and words of friends, text appears in her work not only as brushstrokes, but also embroidery which she says is like "slow painting". Merging text and image, Gobir shows "how people are a combination of perceptions, memories, and experiences."
The Blau-Gold Studio Teaching Fellowship affected Gobir's artist practice. Teaching at Cesar Chavez Elementary, Gobir feels that teaching has kept her grounded. "Sharing the ability to create via teaching is just as important to me as having shows and sharing what I've created."
Francesca (ChiChai) Mateo is a Bay Area native artist and streetwear designer who received an MA in International Studies at University of San Francisco and a BA in Global Studies and Journalism at San Jose State University. Working in paint, illustration, and fashion design, Mateo's work dismantles colonial oppression by metaphors of nature/environment/surroundings as empowered womxn spirits, Pinay matriarchy, and Philippine Indigenous craft.
In The Conclusion of Claudia, Mateo critiques the shooting of 20 year old Mayan-Mam Claudia Patricia Gómez Gonzáles by formally and compositionally re-appropriating the patriarchal Creation of Adam by Michelangelo but with the Lady of Guadalupe reaching out to "a young woman whose life ended violently and too soon." In other works, Mateo depicts brown womxn spirits in the form of old-school graffiti characters coexisting within fused tropical-urban landscapes, meant to bridge the Philippines and San Francisco.
As the Filipinx Teaching Artist Fellow at the Filipino Education Center, Mateo feels that the work of empowering Filipinx youth through creation is necessary and fulfilling. Treating her like an older sister and mentor, the students create projects with Mateo to investigate the ways of tying their Philippine visual culture, languages, and music into self-expression.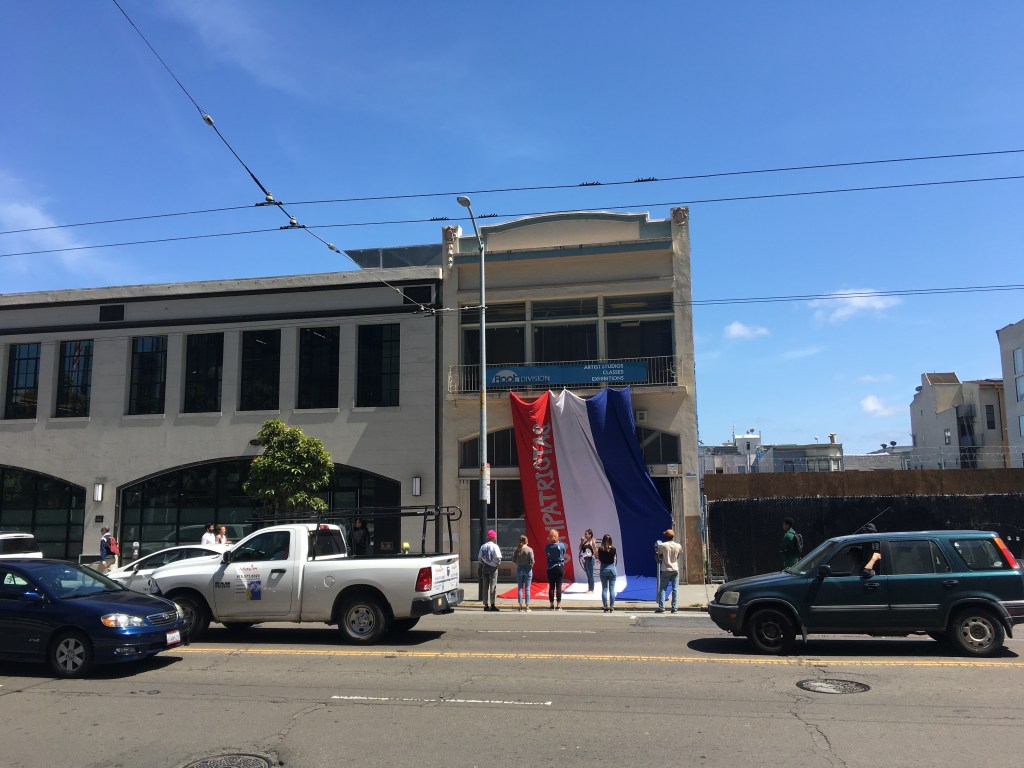 Greta Liz Anderson is an artist from Paraguay whose works upset socially-constructed conventions. At the intersection of textile, fashion, performance, sculpture, photo, and video, Anderson challenges notions of gender, sexuality, identity, and place.
The work Buscando Compatriotas documents Anderson's site-specific performance that utilizes an aged Paraguayan flag that used to hang at Paraguay's main airport as the material for a sign that reads the text of the title. When translated to English, it reads "I am seeking for people of my land." The work faces the San Francisco Federal Building and as she performs with the flag pleading into a megaphone for a Paraguayan connection and playing the country's national anthem.
Anderson received an MFA from the San Francisco Art Institute and a BFA from the Fashion Institute of Technology. She's been Latinx Teaching Artist Fellow teaching the class My Two Homes at the Mission Education Center since 2017. As a teacher, Anderson, "provides outlets for creation and artistic development and educates the youth about immigration issues." Additionally, she says, "It is crucial to recognize and remember the power behind the language of Art."
Camilo Villa is an artist who uplifts and empowers the queer Latinx community through dance, namely through his multidisciplinary project Baila Conmigo. Because he feels that his community is most often just represented through pain, he makes his artwork joyful to motivate and inspire queer Latinx people to "continue dancing in the right body even if it feels like the wrong place." Villa's recent practice begins with capturing photographs of queer Latinx dancers in public and private spaces before laser cutting and spray painting them in colors inspired by the dancers' answers to the question, "What colors come to mind when dancing?" But he also works in performance, video, textiles, and actions. He holds a Fine Arts Degree with a minor in Social Action and Public Forms from the California College of the Arts.
As a Latinx Teaching Artist Fellow, Villa co-taught with Greta Liz Anderson at the Mission Education Center. When asked how the Fellowship has affected his practice he replied, "I am certain that my teaching practice at the M.E.C. has been one of the most valuable experience so far in my career as an educator." He goes on, "Having worked at various schools in the Bay Area, the Latinx students at the M.E.C. stand out for their willingness to learn and their value for an equitable education. These students have inspired me to continue working with Latinx youth transitioning to the U.S."
Don't miss the exhibition New Growth: Teaching Artist Fellows in conjunction with New Growth 2019: Shared Stories on Saturday May 11 from 1-4pm.