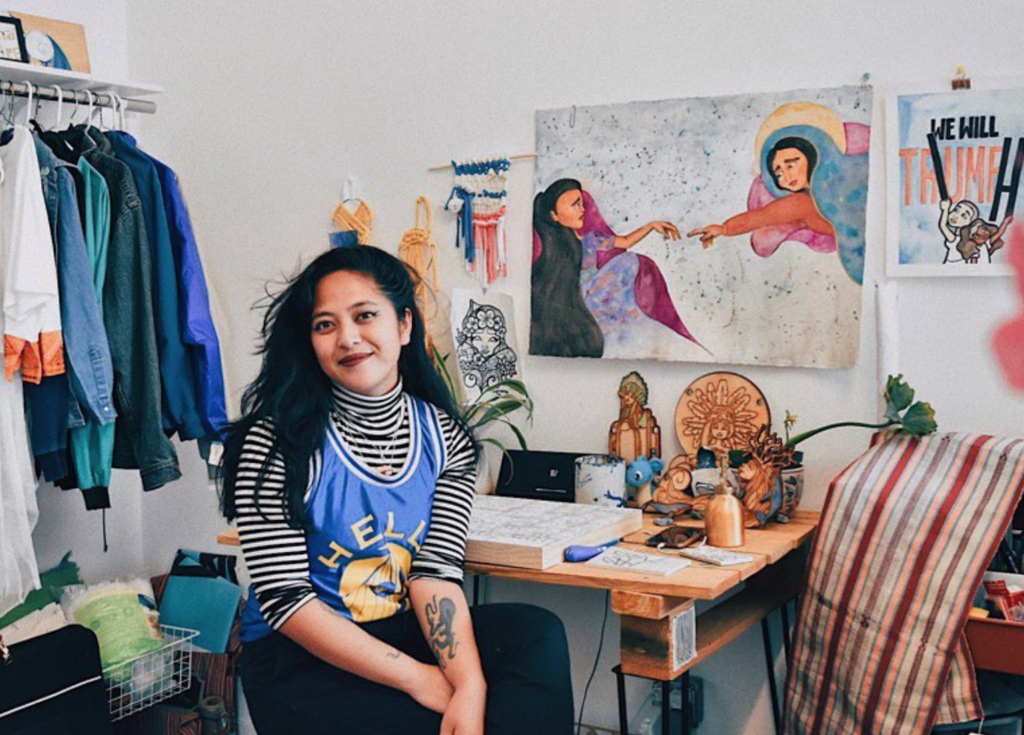 Hello Root Division Talks readers,
We hope that you are all safe and well. Our team has been adjusting to this virtual shift and working remotely to provide you with original art and stories about all that we do at Root Division.
For the month of May we will be showcasing the works of Root Division's Teaching Artist Fellows:
Filipinx Teaching Artist Fellow, ChiChai Mateo
Blau-Gold Studio Teaching Fellow, Danielle Nanni
Latinx Teaching Artist Fellows: Alyssa Aviles & Camilo Villa
Thank you for being a part of our community.
Warmly,
Alicia McDaniel & RD
Alicia McDaniel: Can you tell me a little bit about yourself and share how you came to be the Filipinx Teaching Artist Fellow?
ChiChai Mateo: I've been a fellow for two years now and I feel very nestled and protective of it. I heard about the Fellowship when I was working at New Growth for a partner organization called Youth Art Exchange. I picked up one of the Root Division pamphlets that they had for adult classes. I picked it up because I was interested in the classes and I saw the fellowship listing. I remember looking at my old supervisor and exclaiming, "This is me!"
AM: On your website, you speak to this notion of "Colonial Mentality" and discuss how it is challenged within Philippine art. Can you elaborate on what this term means?
CM: I have a Master's degree in International Studies and my Master's thesis was challenging colonial mentality with Philippine art. So, my hypothesis was that if you are engaged in an artwork or art world that celebrates or highlights your culture or cultures you are then dismantling your colonial mentality therefore, improving your self-esteem, increasing your own motivation, as well as dismantling discriminations you may have towards yourself and your people. So, upon learning about the fellowship, I was like "oh my god, I can actually put my thesis into action." I can be there for Filipino American youth who are still discovering themselves in self-love. A lot of my students have migrated from the Philippines and I would love for the art that I teach them to encourage them to be proud of who they are and their background — as well as to learn about Filipino American history.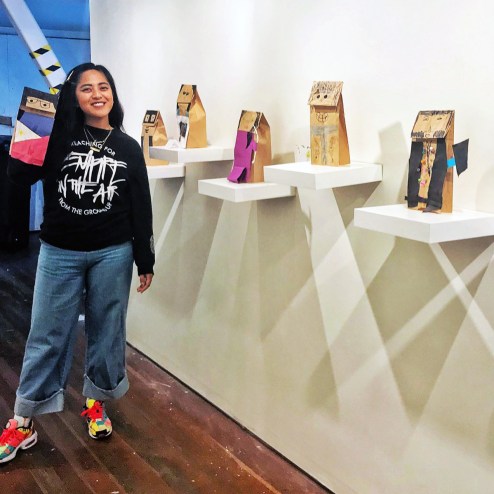 AM: Can you expand on a specific project?
CM: In my art projects with my students, I use each project as an opportunity to introduce them to Filipino history, Filipino American history, as well as contemporary Filipinx artists. For example, I had displayed in November, the works of my students who made brown paper bag puppets and each one was inspired by different Filipinx artists [such as Shelby Rabara who voiced the Steven Universe cartoon character Peridot]. For us growing up, it was such a rare gemstone to find anyone on television that represented us in any way. Now, with growing representation, I just want to really highlight that for my students so that they can feel included early on and also to show them what's possible with following their own passions. Even if it's not art.
AM: How does your art practice engage with colonial mentality?
CM: As for my own art practice, if you look at my work you will see that a lot of the times I depict different aspects of nature as womxn. Primarily that's because I grew up in a very matriarchal family and I was also raised by a single mother who is very bad ass. I'm a very big lover and appreciator of mother earth as well and I definitely portray this in my work. To dive deeper into that, I like to honor the fact that pre-colonial Philippines were really rooted and tied into nature. It was about respectful relationships with these deities that care for the earth. I like to think that I am portraying these different aspects of mother nature's children through my artwork.
In many of my pieces, the hair of these figures are the landscape or are the subject of these pieces, and a lot of that has to do with my own journey in dismantling generations of colonial oppressions and colonial ideals of beauty standards. I say that because I grew up very self-conscious of having super thick big hair and also because my mom has really curly hair. For her when she was growing up, she was an orphan raised by her half-sisters and being the only one with curly hair she was frowned upon and shamed about it. But if you look at indigenous Filipinos a lot of them have curly hair so her sisters would say that they just picked her up from the mountains off the side of the road. I grew up with my mom shaming her hair everyday so I grew to shame my own hair everyday. It wasn't until she found my stepdad that she felt beautiful in her natural hair. Even for me, in the most recent years I became more comfortable with my own natural hair and a lot of that has to do with incorporating that into my artwork. My hair is beautiful, it is providing life, a landscape of who I am, and I am no longer ashamed of that.
In my practice, the hair takes up the majority of the canvas, paper- or whatever medium I am using. I usually adorn it with different pieces of nature. In one of my most recent doodles, I collected flower petals that had fallen into my backyard and collaged them into a subject's hair.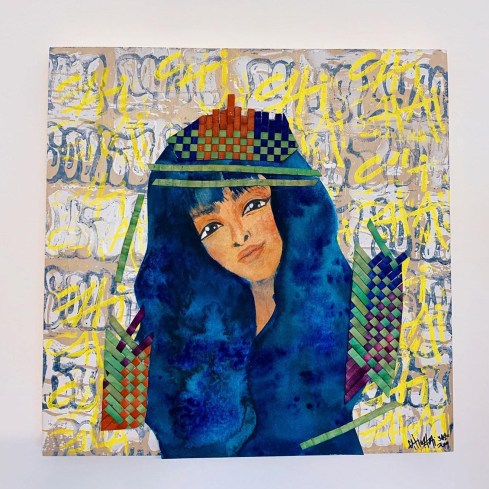 AM: I understand that you are also the Founder and Art Director of "Empire In the Air" apparel and the Development & Programs Assistant at Root Division, in addition to being a Teaching Fellow. How do you find balance within these demanding roles?
CM: I get asked that a lot. I have always been the type to balance different facets. You may or may not want to include that I am a Libra Sun. I think that half of my planets are Libra which is really weird. I am the most Libra person. I have always been the type to balance multiple things and that's because I don't want to short change different things that I am passionate about. I truly believe that if you want it you can have it. If you really want to you'll make time for it. I mean of course that comes with its own trials, I have to make sure that I'm also giving myself time to take care of myself. I have learned many times that yes, balancing all these things are great, but I am also hella tired. Everything that I do is interconnected. I think that the skills that I learned from one position are applicable to another position. For example, being a teaching artist gives me the opportunity to be silly with the kids and let loose, but because of that I get to be creative in other ways which then sometimes give me ideas for my own practice. In my practice I get ideas that I can apply to the classroom, you know, so it helps that the things I am balancing are the things I want to do.
ABOUT THE FILIPINX TEACHING ARTIST FELLOWSHIP:
In its third year, the Filipinx Teaching Artist Fellowship provides free studio workspace to a Filipinx artist in exchange for being an integral part of Root Division's Studios Program. In large part, the commitment involves teaching classes one to two afternoons per week at Bessie Carmichael Elementary School and the Filipino Education Center (FEC), an after school program for newcomer children who have recently emigrated to San Francisco.