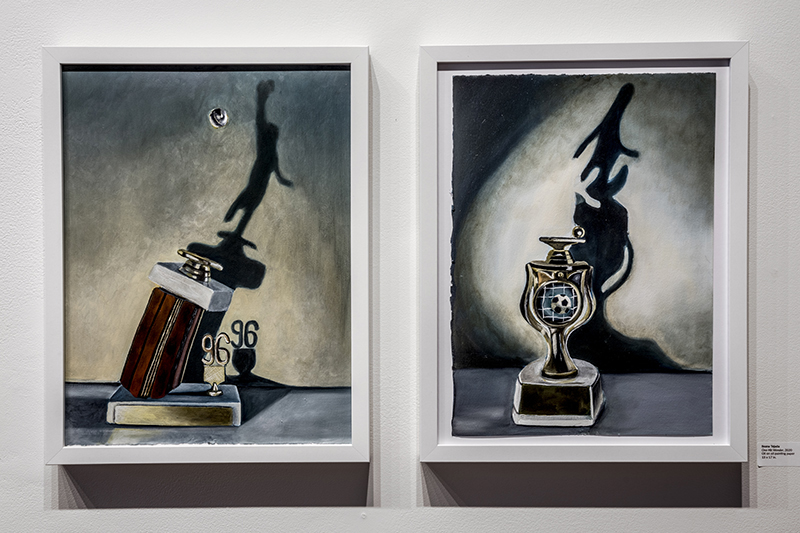 Ileana Tejada is a Mexican-American artist born and raised in Southern California. A former NCAA Division II Track and Field athlete, Tejada's work progressively deals with female masculinity and the opposition to "marianismo" — the exaggerated sense of traditional femininity. Tejada received her BFA from California State Polytechnic University-Pomona, as well as a BS (Kinesiology, Pedagogy). In 2015, she graduated with a Masters of Fine Art in Painting from San Francisco Art Institute. Tejada is the recipient of the Murphy Cadogan Graduate Fellowship, the Outstanding Graduate Student Award in Painting, and SFAI's Amir Esfahani Graduate Studio Fellowship. Her work has been exhibited at the Santa Cruz Museum of Art & History, Gallery CB1 in Los Angeles, and published in New American Paintings, No.123, MFA Annual, 2016. She is currently working and living in San Francisco, CA.
Tejada is currently Root Division's Blau-Gold Studio/Teaching Fellow. This fellowship provides free studio workspace to a teaching artist in exchange for being an integral part of Root Division's Studios Program. In large part, the commitment involves teaching classes one to two afternoons per week at one of our Youth Education partner program sites. Working as a teaching-artist in residence for the full school year, Tejada plans a curriculum and develops a series of accessible, relevant, and fun projects for the students at a local school site.
Tejada's work is currently on view in the main gallery alongside her students as a part of New Growth 2021: Courage in Creativity, the annual Youth Art Exhibition featuring student artwork created in Root Division's free after-school Youth Education Program.
Read more below to see Education Fellow Rebecca Sexton's interview with Ileana Tejada about her experience as the Blau-Gold Studio/Teaching Fellow, as well as her own artistic practice.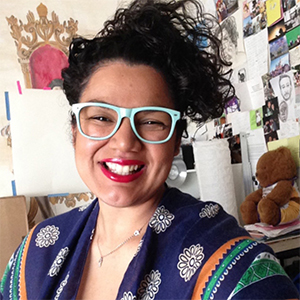 Rebecca Sexton(Education Fellow): How did you begin making art? Was art a large part of your life since childhood?
Ileana Tejada: It was actually a large part of my childhood. I've always been very creative, and I was always the black sheep in the family. I think my family was very aware early on that I was an artist. I actually went to an arts integrated elementary school, and even there, my instructors just saw the work that I was doing and they tried to develop me differently from all the other students. I was using the high-quality charcoal when other students were using student-grade charcoal. But, by the time I got into middle school and high school, I focused more on athletics. When I got to my undergraduate program, I really started to put more attention into my art practice. I just decided that I wanted to be an athlete and an artist, and I did. It's kind of funny looking back how everything unfolded, but it was kind of meant to be.
RS: How would you describe your work and practice? What choices do you make, and why are they important to you?
IT: My work has always dealt with athleticism and endurance. Currently, I'm working on these trophies. I find most of them in thrift stores, so it's a process of me inheriting other people's accomplishments. I'm taking them and doing photo shoots where I project them, so the shadows are projected up in the background. In the paintings, I eliminate the bodies of the trophies, so it's just a projected shadow on the wall.
Growing up as an athlete, I was constantly being told that I was a really good athlete, and that I was to be very successful. Being told that every single year for my entire life and waiting for that to happen, I reached this point where I'm just exhausted. I ended up throwing all of my trophies away, so it's very unfortunate that I don't have any of my own. When they give you those trophies, you feel successful, and you feel great. After years upon years, that success is diluted down. The trophies are just pieces of plastic—you can order them online for like $4. I call them One Hit Wonders. I am trying to navigate this idea where success means something different to everybody. In a way, I am very successful but it's just at what point do you have to work so that you can have a living wage. It's only accessible to a certain community of people, and it's very hard for me to digest that and look back. A lot of the work that I'm doing right now is a criticism of endurance—how far you can push the body before it collapses. I am thinking through things like peak performance.
Alongside this new body work, I'm also learning to do water gilding. My goal is to do oil paintings of them and then the bodies I intend to water gild. I actually do these drawings in silverpoint, so I've been working in silver, gold, and bronze. It's kind of insane how it's all coming together. I actually started making my own trophies. I'm trying to learn to do two-part molds. I don't have this process completely figured out yet; it's more complicated than I imagined, but I'm making them in wax and then gilding them in gold.
RS: It also seems to relate to what you were just talking about around peak performance. Not only does success mean something differently for everyone, but it also changes your relationship with your own body and your strength as your body changes.
IT: Yes, exactly. I've been dying to do an essay on how artists are athletes. We're using our body to create work, and, over time, we just naturally break down. There'll be a point where I'll no longer be able to do what I do in the studio. I know so many artists that work with a hand brace or a wrist brace on, or they have shoulder problems. I think there's many ways that artists and athletes progress through life in similar ways.
We're told that in our MFA class only 10% of us will ever continue on to make work. Athletes are told the same thing when you graduate. They're told that only 10% of you are going to go on to be professional athletes. It's a very selective process, and you have to get lucky. There's a lot of similarities.
I also like to talk about motivation—what internally motivates artists and athletes to do what we do. I used to have this belief that athletes are able to go through life and achieve anything if they put their head to it. But, after becoming an artist and getting my MFA, artists are at a whole other level. Athletes are idolized in popular culture. There are huge amounts of money that's pumped into professional sports. Whereas artists just do this because we need to. It takes a lot for us to be able to continue doing what we're doing without having that support from society. Athletes are just nothing compared to artists. We motivate ourselves, and our communities come together to uplift each other.
RS: Physicality and different ideas of strength seem to be central to the work you make as an artist. Can you talk a little bit about the role of the body within your practice?
IT: It's a very ritualistic thing for me. When it comes to the body, both as an athlete and as an artist, I have the same ritual going into the studio as I do weightlifting. I need to go into the studio and warm up my body and warm up my brain before I get going. I don't know anybody who can go into a studio and start working right away. I go through the process of doing gestural drawing before I actually go into it. I use similar little movements to warm up for weightlifting.

In my work, it's constantly building up the body. I am lifting weights, working out, running, doing everything that I do, but also knowing I'm breaking down my body. In order to build muscle, you have to break down the muscle to grow stronger. In my drawings and paintings, I am going over with graphite, going over with charcoal, then glazing it back. You have to go through that process in order to pull back in the details. It's layer upon layer upon layer, similar to muscle. They go hand in hand.

RS: It's making me think about the toll that the materials take on our bodies as artists. Working with oil paint, or for me like working in a dark room, those mediums are things that are changing our bodies and will have huge repercussions as the materials accumulate in our systems.

IT: I am constantly being lectured about how I should stop using turpentine, but I can't. I'm so rooted and connected to traditional art materials that it's a risk I'm willing to take. At least for now.

RS: Shifting gears slightly, can you describe the work that you have done this past year as Root Division's Blau-Gold Studio Teaching Fellow?

IT: It has been challenging, but it's also been very great. I think the class that has been successful for me, and I've learned a lot about online teaching is working collaboratively with student instructors. This has been a different experience for me. I am used to entering a classroom and teaching in art in a certain progression. This has been very different. Every week there is a theme, and it has been really exciting for me to build art-related lesson plans grounded in the theme for the week.

For example, we learned about the universe for a month, so every week we'd go in with a different lesson plan for art-related activities about the universe. This month we're doing geography, so it's working with the instructors to find lessons around geography. It turned out to be more of a collaborative thing, which I was really excited about, and the students are really into it. I'm shocked at what they can do. These kids know everything with computers. I'm shocked at what the students can accomplish while learning online.

It's hard, not being able to physically work with them in a space. It's been such a long year for them, and I acknowledge that it's not anything any of us are used to. I've been learning a lot. The classes are in Spanish, but I stopped learning Spanish when I got into seventh grade. We go back and forth, and the kids are always correcting my pronunciation and vocabulary. It's really cute. It's so perfect the way it's just all unfolded.

RS: Have you found that your fellowship has influenced your artistic practice in any way?

IT: It's very exciting to finally have a space again to be able to create work and to have the opportunity and the time to be able to do that. The ironic part about being let go from SFAI was that it actually gave me the ability to be able to do this. Who knows if I'll ever get the opportunity to do this again. It's probably been the most inspirational year for me. To be able to create work again in a year of turmoil. This year has been our saving grace because we were able to isolate ourselves and be able to create work. I think we thrived in this environment for sure. Being a studio artist at Root Division—I don't know what my life would have looked like had I not been given this opportunity. I haven't made this much work since graduate school.

RS: Finally, can you talk a little bit about the piece of work you've chosen to display alongside your students' work? How do you see your piece speaking with and to the work of your students?

IT: A lot of the work that we've been making hasn't completely translated to the work that I make in the studio, but I do share with the students every so often.

I do have two pieces that I made that are currently in the studio that I think I will show in New Growth dependent on how much space is available. It's the two pieces that I have where I'm lifting guys. The title of the work is I Picked Things Up and I Put Them Down. I made those early on when I started at Root Division. I don't see them completely connecting to the work that I've made with the students, just because we've been going off the themes, like geography, music, or space, etc, It hasn't completely tied in.

I've wondered how I can tie in the work that I do with teaching elementary school students. At a certain point, I do work with the body, and I'm sure there's a way to do it. I need to make the ideas I am working with more accessible to the kids. Hopefully, I'll be able to do that next year.