Introductions 2017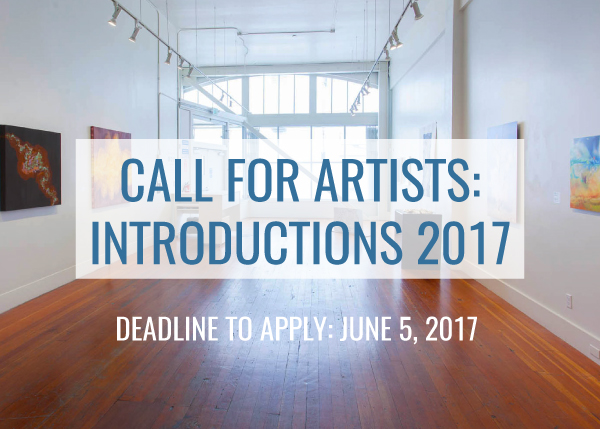 Root Division invites artists working in all genres to submit work for our annual juried exhibition, Introductions 2017.
Each year we present the work of 12 Bay Area artists in an exhibition and full color catalogue, juried by three prominent arts professionals.
2017 JURORS:
Patricia Cariño Valdez, Curator and Director of Public Programs, San Jose Institute of Contemporary Art
Kira Lyons, Director, Gallery Wendi Norris
Hesse McGraw, Vice President for Exhibitions and Public Programs, San Francisco Art Institute
The exhibition will take place in September 2017 at Root Division
Eligibility requirements:
-Artists must be living and/or working in one of 9 counties of the San Francisco Bay Area.
-Artwork submitted for review (or work very similar in nature to that submitted) must be available for listed exhibition dates.
-Artists cannot have existing gallery representation in the Bay Area.
Checklist of application materials:
▪ 4 images (jpegs: 72dpi, 600×800 pixels max) AND/OR Link to 3-minute clip of video on Vimeo or other video platform.
▪ Artist resume (1-2 page max)
▪ Artist Statement (1 page max)
▪ E-payment can be paid securely online at this link: https://rootdivision.org...
(or submit a $20 check/money order made payable to Root Division)
▪ Completed application form. Available at this link: https://docs.google.com/...
Email submissions can be sent to submissions@rootdivision.... (Please note that the $20 fee must be on file by 06/5/2017 for the email submission to be considered.)
Please call 415.863.7668 or email events@rootdivision.org with any questions.
Deadline for Submission: Monday, June 5, 2017 at 11:39 pm
** Artists selected for the exhibition will be notified by July 15th via email or phone about the inclusion of their work in the show. Representatives from Root Division will conduct studio visits as necessary, but good documentation of work for submission is strongly suggested. **