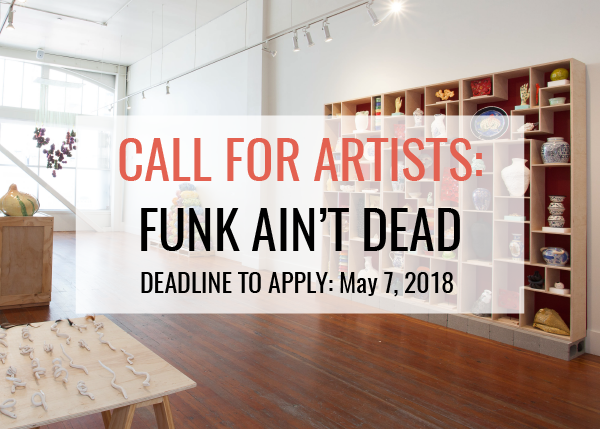 Root Division invites artists working in all media to submit work for Funk Ain't Dead. Inspired by the original, Funk exhibition presented at the University Art Museum at the University of California, Berkeley in 1967, the themes tackled by those original Bay Area Funk artists remain relevant today.
Described as hot, committed, bizarre and sensuous, Funk Art encompasses the colorful, the weird, the politically outraged, the sidewalk scavenger, the hoarder, and the psychedelic. This exhibition celebrates the funky makers still creating in the Bay Area through various mediums. Funk Ain't Dead reflects on past remnants of the original movement and how this sensibility continues to be championed today.
Deadline for Submission: Monday, May 7, 2018 at 11:59 pm
Exhibition Dates: July 11 - August 11, 2018
SUBMISSION REQUIREMENTS:
1. Application Form: https://docs.google.com/... [1]
To complete your submission, please fill out this online submission form.
2. Email to submissions@rootdivision... [2] containing all of the below:
- Artist Statement
- Images: Artists may submit up to four jpeg images of completed works. Video links can be hyperlinked in the submission form. If you are proposing a new work, please send images of completed projects with your proposal.
3. $10 Submission Fee
E-payment can be made via this page at this link https://rootdivision.org... [3]
or by submitting a $10 check or money order made payable to Root Division, mailed to: Root Division, Attn: Funk Ain't Dead, 1131 Mission St., San Francisco, CA 94103.
Please note that the $10 fee must be on file by May 7, 2018 at 11:59 pm for the email submission to be considered.
TO SUBMIT:
Email submissions can be sent to submissions@rootdivision... [2].
Submissions will also be accepted via USPS and can be mailed to:
Root Division, Attn: Submissions, 1131 Mission St., San Francisco, CA 94103
If your submission is mailed, we prefer that all documents are saved as either word docs (.doc) or PDFs (.pdf) and burned to a CD with your images rather than printed.
Deadline for Submission: May 7th at 11:59 pm
SELECTED ARTISTS:
Artists will be notified about inclusion by May 18th, 2018.
QUESTIONS:
Call 415.863.7668 or email Samantha Reynolds, Interim Arts Program Manager at samantha@rootdivision.org [4] with any questions.