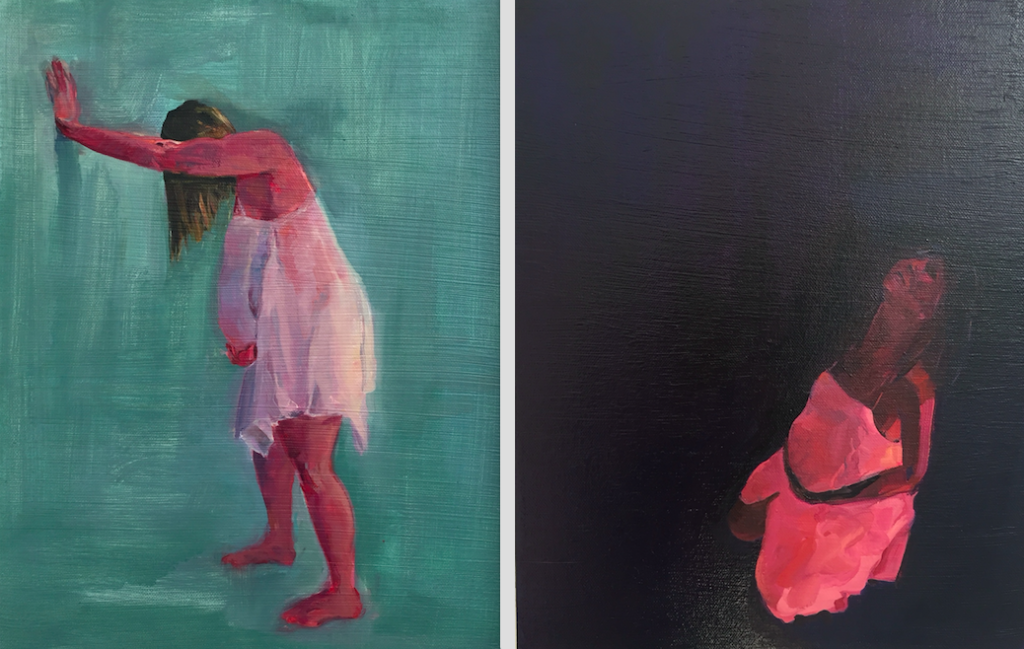 Exhibitions Fellow, Samantha Reynolds meets with Root Division studio artist, Rebecca Simon to discuss her current installation in the Frank-Ratyche Project Space for the month of August. During their studio visit, their conversation ranges from the attempt to capture of a single moment, the portrayal of an internal, mental state and the current social-political connotations associated with the female body. Rebecca Simon's Expectations is on view in the Frank-Ratchye Project Space from August 4 – August 19, 2017.
In her most recent series, Simon captures the isolated moments of raw vulnerability during pregnancy. With obscured faces and contorted bodies, Simon places her female figures in highly personal moments of unease and discomfort. Exploring the complexity and physicality of pregnancy, Simon's paintings highlight that although there are aspects that are publicly celebrated; pregnancy is ultimately an internal, solitary experience.
In the current political climate, Simon's paintings take on a greater sense of urgency and necessity when the female body has become more jeopardized and at risk. Ultimately, Simon aims to create a greater sense of empathy for these figures that are both specific and universal.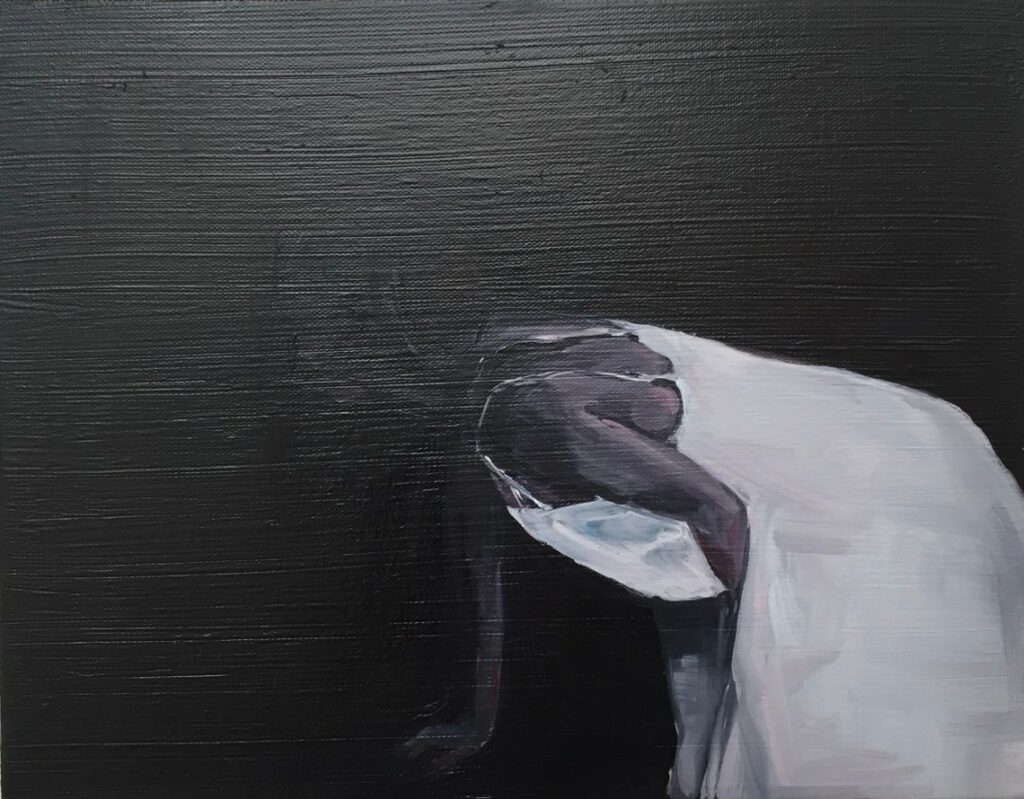 Samantha Reynolds: Pregnancy is a highly personal, intimate experience. On one hand, it is something that is openly discussed and joyous in a public setting. On the other, it can be a private, hidden and an internal struggle for a body. What appeals to you about depicting the physicality of this experience? And specifically as an experience that is ultimately solitary?
Rebecca Simon: As an artist I am interested in depicting the vulnerability and angst inherent within the human experience. As a woman in my thirties ("childbearing years"), I feel an urge to explore the complexity, both physical and emotional, of pregnancy. Grappling with my own feelings of uncertainty, desire, and anxiety surrounding the experience is something I want to work through using paint. I am interested in finding the tension between the aspects of our culture that are openly celebrated with the more complicated, and often disquieting parts, of those same experiences.
There are so many loaded issues related to women's bodies including pregnancy and new motherhood that unfortunately remain difficult to express in our society. Experiences women often have to deal with on their own – guilt, isolation, worry, disappointment, etc. This series highlights that sense of individual struggle.
SR: Historically and currently, women's bodies have an inherent political and cultural charge. Is this something you are alluding to within your painting?
RS: Women's bodies absolutely have a political charge, and having agency over our bodies is something that feels particularly fragile in the current political climate. When you have an administration that gathers a room full of men to discuss women's health issues, when you have a president that openly admits and brags about sexual assault, when women are so often reduced to their bodies in this culture, there is an overwhelming feeling of powerlessness surrounding my own body that I wanted to address within this work.
SR: In terms of composition, you place each figure in a nebulous-like, floating background with their faces obscured. Are these women specific, or do they represent all women?
RS: I hope that the answer can be both. I do see them as specific women, dealing with very personal, intimate situations, but I also hope there is a metaphoric quality to the work, in which the psychological and emotional implications can be, in some way, perceived as universal.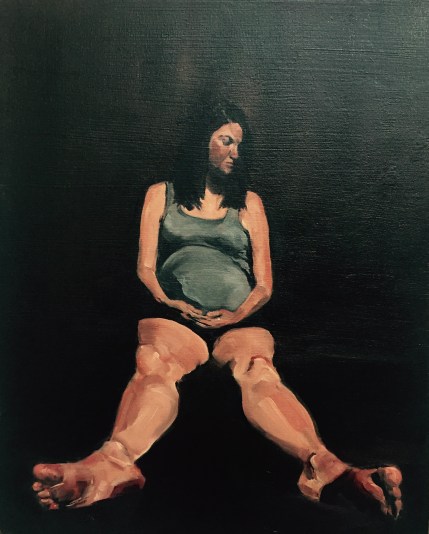 SR: How do you create a balance between conveying your figure's internal mental state who are in some sort of psychological discomfort through the positioning of their physical body?
RS: I try to create a certain mood in each painting, and each decision about composition, palette, paint handling, subject's physical positioning, etc. needs to serve the psychology of the mood. In Expecting, for example, I wanted the viewer to truly feel the physical weight of the body, the legs, the belly, and also feel her discomfort. The woman is plopped on the floor, legs splayed, defeated almost. The dark palette speaks to a much darker mood than Dream, for example, which has a much lighter, softer palette, and more airy of a feeling. The woman is curled up in the fetal position, more protected, possibly at peace.
SR: You mentioned that one of the questions at the core of your arts practice is "What makes a painting contemporary?" Your figures embody an ambiguous space creating a timelessness narrative, how does this affect their contemporaneity for you?
RS: It is important to create a feeling of timelessness within my paintings, rather than tying them in a specific place and time. I want the figures in my paintings to operate in kind of a dream-like, non space. For me, it helps create more of a psychological element to the work, so the paintings can function not simply as moment in time, but more as metaphor for the human condition, the anguish, sorrow, beauty, heartbreak we all may feel at times.
SR: As a viewer, am I in a position to help these women or I am in some ways solely a surveyor of an extremely personal and internal moment of struggle?
RS: I would argue, unfortunately, that the viewer is in no position to help these women, which is maybe part of the tragedy in these works. The viewer is witnessing something so private and so out of reach, that the viewer is forced to become aware of their own discomfort within the looking.
There is beauty, in this, though too. If the viewer becomes more aware of their own body, their own capacity for empathy, their own humanity, that is a powerful thing.
About Rebecca Simon:
Rebecca Simon's paintings reflect the absurd, enigmatic, and often awkward elements of the human experience. Her paintings invite reflection on cultural norms and expectations, gender dynamics, and feelings surrounding futility or inadequacy. Simon received her BA in Fine Arts from the University of Pennsylvania in 2005 and post-baccalaureate certificate from the School of the Art Institute of Chicago the following year. She then received her MFA from Hunter College in New York City in 2010.
A current Root Division Studio Artist, Simon has previously taught Oil Painting and Drawing 101 as part of Root Division's Adult Education program. This Fall, Simon will be teaching a Figurative Drawing class, which is now open for enrollment.
ABOUT THE FRANK-RATCHYE STUDIO ARTIST PROJECT SPACE:
The Frank-Ratchye Studio Artist Project Space provides a gallery for Root Division artists to connect and engage in dialogue around the work being made on site, and to exhibit their art to the public. The Project Space is free and open to the public during gallery hours in conjunction with the current exhibition.
This space is currently curated by Root Division's Exhibitions Fellow, Samantha Reynolds.