Interdisciplinary artist Rachel Dean, has put together four new pieces of artwork in her Frank Ratchye Project Space show: Recent Works. This collection of work exemplifies Dean's exploration of sewing and hand-dyeing textiles, as she investigates how broken patterns come together seamlessly in one piece; a concept that also reflects and questions how individuals with unique quirks, identities, and backgrounds can come together. Dean asks if fragmented "flags," akin to her quilts, more accurately portray the countries they represent.
I had the pleasure of seeing Dean's four pieces in person and was able to soak in all of her brightly dyed pieces of fabric. There is such a homey familiarity to Dean's quilts that changes in a peculiar way as they are hung up in a gallery. Everyone has a personal experience with a quilt or blanket, but seeing them hung against white gallery walls is definitely something else. Join me as I ask Rachel Dean about her practice, inspiration, and work with the community!
– Jess Punzalan, Root Division Exhibitions Fellow
Artwork above: Sisters, 2021, Hand-dyed fabric, 40 x 30 in. | Sisters 2, 2021, Hand-dyed fabric, 50 x 40 in. | Contrast 2, 2021, Hand-dyed fabric, 30 x 20 in.
Jessica Punzalan: Amongst all the chaos that was going on not only within Root Division (during and after the 2021 Auction), but also life in general, I want to start off by asking you what your favorite part about the process of putting this collection together was?
Rachel Dean: I think the biggest surprise was realizing that I had a collection. When making work, for me at least, I'll be making piece after piece and it's all related, but I don't realize that until I look back on it. Having a deadline of a show to work towards brought me to that realization even faster.
When I make my work, I'm trying to get a point across or express a certain thing. When I'm working on individual pieces, I don't quite think I'm getting there, but when I address the collection of pieces as a whole, it does make the point. My favorite thing about this process was coming to the realization that I do have a unified body of work.
JPCool! It sounds like you got an opportunity to take a step back and look at everything and re-frame the meaning behind your pieces.
I was wondering if you could tell me a bit about how you found yourself working with textiles and fiber arts since you have a background in painting and ceramics.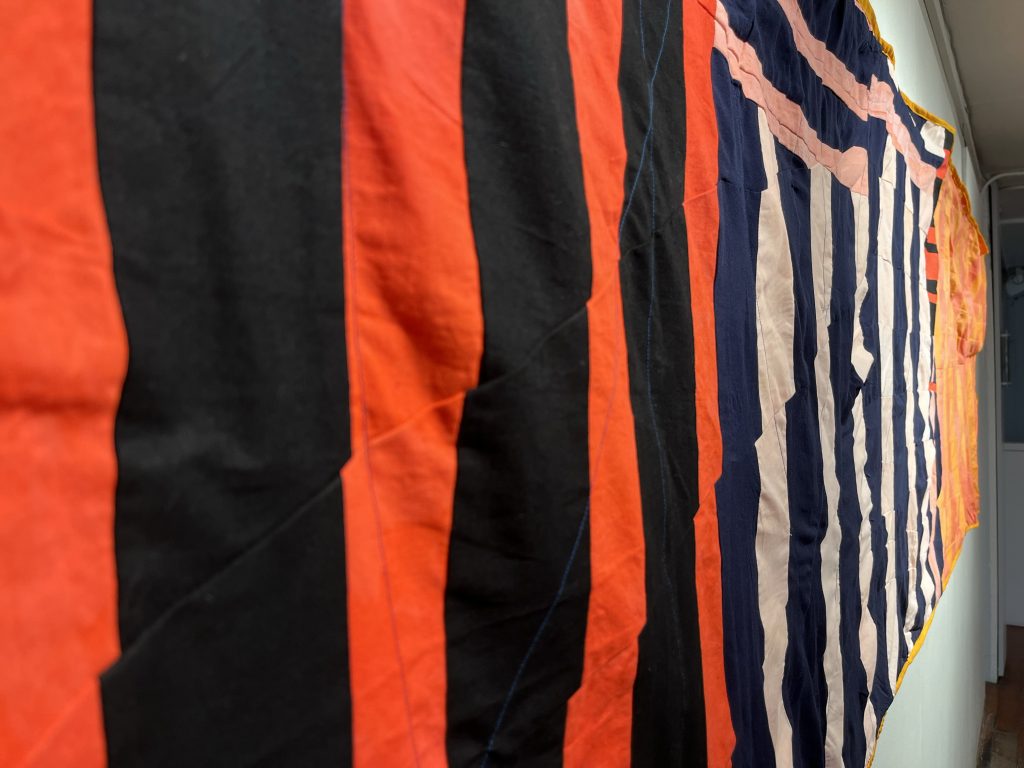 RD It was all because of the pandemic. I had a studio at my grad school when the pandemic started…and then the studios were closed and I was at home with my kids. I just had a sewing machine. I didn't have any painting supplies or anything. I started out making cloth masks because everyone had to wear masks and that sort of piqued my interest. And I thought, "well, maybe I'll do some hand dyeing to make colors that I like." So I started dyeing some bits of fabric. I really enjoyed and fell in love with this process. 
To me, it's like a hybrid of painting where you are saturating something with color. I mean painting is on fabric, really, it's canvas, but you prime it first. You really saturate the fabric with color and once you're done, you have all of this freedom.
It was sort of a necessity to jump to a different medium, but I have sewn in the past. I just never really saw myself as a textile artist until I was figuring out how to make a quilt. And then I did some commission work for a little bit like selling quilts that I was making and I loved that. As I finished the last one, I decided that I was going to start making textile pieces that I wanted to make because when you work on commission, you're kind of working with a customer or clients and figuring out what they like. Which is great for learning and growing skills. Now I'm using those skills to express myself creatively.
JP You mentioned your children when addressing the last question, and in your artist statement, so I was wondering if you could share what their most recent influence in your practice is?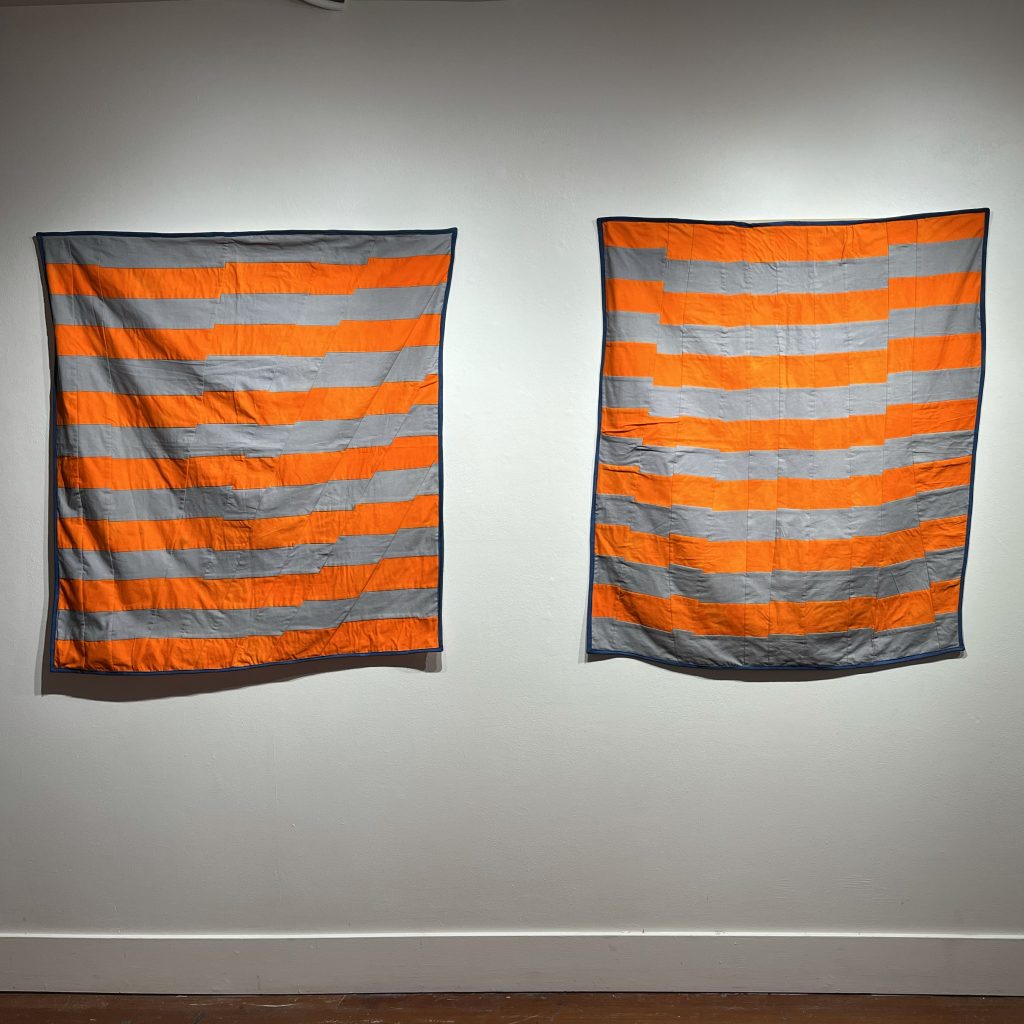 RD I can say a lot of things, but just watching them live through the pandemic and seeing how sacred the space of childhood is. It was such a blessing being able to watch these beings every day. They have the whole universe around them and don't get into the worries of the world. It's so beautiful. I feel like we lose that as adults because we take on responsibility and life happens. Watching my kids is an inspiration for that and I would love other adults to experience that too and remind them of that complete freedom.
JP I love that response so much. After working with children myself, their resiliency and unhindered imaginations always surprise me. It must be amazing for you to have them influence your work.
I was also looking at your work with fellow Root Division artist Charlotte Beck and students. Do you have anything to share about this experience?
RD Yeah! So we are at St. Peters School in the Mission and work with kids from Buena Vista Childcare's after school program. Once a week, we do an hour of artwork with kindergartners and first graders and it's both of our first time teaching kids. We started out nervous, but realized there was no need because they're just such sweet, sweet kids. 
Every project that we've brought to them has been so well received — they love it. We want to give them a sample of all sorts of different types of creativity. One of the first things we did was paint rocks with them as a fun, introductory activity. And from that, we learned that kids love painting so much. I mean, my kids do love painting, but I think it's different when it's a parent child relationship. When you're a teacher coming in, it's just a different energy.
We've been learning about this tactile connection the children have to paint and we've also played with clay and paper-based projects. We even did tie dyeing and hope to do something with gratitude in a future lesson, but we're still deciding which medium to work with. It changes every week because you just don't know what's going to come up. I know this sounds cliche, but the kids are really inspiring me. Teaching has been such a great inspiration as an artist. And, again, these children are so free. They're not afraid of exploring new materials or mediums. You just say, "hey, can you do this with me?" or, "hey can you do this with tie dye or paint?" and they just go! I love it!
JP Going back to your practice, you've mentioned that you like to have a hand in all parts of production which leads to a lot of experimentation. I was wondering what has your favorite discovery been during your experimentation process? On the other end of that, what's something you're not interested in diving deeper into?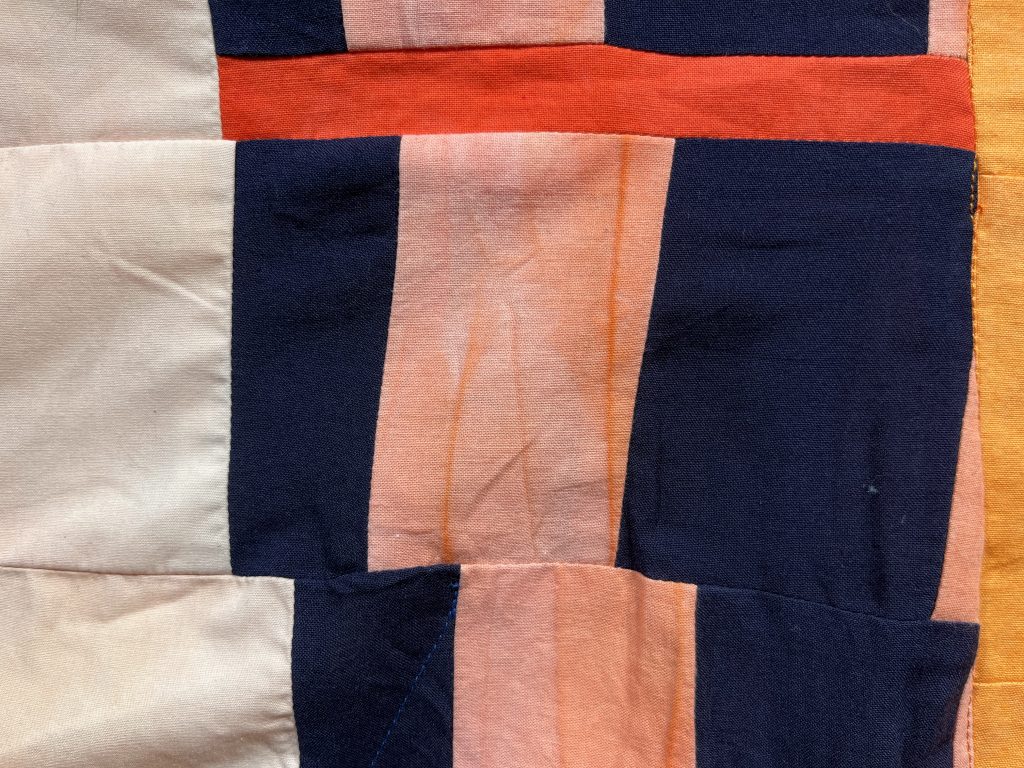 RD One of my favorite discoveries was through working with color and finding out that color transcends medium for me. When I was working with ceramics, I spent one summer at a craft school called Haystack Mountain and learned all about dyeing and coloring clay with mason stains. It was fascinating and it was science which I hadn't looked at in years. It's this whole other beast compared to painting. My work with clay is very process driven in the same way that hand-dyeing textiles is very process driven — it has so many stages.
I think the fact that color transcends medium for me has been a great way of leaping between mediums because I always feel like I should be just one type of artist like a painter or ceramicist — something simple or marketable. I'm just not that person. I'm in a fiber stage of my career right now and might be painting again sometime in the future or getting into ceramics again. Finding that common thread of color and being able to anchor all of these materials has been a great thing to learn.
There really isn't anything I wouldn't want to try again, although there are some things I'm not fond of or feel an affinity with like throwing on the potter's wheel. You know, when I first started doing ceramics, I took some throwing classes, and it was fine. Then I took a hand-building sculpture class and that's when I fell in love with clay. I think throwing just feels too wet and it's not relaxing for me. The wheel spinning makes me feel kind of nauseous. Also, Photoshop and Adobe and all of that — I don't love it, I want to love it, but it's not something I really connect with.
JP Thank you again for sharing that! Moving on, what is your biggest takeaway from your time with Root Division?
RD Community. Community is really important. When you put a group of kind, genuine, smart, welcoming people together, wonderful things happen. I think Root Division is such a gem in this city, given that it's really hard for all artists, but especially young artists, to live in San Francisco or the Bay Area. Just knowing that Root Division is working actively against people leaving the city. I just want to support them forever, you know? Its community is super important.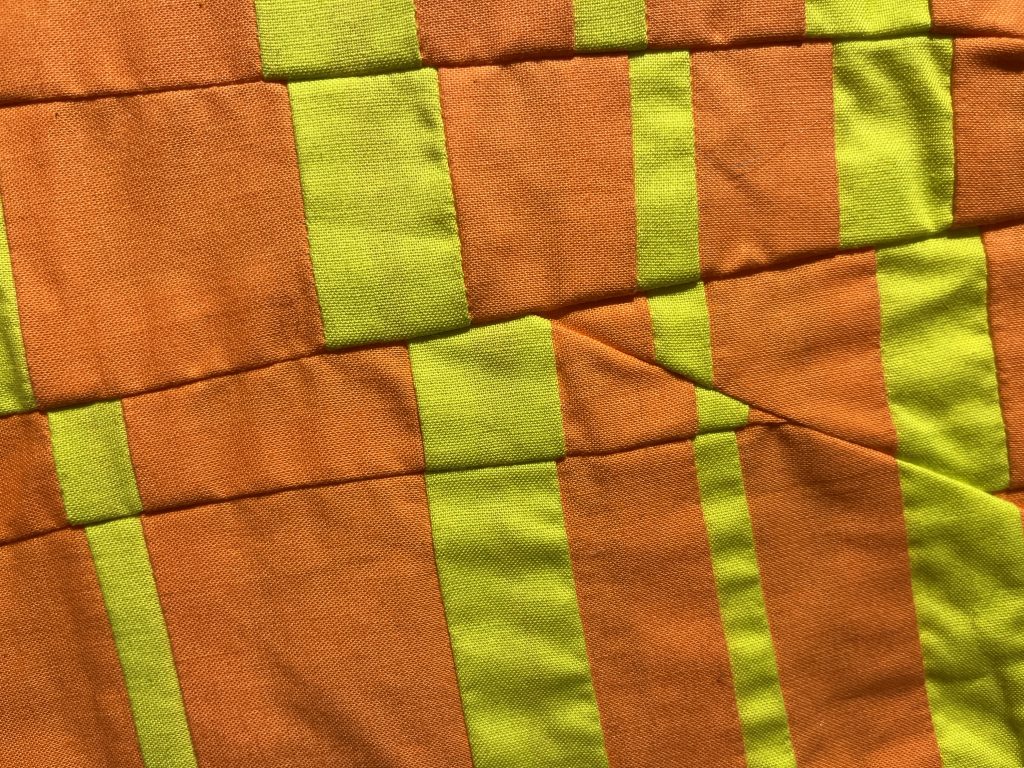 JP I think you perfectly summed up Root Division's mission of keeping artists in the city and making it accessible for artists to settle down and keep San Francisco and the Bay Area as an arts and cultural hub.
Last question. Is there anything else you want to share plug or anything you're excited about?
RD I am hoping to teach a beginning quilting class in the new year. It's dependent on signups from Root Division, so be on the look out! I'm not sure if it's gonna be online or in person yet, but it will be fun. I just want to teach people how to make something beautiful and show how accessible sewing can be.