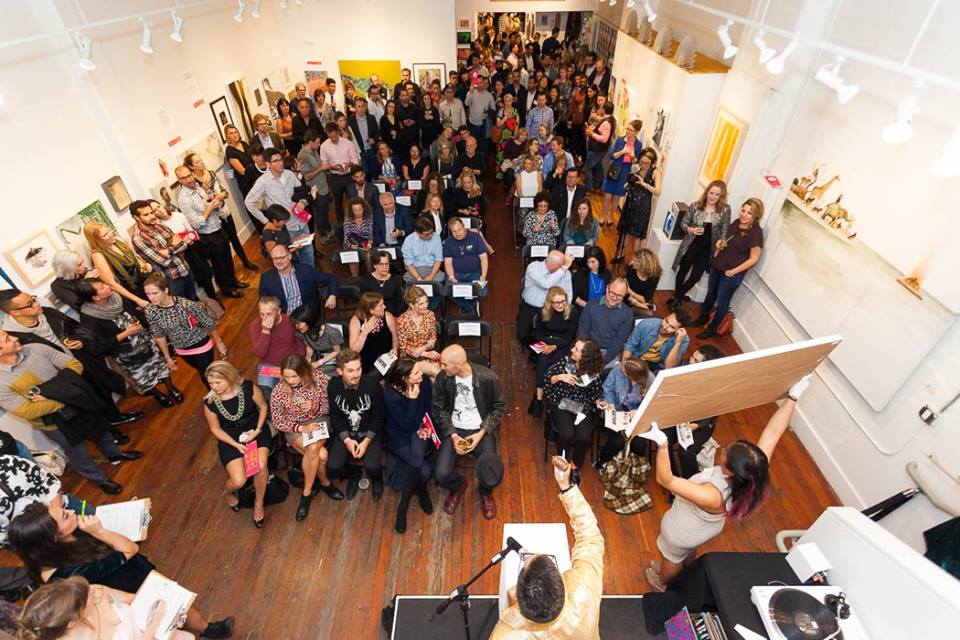 Interviewees:
Cynthia Loukides – Board Member
Adam O'Donnell – Board Member
Rhiannon MacFadyen – Curatorial Committee Member
As we gear up for Root Division's 16th Annual Art Auction, we sat down with two of our Board Members, Cynthia Loukides and Adam O'Donnell, and Curatorial Committee Member, Rhiannon MacFadyen. The conversation ranged from recounting favorite Auction memories, their individual and evolving processes of collecting, and what art production trends they are most excited about in the Bay Area.
This year's Auction will mark the third iteration of the event in Root Division's new space. Throughout this move and Root Division's programmatic expansion, Loukides, O'Donnell and MacFayden have remained key supporters and advocates. Each has built a collection of contemporary artists living and working in San Francisco and has a unique approach to collecting work.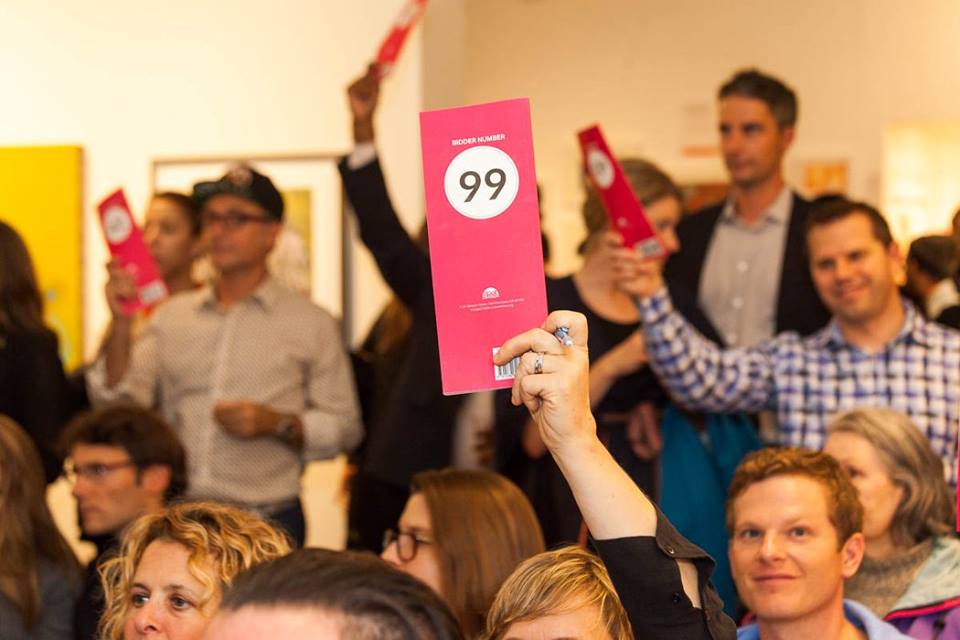 Samantha Reynolds: How did your interest in collecting work by contemporary artists begin? What was the first artwork you purchased?
Cynthia Loukides: I bought my first piece of art when I was 16 at the Ann Arbor Art Fair. It was a photograph and I felt very sophisticated. My parents had original artwork and some of their friends were artists. I think I'm lucky that I was exposed to art buying early on.
Adam O'Donnell: My interest in art started when I was in high school as well! I was fortunate enough to go to a public magnet school in Philly that catered heavily to nerds of many stripes, but especially those interested in the sciences as well as the arts. Between that and growing up in a city that has a strong visual arts culture, I think I was heavily primed to become a collector once I was in a good position to do so. The first serious piece I purchased was by a local artist, Stephen Namara. It is a table-scape that plays with perspective in multiple interesting ways. I adore it.
Rhiannon MacFadyen: The first contemporary artwork I purchased towards building a collection (up until then, everything I had was trade with fellow artists, something I'm still happy to continue to do) was a set of small drawings by TagTeam—the collaborative duo of Walter Robinson and Tim Sharman. I saved up for about a year to buy these very humbly priced works: fabulously inappropriate creatures drawn on hand-dyed paper. Those drawings started it for me. Now I'm totally screwed.
SR: You each have mentioned having an immediate reaction to wanting to collect work that resonated with you. Has Root Division's Auction, or similar Bay Area fundraisers, played a role in your process of collecting and its evolvement?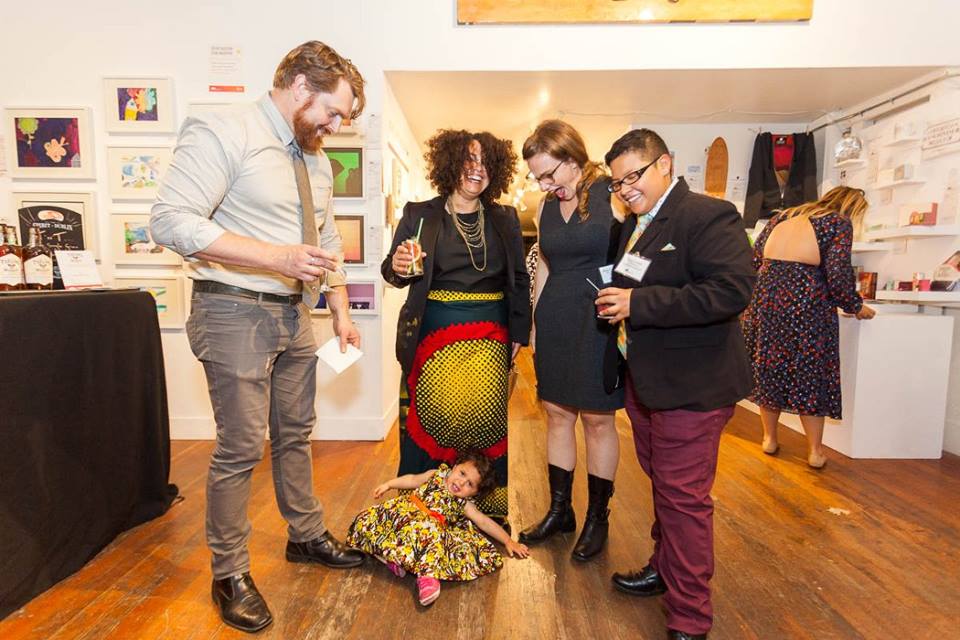 RM: If you're getting started or working to build your collection, you can find lots of gems at a range of price points. If you're an established collector, the silent auction is the thing! Having started collecting when I had really no money, I'm still building at this point, but feel like I can grow as a collector at Root Division.
CL: I think buying at auctions has increased the pace at which I collect. I have never regretted bringing a piece home, but there are several I still wish I had bought.
AO: I agree with Cynthia. I would say when I first started collecting my practice was a bit more haphazard. Through both auctions and the aftermarket, I started developing a better idea of what speaks to me eye wise. My general rule has always been buy things that I fall in love with immediately, but that also teach me something new on each additional viewing.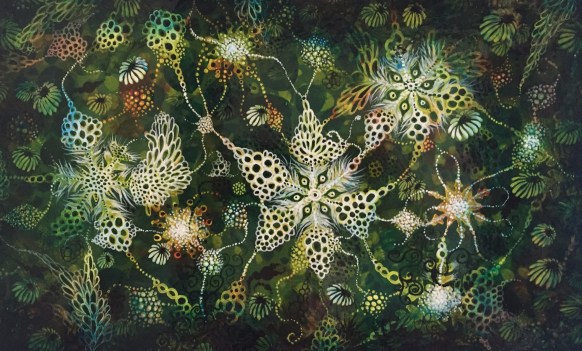 SR: Rhiannon – As the Director of Black & White Projects, does your process of collecting and your curatorial practice intersect and inform one another?
RM: The one difference between the work I show and what I collect is that I often show work outside my price point and will sometimes buy abstract works, which I usually don't show. I also love to have teeny tiny work in my home, but I love showing huge work in my space.
SR: What is one of your favorite aspects of Root Division's Annual Art Auction? Are their certain memories that stand out?
RM: The RD Auction is great! I look forward to it every year. It has all the glamour I love from art auctions: drinks, food, people you want to see/meet, fun/fancy clothes… but it's also warm, welcoming, no snobs, and super diverse. It's also clear that the event is for the artists and the art—the most important things. Root Division does a beautiful job of curating the space so it feels like an exhibition. The work is excellent and a great cross-section of the Bay Area art scenes. The community of artists they house in the studios are all there in support of the event, so you feel really connected to the organization and to the creative excitement around you.
AO: It is the opposite of a stuffy art event. Artists appear alongside major collectors and art supporters. There are also always more than a few well-lubricated and tense bidding situations that seem to heighten the enjoyment over the course of the night.
SR: What the first artwork you purchased at a Root Division Art Auction?
RM: It was a piece by Jeff Eisenberg—a drawing of a 45 record, with a bonus sketch on the back (that I found only when I opened the packed work later).
CL: My first live auction piece I won is a beautiful painting by Carrie Lederer titled Constellation in Green' (study). It is acrylic on wood.
AO: I purchased a still-life by Robert Minervini that I picked up from the silent auction portion. If you pay attention and stick around to the end of the night, you can acquire some amazing work.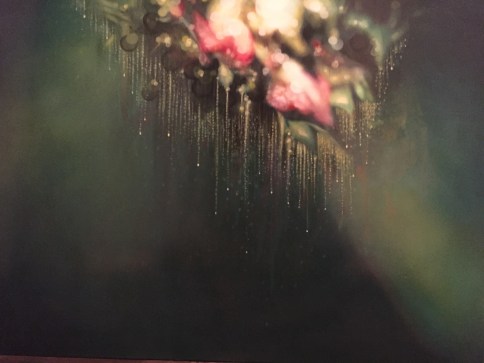 SR: Do you have an aesthetic that you gravitate towards or a specific medium? Or does the work include a range of processes and approaches?
CL: I tend to gravitate to unusual materials or deft execution of traditional mediums. I have several pieces by Jenn Shifflet. Her oil paintings are amazing, but I also love her glass work.
AO: I personally tend to collect works on paper, as I feel often times more risks can be taken by the artist in this space. Also, I can afford it!
SR: What trends are you seeing right now that you are excited about?
CL: I was blown away in Venice this year by female artists who are working in felt, thread, macrame, crochet, paper, rubber, and honey comb. I love that fine artists are embracing the traditional craft materials. I especially love what former Root Division Studio Artist, Cathy Lu has been doing with pottery and ceramics. I really need a piece by her in my collection.
AO: There are so many interesting pieces of long-exposure photography using non-traditional techniques that seem to be popping up. I talked with Root Division's Art Programs Director, Amy Cancelmo about it a bit, and something about it is still sticking in my brain about the pieces. I enjoy how the combination of effort, painstaking manual process, and extensive amounts of time stands in contrast to disposable photography that now dominates our visual culture. I don't really know fully what to make out of it, but I am interested in exploring work that lives in this space.
R: What is your favorite piece in your collection at this moment?
AO: I have a Wayne Thiebaud that I recently acquired that makes me happy. It feels very California and the drama of the cliffs sits well against the hills of my neighborhood.
CL: I always tell my kids and my art I don't have a favorite.
Join these collectors in bidding on over 200 works by Bay Area artists at Root Division's 16th Annual Art Auction on Thursday, October 26th. Tickets available online.
Can't make it to the main event or don't want to compete for your favorite work? Preview, and purchase early at our free *Buy it Now* Auction Preview on Saturday, October 14th from 7-10.
Out of town, or unable to attend in person? You can proxy bid, or buy online! Review available works on our Online Store (all work will be available online by Friday, October 13th) purchase online or set your highest bid with our Absentee Bidder Registration Form. We'll bid on your behalf the night of the auction!