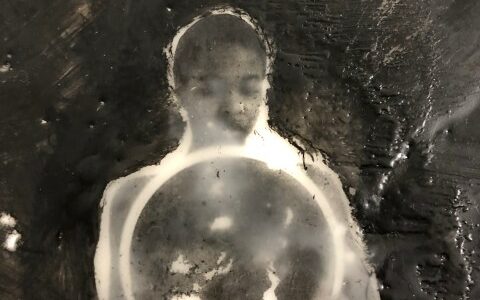 Hello RD blog readers! My name is Alicia McDaniel and I am excited to announce that I am the new Exhibitions Fellow at Root Division for the upcoming 2019-2020 year.
Currently I am a Visual Critical Studies MA Candidate at the California College of the Arts and the CCA Connects Art Studio Assistant Fellow at the non-profit, Ruth's Table. As a practicing artist, I am thrilled to be working in an intellectually and creatively stimulating environment with the phenomenal artists and staff at Root Division. I have some big shoes to fill as I step into a fellowship that values community and growth in high regard.
I hope to continue the tradition of excellence of previous Exhibitions Fellow, Sherwin Rio who selected Salome El as this month's featured artist within the Frank-Ratchye Project Studio Artist space.
Upon entering Salome El's studio, I found myself mesmerized by the artists choice of material. Resting on the surface of El's delicate photo transfers was a thick, glossy coat of white substance that evoked an ephemeral feel. After some inquiry El tells me that the lustrous material was beeswax. They came across the material after working as an employee at an art supply store. Customers came in with questions surrounding encaustic painting and materials so the artist did some research. El eventually began incorporating materials such as wax and graphite within their photographic practice.
El eagerly stood on a stool to remove their hanging textiles, adorned with colorful stains, to reveal their new work Three is One. A powerful image of the artist is the central subject within this fragmented portrait- their gaze challenging the viewer to look back. I was intrigued and curious about El's intention behind utilizing self-portraiture within their work. Standing modestly next to their work El admits that they initially worked with friends and other subjects within their images but found it difficult and restricting over time to coordinate so frequently. By photographing themself, El can enter into a space of self-reflection and vulnerability that they may not be able to access within other subjects.
Through self-expression El entices viewers to ponder their own multifaceted identities formulated through experiences of internal conflict and struggle to mend the relationship of their past and present selves.
Read my full interview with the artist about their work and process below: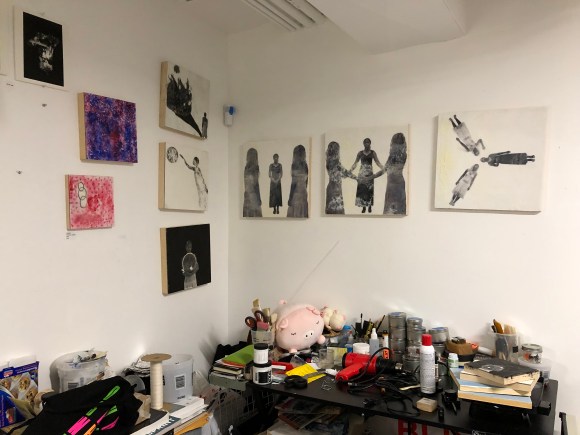 Alicia McDaniel (Exhibitions Fellow): You mentioned your background in digital photography, what led to your current interdisciplinary practice?
Salome El (Studio Artist): I came to Root Division wanting to explore mixed media practices which is what lead me to what I am currently doing with my art.
AM: I am stricken by your skill in your application of beeswax and the delicacy within its presentation. Was there a conceptual intention within your use of this material?
SE: The use of wax helps create a fog that adds more of a dreamlike look to my imagery which is something I've tried in the past to create digitally but process to me is just as important as imagery so I added another layer literally and figuratively to my work.
AM: After seeing your past work, I have noticed a monochromatic shift in your recent work. What led to this change in your color application?
SE: When I first started learning about image transfers onto wax, I was under the assumption that the process would only work perfectly if the imagery was in black and white. My latest piece is an exploration of color I also have a background in film photography so black and white photography will always be in work in some kind of way.

AM: How else has your process evolved during your time at Root Division?
SE: Creating work at Root Division has given me the time and space to create more than just digital art and has been a means for fulfilling my need to work with my hands as I love physically making something as much as I love creating something digitally.
AM: I understand that this body of work is a self-expression and reflection upon your feelings informed by stigma and experience in relation to mental health? Could you expand on how your material and art making process connects to these emotions?
SE: I would say that right now mentally I'm at a state where I am most stable but there's been this kind of feeling of depression maybe creeping its way back into my life. As is my choice of material which I use to illustrate this feeling of nostalgia almost in that its something I've grown past but remember and hope that it won't come back but there's always a chance that it could.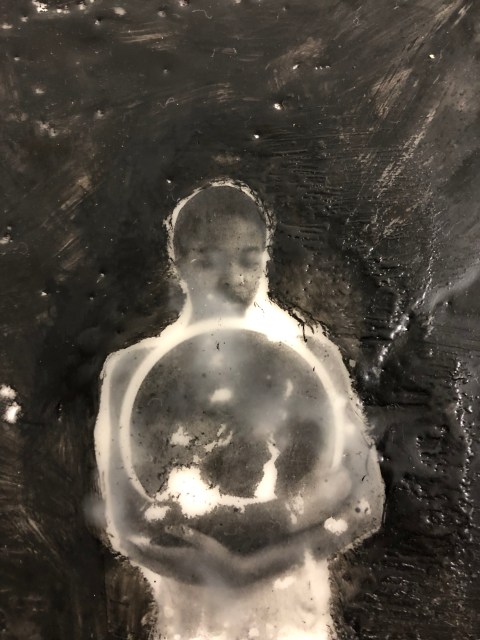 AM: While the figures in your work aren't situated in a specific location or time they convey a dreamlike sense of memory and nostalgia. Is there a relationship to the family archive, the dream-state, or memory within this work?
SE: Memory is definitely a big part of this work. I feel as though for me memories-especially ones that are old-feel almost dreamlike as they are so different and so long ago as to almost have happened to someone else or at least a different version of yourself that you might not even be connected to-as growing, maturing, and evolving might've created a disconnect from your past self. This work in a lot of ways is also considered to be pretty spiritual in that you can also think of the three figures as a present self, past self, and future self or higher self and being able to interact with all selves and forging forward to a future that acknowledges all selves and grows.
You can view Three is One and other new works by Salome El within their solo exhibition And There Were Three in the Frank-Ratchye Studio Artist Project Space at Root Division at its opening reception on September 14th from 7-10pm. Salome El: And There Were Three is on view for the month of September during regular gallery hours.