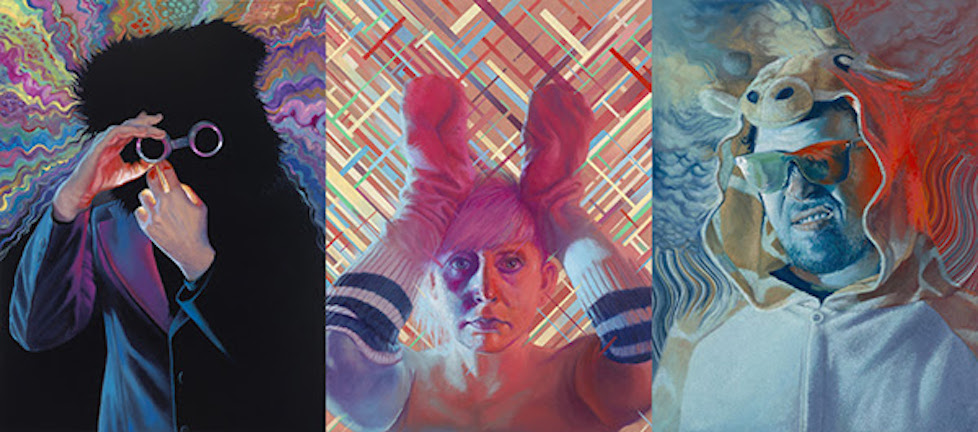 By: Sherwin Rio, Exhibitions Fellow
When I first met with Shelley Monahan in the fall of 2018 the artist was oil-painting photorealistic figures– from found photographs– caught in exchanges of gawky glances and shifting body postures. Over a series of visits, I've witnessed Monahan's exploration of a kind of intimate integrity— the honesty of a moment, a character, an emotion frozen in awkward, playful, or serious microexpressions captured mid-movement. Monahan heightens intimate presence by expanding figures' forms with colorful abstract patterns and geometric lines.
It's this intimacy– in sometimes myth-made fashion– that's displayed in Monahan's newest series Second Skin now on view at the Frank-Ratchye Studio Artist Project Space for the month of June. Shelley Monahan is a San Francisco-based artist born in Santa Barbara, CA and raised in Portland, OR and holds a BFA in Sculpture from the Academy of Art University. Monahan visually disrupts, distorts, and obscures realistic, intimate portraits of figures– ranging from flea market found photographs to close friends– to highlight what may be hidden or revealed by the personas and situations that people inhabit. Read more in our interview below.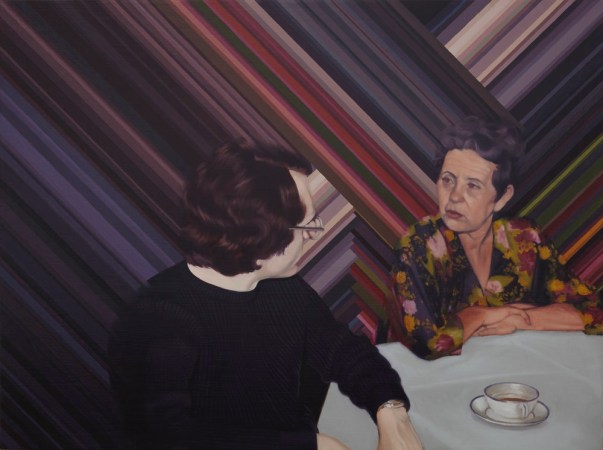 SR: Hi Shelley, can you tell me how you began painting?
SM: I moved to SF in 2001 to attend the Academy of Art University and at the time I didn't know what I wanted to study– so I bopped around. I knew that I really liked painting but the painting department at that school is very traditional. I wanted to think more about conceptual ideas than a lot of the teachers there teach. So I ended up going through the sculpture department because the faculty there was more focused on concept and thinking through why you were making what you were making. I took a couple painting classes with an artist named Kevin Moore but my technique in painting is mostly self-taught.
When I graduated, I got a studio in the city and did mixed media sculpture and some painting. After a while I had to admit to myself that I really loved painting so I began to focus on that exclusively. I've been really lucky in that I've prioritized having a studio since I graduated in 2006 so I've always had a studio. It's been such a necessity for me.
SR: Do you find that a sculptural conceptual bearing has informed your painting?
SM: My work is a struggle between technique and idea and that's often present in sculpture because it's so heavy-technique. That lit a fire in me of mastering materials. Right now my work is looser than it used to be and I think that's because I got my technique down and now I kind of want to color outside the lines of that and loosen up a bit.
SR: Can you tell me about that process of loosening up?
SM: It's been liberating in a lot of ways, requiring me to think a little more fourth dimensionally or fifth dimensionally. Before it was about making everything a flat even surface. Now I'm playing with thin or thick, wash or not. I'm paying attention to how the quality of the paint differs depending on whether it's directly on the surface or on another layer of paint. Experimenting has opened up the door for my favorite thing, which is when I accidentally make a mark and it's exactly where it needs to be!
SR: Looking at the development of your work over the past year and into this Second Skin series, your paintings are still very much about expression, frozen moments, and investigating the sometimes silly and awkward but sometimes serious in-flux expressions. How has that changed now that you're not working with found photographs?
SM: I think something I always liked from found photographs were that a lot of the decisions were already made for me by it being this frozen moment. So now I've been trying to recreate a little bit of serendipity when I'm taking the photographs of people. I'm lighting it from two different sides but cycling through different colors so they're both changing and somewhat randomized. The experience of me photographing and telling them what to do is also already awkward, and I appreciate that very much! In another of my paint on paper series titled In the Cloud, I photographed my friends telling me stories so it contained a lot of great microexpressions.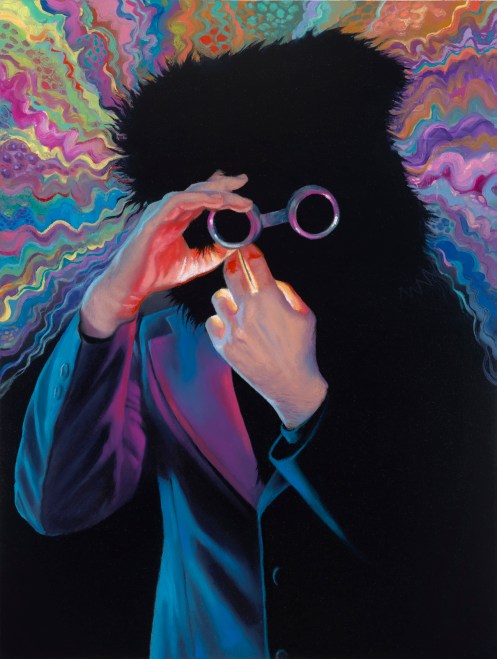 SR: Can you talk to me about the characters in the Second Skin paintings?
SM: I don't know if I want to! When I was doing the found photograph stuff I would sometimes be a little nervous about painting such specific people and moments that not even I know. People still connected with them and I appreciated that. People would be moved by it drawing up a memory for them that had some parallels in some way. So even though now I know the stories of the people I'm portraying, it's not as important for shared experience.
SR: Within your work there's an idea of exposing integrity or honesty– whether its of the model or of an exchange. It's quite interesting with a series titled Second Skin suggesting a natural reflection of self but also a sort of protective layer.
SM: Yeah and it's intimate! A lot of people are very guarded about how they act unless they're around people they're comfortable with. This is sort of the onset of the series and I'm excited to go further with it. I know a lot of amazing, creative people, so I've started to have them collaborate with me about how something might look like, what they're going to wear, how they're going to pose, or to get a feel for what they want to portray in terms of emotionality.
SR: In your statement you mention wanting to elicit an emotional response from the viewer, is that what you're thinking about when you're working?

SM: Yes but I'm also thinking of me. With the older work from found photographs I wouldn't beat myself up if the likeness was not right. But for these it has to be perfect, that's important to me.
SR: Throughout your bodies of work there's often a layer of obstruction or maybe it's a matter of revealing…
SM: It's directly tied to my old work. I was working with found photographs but instead of filling in the space, I would just white everything else out but it didn't have the warmth. I wanted the work to be more about complexity than about stripping things away so I expanded the people to fill the space. With the stripes I was getting caught up with how the final image should look like without enjoying the process so the clouds were a response to that. It was so tedious and it had to be perfect…and clouds are like the opposite of that. They're like eating cookies! Making and eating cookies– it's all pleasurable! And I can make them look however I want them to look like.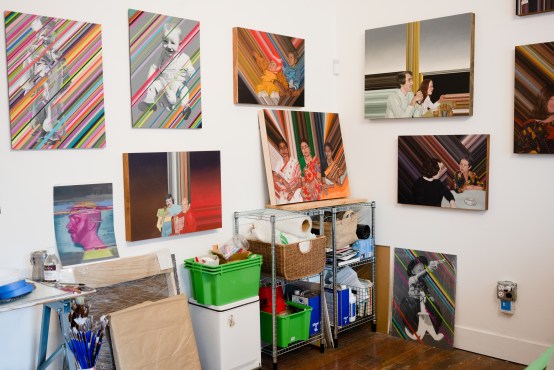 SR: Balancing between the "pleasurable-cookie-experience" of painting clouds and patterns and the often tedious process of painting your figures, what is it that draws you to photorealism?
SM: It goes back to emotional response. Because it requires the artist to pay so much attention to everything. That level of care is intimate. Even if I'm painting a stranger in a found photograph, I feel like I'd recognize that person on the street after I've spent that much time with them through the painting process.
SR: You've been with Root Division for some time now, how did you get involved?
SM: I'd lived in a couple of different spots in the Mission for ten years so I saw Root Division around. I was actually a Gallery Intern back in 2008! A couple of years later I was in Introductions so I just kind of had a long slow relationship with them and when I was looking for a studio, I thought it was the right time to try and be a studio artist there. It's been amazing! I love having this kind of community here– it's been my favorite thing.