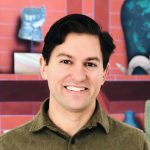 Bio
Robert Minervini is an artist working in painting, drawing, sculpture, and public art. His work draws inspiration from art history and investigates the relationships between landscape, historical, and invented narrative painting. He received his MFA from the San Francisco Art Institute in 2009, and his BFA from Tyler School of Art in 2005. His work has been exhibited internationally, including the San Francisco Arts Commission Gallery, the Luggage Store Gallery, Queens Nails Annex, the Pennsylvania State Museum, and the Philadelphia Art Alliance. He has been awarded the Murphy/Cadogan Fellowship by the San Francisco Foundation, the Edwin Austin Abbey Mural Fellowship by the National Academy of Fine Arts, and the Carmela Corso Scholarship by Tyler School of Art. He has attended the Vermont Studio Center Residency and is currently in residency at the Root Division Studio Program. His art has been reviewed in Art Matters, the Providence Phoenix Newspaper, SFGate, and by www.art blog.com. He currently lives and works in San Francisco.
Artist Statement
"My work examines spatial environments and notions of utopia in large-scale, multi-layered paintings utilizing tropes from art history, science fiction, and places both real and imagined.
I build my paintings through a deceptively physical process of layering paint by hand, airbrush, spray painting, collage and complex stenciling. The varied materiality in my paintings function as contradictions to the often 'natural' or 'architectural' subject matter being depicted. "
Selected Work