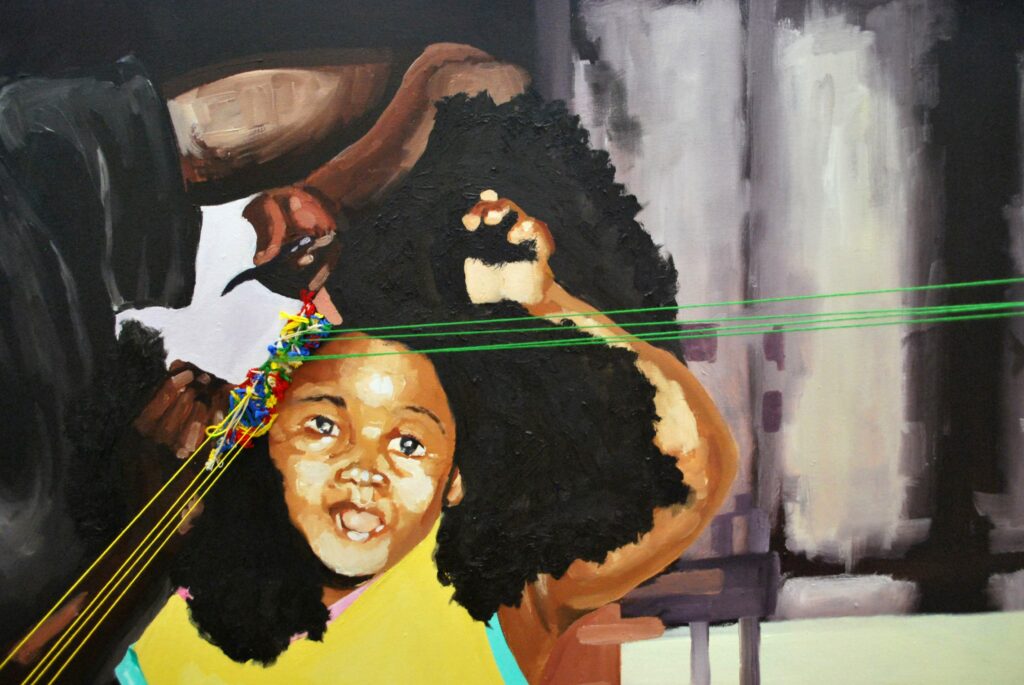 Four works of art to view and potentially collect at Root Division's 19th Annual Auction are stand-out examples of the breadth of work made available during this event, and created by Root Division alumni studio artists . They are culled from a collection of mediums and techniques available in the auction, each in their own way a unique work, a sublime epitome of the power of art. Nimah Gobir, Robert Minervini, Arielle Rebek, and Blanca Estela Rodriguez have created ordinary-changing experiences on canvas, with glass and even light.
Gobir stitches into our consciousness with the intimacy of self-care or rather, the act of rebuffing the intimacy from the perspective of the child. Tender Headed (6), an unequivocally tender work, combines elements of formalism, craft, and carpentry to develop a woven and painterly space. We enter the work either from the center, looking in or, from the sides of the picture plane tethered toward the center by colorful embroidery thread. As we attempt to stabilize our view, we find a child with a wonderful part in her hair, symbolizing the rites a child must take before becoming an adult. These rites portrayed are represented by the white void of oil paint, and parallel the parent — uncertain and self-determined the role has become as we move from being cared for to taking care of others.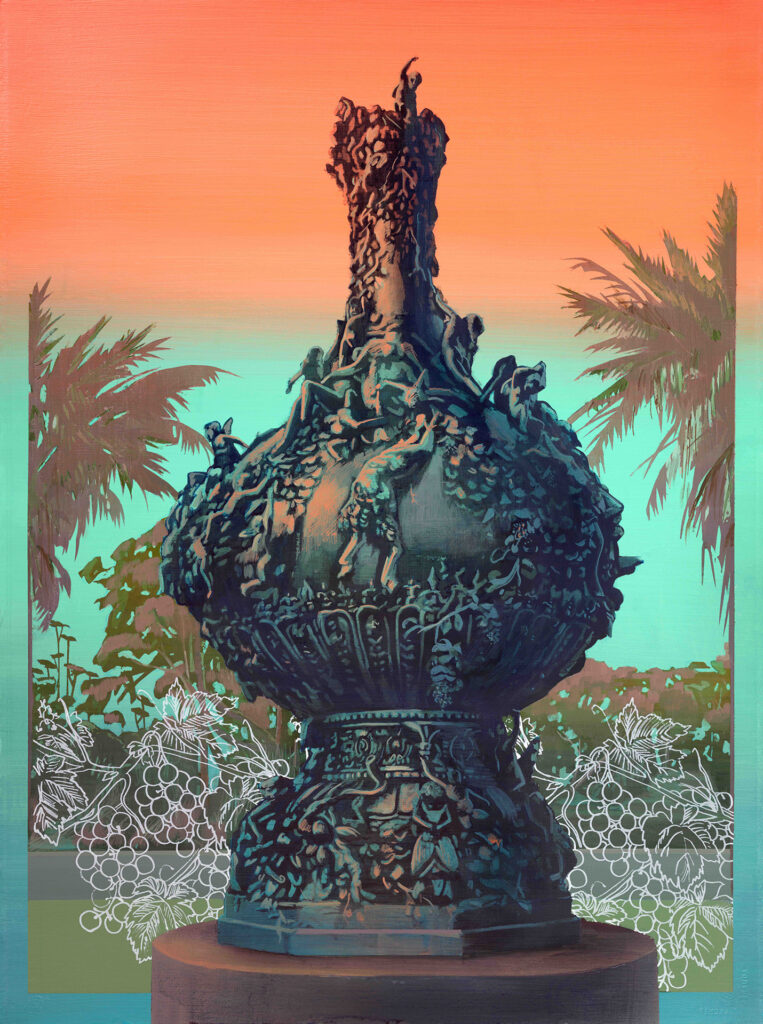 In Minervini's Le Poème de la Vigne (With Wine Grapes), an interesting and parallel space is created through an illusionary painting. Two worlds are far less colliding than coalescing, bringing the Gods and Goddesses of wine and pleasure to the bleach-y and sun-drenched sundowns of a coastal California. But therein lies the poetry or rather the poetics of the work: by creating a synergy of ages and rooting the present within the past, this work time-travels and becomes not a history painting but, a work about an unknown future.
This world is lush, brooding and purple with sensation. The players crawl over one another, tumble, and reach the precipice to become a dark flame on the tip of an object which presents as both a vessel and burgeoning candle wick. With the double image, such as with this painting, we inhabit two spaces in time — a reverberation of being in a time now, of vast vacillation.
Rebek's Constructed View, a cool and moody cyanotype, creates an invented space from actual objects and form. The work develops two planar surfaces oriented as a portrait however, the work comes off very much like a vertical landscape. This photographic process reveals something rich and sultry in the work: a dusky blue world both new and uncanny and an invented space — neither less real nor less fulfilling than the world we inhabit in dream.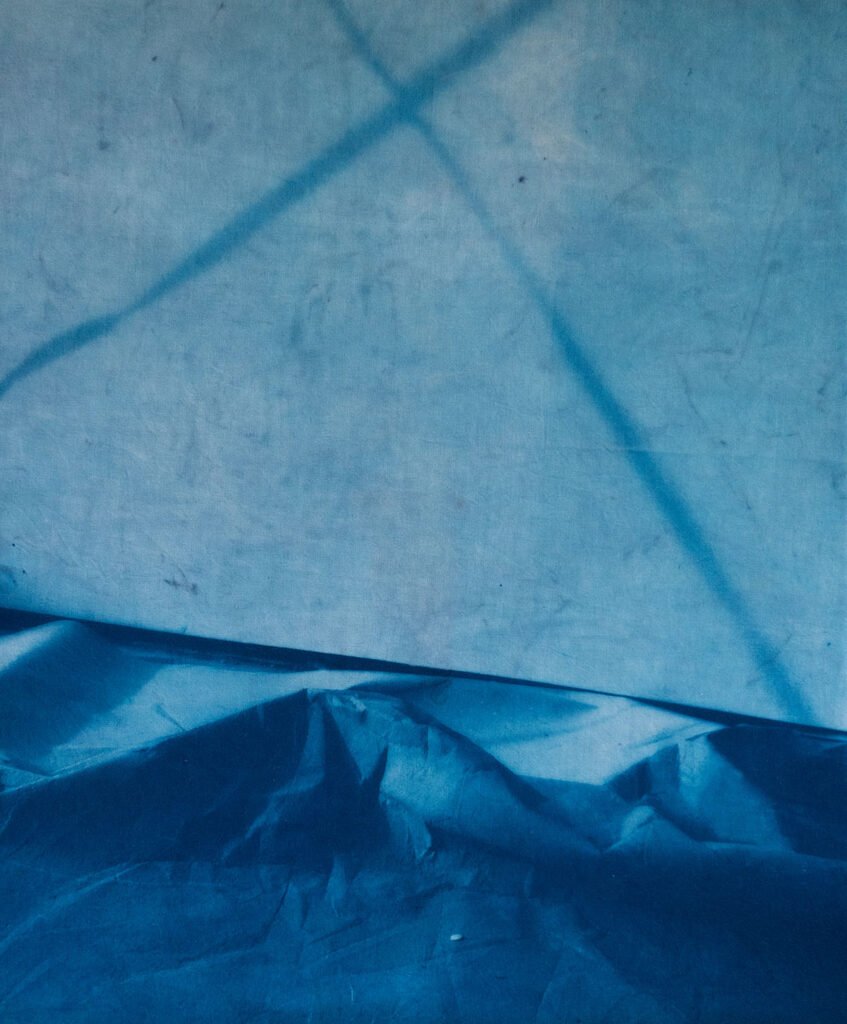 Like a dream the color of the cyanotype brings to mind ideas of night and nocturne, but unlike the dark of night the print relies on the light that exposes it to reveal the image. Thus, when entering this work we exist in a liminal space of both memory and temporal flux: where the past remains a part of our lives through the artists work with exposures and time becomes less linear when our constructed icons can be returned to at a moments notice.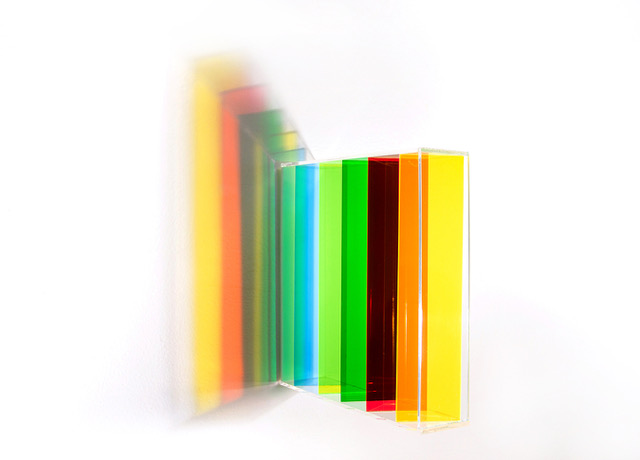 With Rodriguez's Long Side, a spectacular form emotes light, reflection, glimmer, glint and even color in the darkness. By that I mean to say the lush and refractory hues from this work emit colorful shadows, intuitively perplexing our perception that the cast of an object is rooted in darkness.
In fact, there is so much light with the colorful acrylic glass that a glow shines and transforms the object into a halo of sides, angles and prismatic planes. A pure color index evolves with this work, providing light, hope and uplifting sensations of joy. While there are indeed, many scientific arguments about the way we perceive light, color and form a simplified, and albeit brutally sentimental, take would be this work 'just makes you feel good.' And, with the inherent geometry the work becomes less about math and science and more about the sublime arc of potential, like how it can transform our view.
From works about Black identity, world-making, form and memory, light and shape, these are but a few of the many amazing works available at Root Division's 19th Annual Auction. With process, material, object, and painting mediums these works will transform the ordinary space with luster, culture, light, and a reflex of the sparklingly imagined. These Root Division, Alumni Artists shine at an event full of spectacular work.
Tavarus Blackmon, Root Division Curatorial Fellow