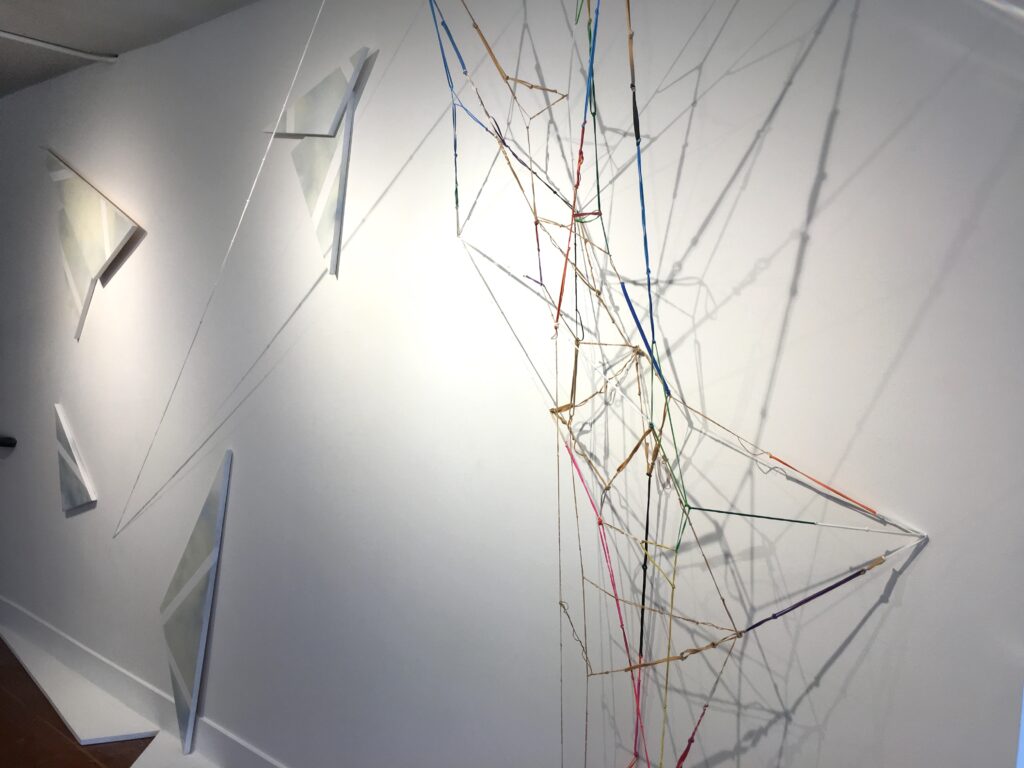 For the month of December, Eva Enriquez has inserted playful, geometric line into the Frank-Ratchye Project Space. Using bright, vivid colors and a range of materials, Enriquez invites viewers to explore varying levels of space and texture.
This site-specific installation, Des-nredos, is both a return and departure for Enriquez. Inspired by Brazilian artist Lygia Clark's experimentation with rubber bands, Enriquez began to experiment with the material within her own practice. In Des-nredos, Enriquez tests the tension points of each rubber band creating a web of diverging and converging lines that run from floor to ceiling.
Additionally, Enriquez has added specific architectural elements. Lying flat on the floor, subtle, wooden triangles enter into the Project Space, creating a seamless extension of the wall. A series of wooden triangles are also exhibited adjacent to the maze of rubber bands. These spray painted forms create an airy, floating-like quality that are juxtaposed with their sharp, angular lines. As a whole, these different components of Enriquez's installation offer more than one perspective on dimensionality and an opportunity to untangle lines in space.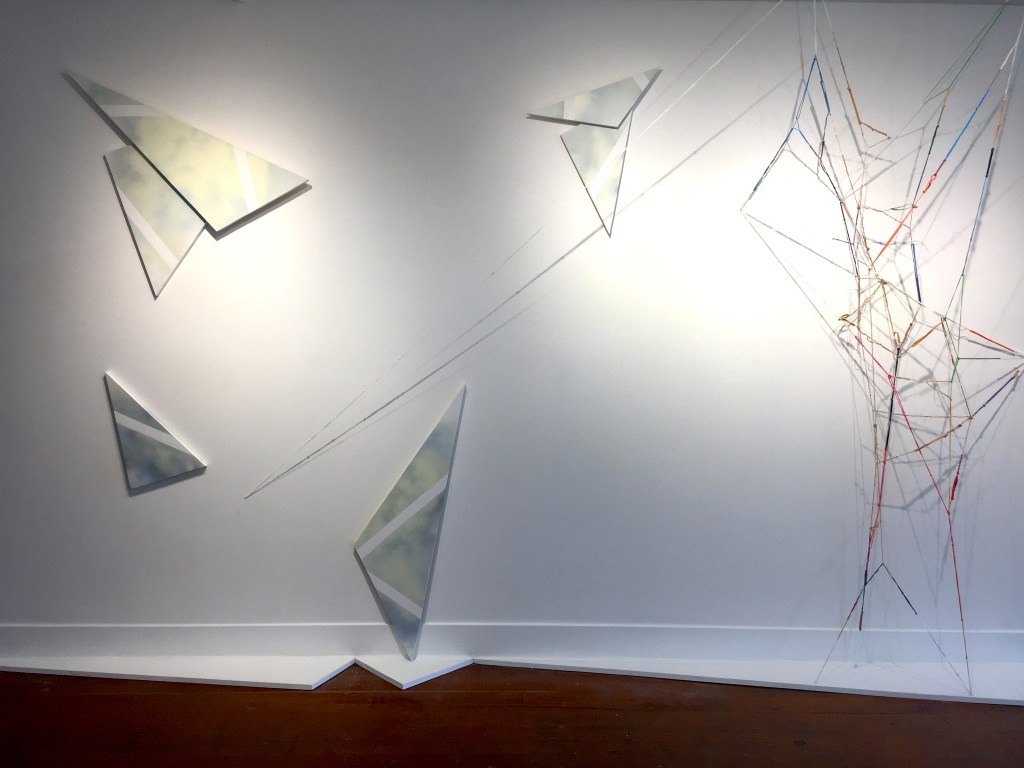 Samantha Reynolds (Exhibitions Fellow): During our studio visit, you mentioned that one of your goals of this installation is to expose an internal world. Is this world a chaotic network or one of harmonious interconnections?
Eva Enriquez (Exhibiting Studio Artist): I've titled this piece 'des-nredos". In my native language, "enredo" means tangle, maze or confusion. I am using the process of making to map my predominant state of mind, which is typically over-stimulated by excitement or stress. The process of webbing became a meditative labor of untangling "desenredar" to create new geometric shapes and color relationships.
As a material, the rubber bands are both a textural line exploration and a vehicle to experience space. I immersed in this process in order to make sense out of these internal "enredos" to find some sort of clarity and resolution through new visual outcomes.
SR: This work is in some ways a departure for you. What drew you to begin experimenting with rubber bands?
EE: Yes – this work is a departure from my painting series. Although, I worked with rubber bands a few years ago while recreating Brazilian artist, Lygia Clark´s participatory net making. This experience of tactile-material research and learning more about Clark's fascination with psychoanalysis and her subsequent exploration of the body and mind in art made a large imprint on me.
For the past few years in my own painting series, I have been attempting to understand the process of untangling multiple layers of impulsive geometric lines that cross and form shapes and color relationships. For me, this new work is in response to my search for more physical qualities and meanings to better deeply express the underlying idea of psychological disentangle.
SR: What excites you most about the capacity of this material?
EE: I am very excited about the playfulness of elasticity, color and the wide range of line options and textures. I am also very interested in the organic quality of the rubber bands – their capacity to resemble the human body like skin and organs. In addition, I am looking at the polar opposites qualities: flexibility vs. tension, strength vs. delicacy and how these translate on a conceptual level.
SR: For this installation, there is a direct correlation between your current painting series and sculptural work, specifically in your exploration of different levels of depths. Throughout your career has your 2D and 3D work continued to inform one another?
EE: I was formally trained as a painter, but when I later discovered fiber art as a way to express myself three-dimensionally, I didn't touch a brush for a number of years. My current series is my first body of work back into painting. Yet now, I render space with layers and lines to create a sculptural structure on a two-dimensional surface.
Likewise, in this work with the rubber bands in the Frank-Ratchye Project Space, I am aiming to create variety of lines and angles, as well as arrange the colored rubber bands in a painterly way to direct the viewer's eyes.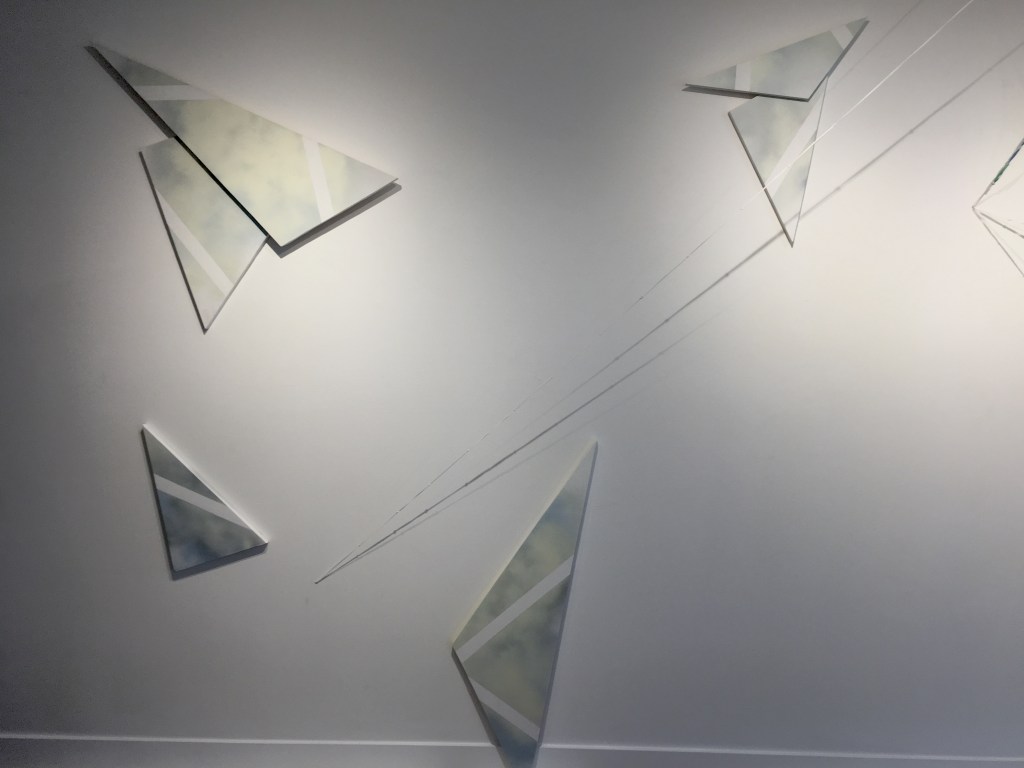 SR: Outside of your spatial exploration, color seems to be your second greatest thematic focus. What role does it play within this work?
EE: Yes, aside from line as the main element, color gives the piece rhythm and movement. I carefully look at color composition to guide the viewer's eyes in and out of the piece. Arranging the color rubber bands is ultimately what makes the piece cohesive and gives me a sense of clarity of its form.
SR: You have chosen to manipulate the rubber bands in varying ways. What is the role of tension or the lack of it throughout the installation? Is this your own experience of space?
EE: The role of tension or the lack of it has several purposes. First, it acts as an expression of the line variety; thin, thick, sharp, loose, geometric and/or organic. These line variations bring contrast and texture, which subtly reference the human body and underlying tissues. Secondly, I find myself experiencing the space through the process of making through the webbing; pulling, adjusting and connecting each rubber band to another.
SR: Moving forward, how do you see this installation continuing to evolve? Do you foresee adding a participatory element similar to previous work?
EE: I would like to experiment with some reflective surfaces to have the viewers be more involved at a physical level. As for a participatory element, I would consider it but I'd have to find a reason that is true to my own practice.
ABOUT EVA ENRIQUEZ:
Eva Enriquez was born and raised in Madrid, Spain. She holds a BFA with a minor in theater from the University of Hawaii at Manoa, Hawaii. Enriquez works as a teaching artist in San Francisco and currently teaches as both a Youth and Adult Education Instructor at Root Division. Her interactions with people and environment are a source of knowledge and continued inspiration for her work.
ABOUT THE FRANK-RATCHYE STUDIO ARTIST PROJECT SPACE:
The Frank-Ratchye Studio Artist Project Space provides a gallery for Root Division artists to connect and engage in dialogue around the work being made on site, and to exhibit their art to the public. The Project Space is free and open to the public during gallery hours in conjunction with the current exhibition. This space is currently curated by Root Division's Exhibitions Fellow, Samantha Reynolds.