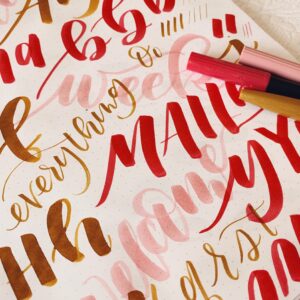 Instructor: Lindsay Ellen Howland, MA
Sessions: 3
Dates: Wednesdays, 5:00-7:00 pm | June 30, July 7, 14
Tuition: $135
Calligraphy 101
Dive into the practice of pointed pen calligraphy in this virtual lettering series! In this virtual three-session course, you'll learn the correct hand and body position with new tools to achieve smooth lines, understand how to use pressure to measure ink flow, and practice lettering techniques with both upper and lower-case modern alphabets. Build up a foundation of basic strokes and connected letters as you discover how to fold these new techniques into a variety of hand-lettered projects. Instructor demonstrations and project inspiration will accompany student practice in this interactive calligraphy workshop. A materials list will be provided upon registration; supplies must be purchased independently.
Special Rates!
Register with a friend and get 10% off the class fee.
Register with 5 friends and one person can take the class FREE OF CHARGE!
Registrations must be made at the same time by the same person for the discount to apply. For inquiries and to take advantage of special rates, email: michael@rootdivision.org
And if you don't see what you want here, we would love to hear your suggestions for future classes.
Please email Michael Gabrielle at michael@rootdivision.org with your ideas!