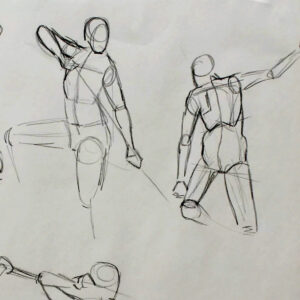 Instructor: Courtney Griffith, BS
Sessions: 1
Dates: Thursday, 6:30-8:30pm | August 12
Time: 6:30-8:30 pm
Tuition: $45
Gesture Drawing is a one-time virtual experience where you will learn how to create expressive figure drawings quickly and intuitively. The class will consist of presentations and demos, followed by many quick exercises to create focus and allow your drawings to flow more naturally. At the end of class we will lengthen the drawing time, giving you a chance to make more refined gesture drawings. All levels of drawing ability are welcome! A materials list will be provided upon registration; supplies must be purchased independently.
Special Rates!
Register with a friend and get 10% off the class fee.
Register with 5 friends and one person can take the class FREE OF CHARGE!
Registrations must be made at the same time by the same person for the discount to apply. For inquiries and to take advantage of special rates, email: michael@rootdivision.org
And if you don't see what you want here, we would love to hear your suggestions for future classes.
Please email Michael Gabrielle at michael@rootdivision.org with your ideas!