De'Ana Brownfield: The Water Carries Us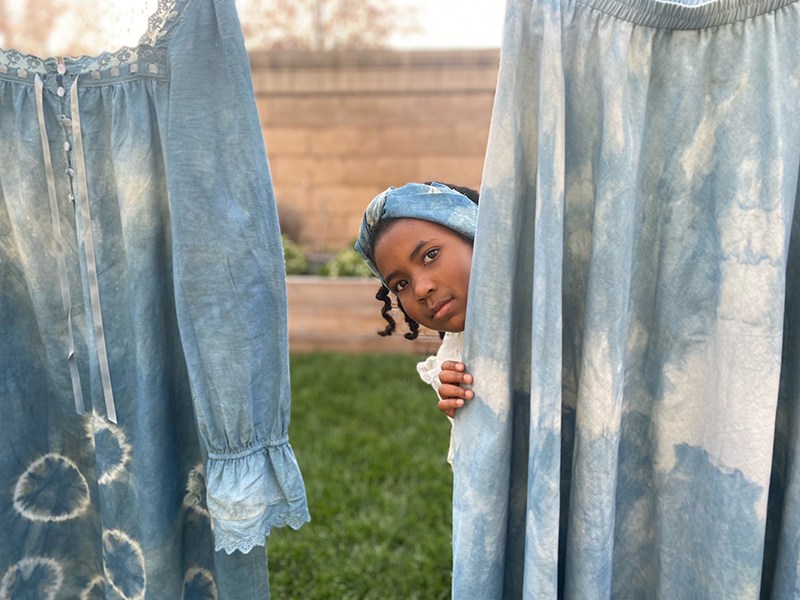 De'Ana Brownfield: The Water Carries Us
The Frank-Ratchye Project Space presents The Water Carries Us, a new body of work by De'Ana Brownfield. The Water Carries Us explores the perspectives of Black & Afro-Native women as they have been impacted by colonialism, forced removal from ancestral lands, and enslavement. Engaging with material like cotton, indigo, clay, & black walnuts, Brownfield honors her African & Afro-Native ancestors who survived the Maafa (Middle Passage) and Trail of Tears. Using traditional textiles, she explores how materials can transcend time, space, and reject colonial constructs. In this work she seeks to acknowledge the ways that reclamation of culture acts as a practical rhythm which provides somatic healing for those impacted by enslavement and colonialism.
Read more about Brownfield's process and work here.
Exhibition Dates
June 9–25, 2021 2×1 1920×960 Image Placeholder
2×1 1920×960 Image Placeholder
2×1 1920×960 Image Placeholder De'Ana Brownfield
De'Ana Brownfield is an artist and educator, originally from Stockton and currently living in Oakland, CA. She graduated with a Bachelor's degree in African Decoloniality in Art & History at Mills College. In her studies and practice, she explores what it means to decenter whiteness in Afro Diasporic experiences, history, education, and spirituality.
Engaging with painting, textiles, and assemblage, she reconceptualizes her Afro-Indigenous ancestry, as well as personal and collective narratives. She unearths a history that has been erased in America's history. Mythology acts as a catalyst to create visual imagery that reflects African & Afro-descendants as autonomous, spiritually connected, and people with a strong lineage of resistance. With the use of African Indigenous art practices, sacred objects, and symbols, she shows how art has been a ritualistic process of renewal, connecting with the land, and to Africans globally.