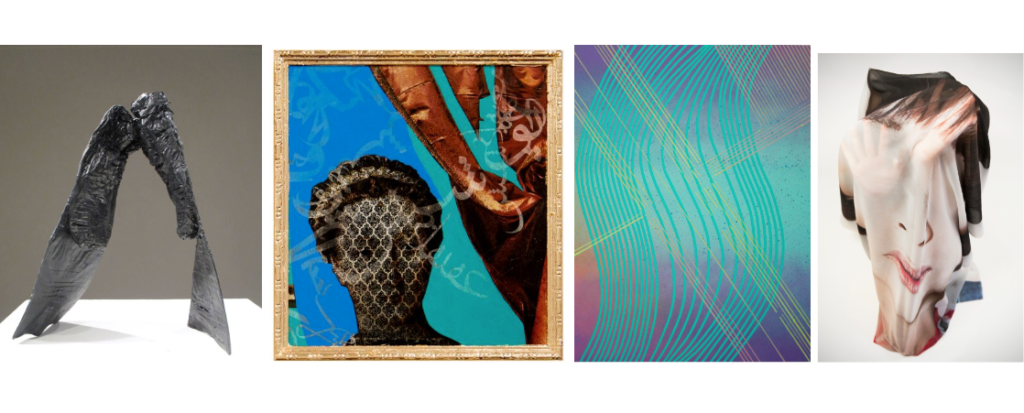 Join us for Root Division's 18th Annual Art Auction! Where you can buy your first original artwork or discover the next piece to add to your collection, this event is a great way to directly support Bay Area emerging and established artists.
We are proud to feature an eclectic mix of high quality artwork from over 150 established and emerging Bay Area artists. Proceeds benefit local artists, free art classes for Bay Area youth, and the continued success of Root Division's unique model for keeping artists working in the heart of San Francisco.
As our 18th Annual Art Auction quickly approaches, and the 190+ artworks are in the final stages of install, Exhibitions Fellow Alicia McDaniel selected four artworks by Root Division Studio Artists that you MUST see at the October 24th event.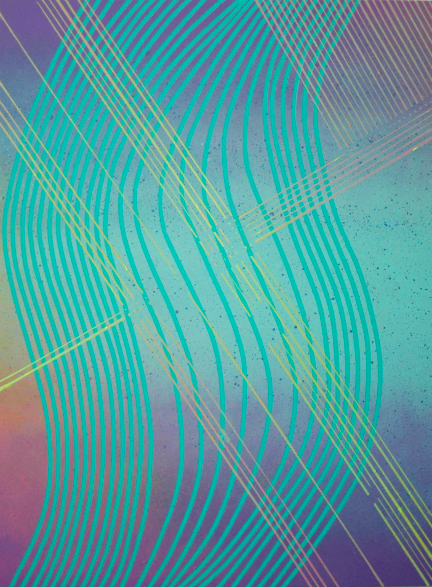 "I like to make things that make me feel good, and if that translates to someone else feeling that same joy then it's a successful painting."
– Carissa Diaz
Diaz's dynamic chroma paintings are informed by her surroundings. Flashy neon signs, the calming purple dusk, warm sunsets upon the bay, periwinkle mountains, and far-reaching puffy clouds. The artist draws inspiration from San Francisco's urban landscape, the cosmos, and natural elements from the Earth.
Diaz's art making process is just as exhilarating as the compositions that she creates. She paints, tapes off sections, paints again, peels the tape, and repeats this process until the painting feels satisfactory. Each meticulous layer is an intuitive response to the revealed layer before. As demonstrated within Diaz's Lavender Sunset the artist is skillful in her technique- balancing subtle gradations of color with bold, repetitious lines. Her bold, radical geometric paintings are not to be missed!
Open Water is a vulnerable work that serves as a reminder to Solis: "never dare get into the deep water again."
Solis is an ambitious performance and sculpture artist who creates work derived from his personal lived experiences. Sculpted from miscellaneous found objects and a VHS tape of the movie with the same title (Open Water, 2003) this piece embodies the artists fear of the deep depths of water. This piece serves as a homage to Solis's wedding anniversary vacation to Cancun, Mexico where he forgot to wear diving flippers before jumping head first in a natural well.
After nearly drowning, Solis channeled this traumatizing experience through the recreation of his fear within Open Water. Through this embodiment he is able to take control of an experience that he previously was not. This is what is most remarkable about his creative process; Solis utilizes his sculptural mastery to reclaim materials that trigger his darkest memories. By materializing these triggers the artist is able to take a tangible grip upon the sources of his fear.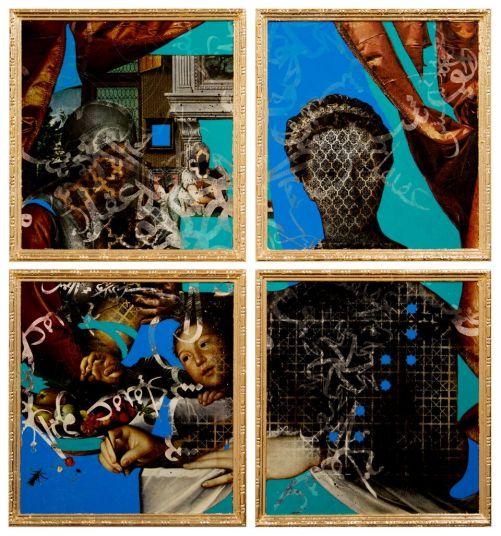 "I transform images from the Renaissance masters through different processes including collage, painting and laser engraving. Through obscuring the images in a veil of Islamic motifs, geometric patterns and Persian calligraphy, I explore different ways of censorship to call attention to this egregious act of suppression."
– Kiana Honarmand
Honarmand is a skilled, multifaceted artist who addresses the censorship of Iranian women. Growing up in Iran, she witnessed contradictory forms of misogyny and violently enforced laws against her community. Diane de Poitiers, 2nd Edition is a recreation and response towards these hostile actions of policing the clothing and expression of women.
This action of concealing Western images through actions of covering their surface with Iranian text, nearly opaque blocks of color, and even removing figures from the frames gives urgency to Honarmand. As a woman she is able to manipulate images of Euro-centric figures and nudes to bring them into conversation of the multiple forms of oppression that she and Iranian women have been subjected to.
"The technique of digital-manipulation and printable fabric allows me to investigate the uncomfortable process of cultural assimilation visually. The choice of fabric not only highlights the idea of social fabric but also emphasizes the fluidity of identity." – Kacy Jung
Jung is an interdisciplinary artist who combines Capitalist theory with narratives of her personal experiences with and anxieties around cultural assimilation. Seven years ago she moved to the United States from Taiwan and has since faced isolation from both American society and her family. Her recent work employs her feelings of disconnect from her previous home and culture. She simultaneously has been accused of becoming too "Americanized" and being "too Asian."
With this work Jung critically analyzes and engages with this "in-betweenness" that is infringed upon immigrants. Free Will Is an Illusion also functions as a hopeful call to action: that everyone- inside and outside her community- needs to unite and place internalized biases aside in order to dismantle larger, systemic forms of xenophobia.
Join first-time and seasoned collectors in bidding on over 190 works by established and emerging Bay Area artists at Root Division's 18th Annual Benefit Art Auction on Thursday, October 24 from 7-10pm. Tickets available online.
Can't make it to the main event or don't want to compete for your favorite work? Preview, and purchase early at our free *Buy it Now* Auction Preview on Saturday, October 12th, 7pm -9pm.
p.s. Out of town or unable to attend in person? You can buy online! Review available works on our Online Store!