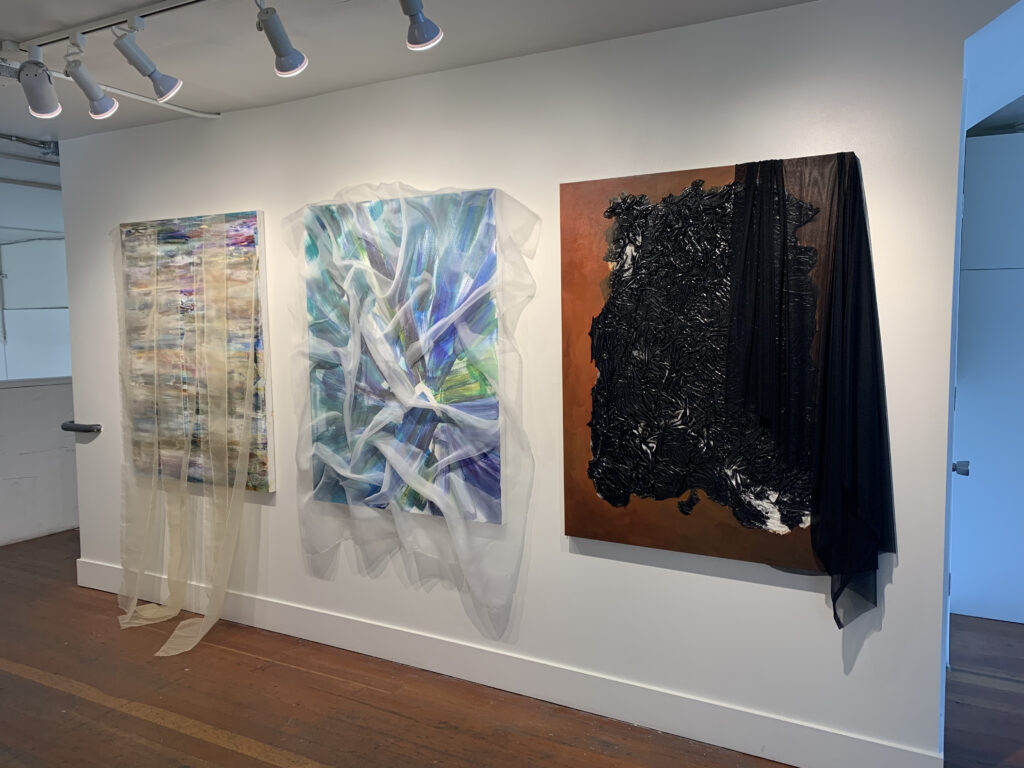 By Sherwin Rio, Exhibitions Fellow
For the month of August, the Frank Ratchye Studio Artist Project Space is excited to present new works by Makiko Harris that explore material value, aesthetical definition, irreverence, and the rejection of technological sterility. By merging broad and fast gestural paint strokes with methodically-placed fabrics that obscure and expand the visual borders of the canvas, Makiko Harris: Silent Conviction asks us to critique the ways we accept and participate in consumerist, cultural, and societal value systems. Read more about the artist's practice, philosophy, and work in our interview below and come see the work at the 2nd Saturday reception on August 10th from 7-9pm.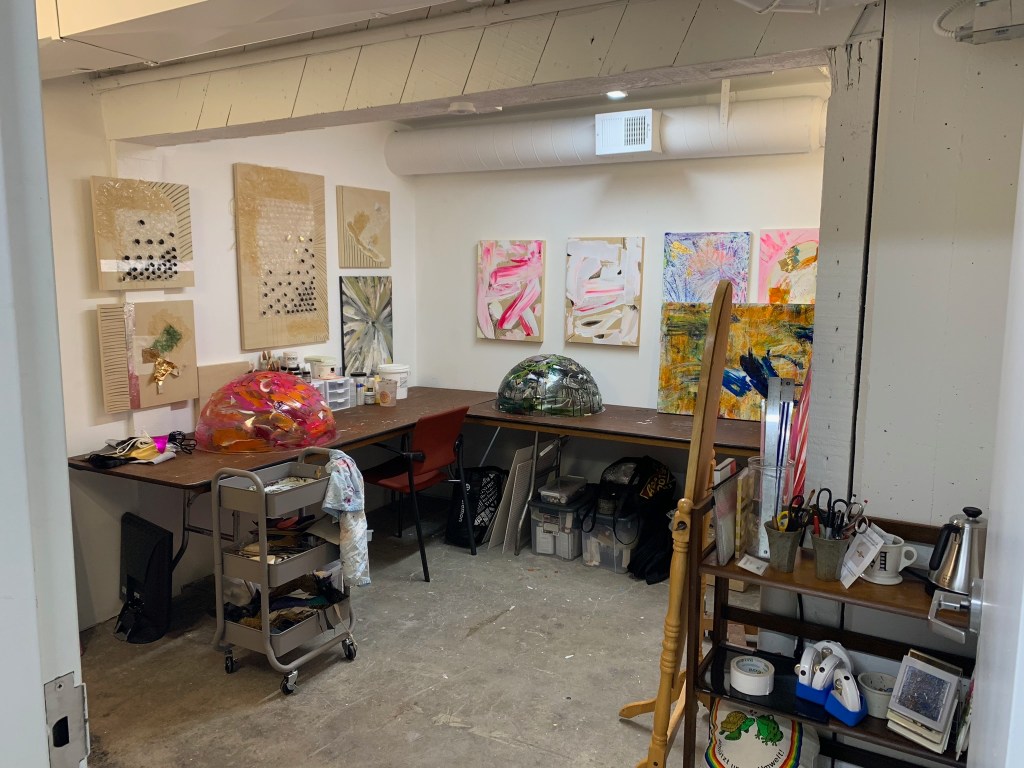 Sherwin Rio (Exhibitions Fellow): Makiko, I know your background is in multiple disciplines, can you talk to me about how you got started making visual art?
Makiko Harris: Fine art-making has been a part of my life since I was a kid probably as early as 5 or 6. I liked doing things with my hands. My grandmother was a Montessori school teacher so we would do these exercises where we would draw pictures into shaving cream spread over the countertops. From an early age, there was this tactile experience of mark-making that was really important to me.
SR: Do you often revisit that time in your life as you're making your work?
MH: Not intentionally, but I do think there's a part of my practice where I seek that same calm in a very physical act of making. You'll see that although it's painting, it's tactile or three dimensional with a lot of texture elements. I sometimes feel like I'm frosting a cake. Changing tools is important– not just using brushes– using tools where my hand is closer to the material whether that's squeegees or putting plastic and scrunching the paint with it. There is a play element but its not a literal thought.
SR: Can you talk to me about the relationship between your work as a designer and your work as a painter?
MH: Being a designer has impacted my art practice a lot. I started doing digital design 5 years ago and it's made my need to create outside of that stronger. In my digital design work, every pixel has to be placed; Design is the art of problem-solving and serving a purpose whereas art to me doesn't have to solve a problem or serve a specific purpose. So in my artwork I leave a lot of things up to chance and spontaneity. I try something and see what happens with not having a lot of control over every tiny thing. I think I would get super frustrated being a figurative artist because that's the thing I'm trying to avoid. I need to balance my psyche by being super loose and expressive here and I can be super intense with the product design.
SR: Do you find that your background in philosophy, music, fashion also have a relationship with your studio practice?
MH: I majored in Philosophy at Tufts outside of Boston and I focused on aesthetics and philosophy of art. Lately, I've been thinking a lot about the philosophy of value. You'll see alot of my work is very materialist, the material is really important so that it's not just a painting. Gold and silver are mixed in and paired with a more humble material like twill, twine, trash bags, bubble wrap. What does it mean for something to be art? Does it need to be made out of something valuable? What does it mean for something to be beautiful, does it need to have value?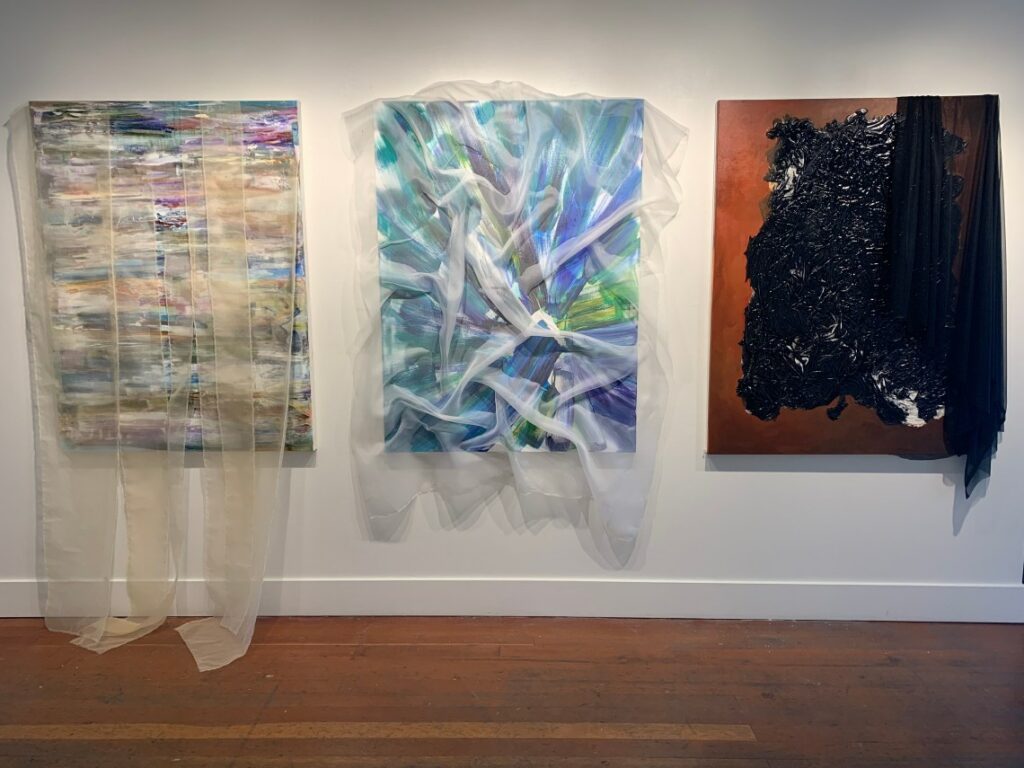 SR: There's a relationship to the body in your work, whether it's the hand of the artist or the sizing of the viewer's body…
MH: I enjoy working big. I approach my practice not focusing on the end result, but more about the process of creating. For me, that more physical or kinetic experience feels like the way I want to be making work. It also helps with move regulation– some people go on a run, others make really big gestures with acrylic paint.
SR: Your background as a musician, does that also have a relationship with your art practice?
MH: I've been thinking of ways to incorporate sounds as a way to experience something textural whether as wearable pieces in the work or a performance with a musical component. I associate different colors with different sounds. Growing up, my violin teacher would have me color my sheet music with a set of colored pencils so that I could express the color while I was playing it. Sometimes my work feels quiet or loud to me. So if I need quiet, then I'll make quiet work.
SR: Do you find that you have phases of a quiet body and then a loud body, is it interspersed, or is it dependent on a certain factor?
MH: I have phases and sometimes the work tells me what's going on with things in my life. If I'm not aware or in tune with it, the artwork will make me contemplate.
SR: Can you talk to me about how your notebook informs your practice? You've talked about being spontaneous, but it seems that there are many layers of conceptual thought happening before and after.
MH: During the making, I try to be as much flow state as possible. But I would consider myself to be somewhat cerebral, to a fault. I'm putting myself through The Artists Way by Julia Cameron. Part of that is to write 3 pages in the morning about anything and what I've noticed come up for me in that is that there are ideas that come up all the time about work I could make. I've always struggled to write about my work and writing helps those things come up. Also writing about work helps alleviate some stress. Not every idea has to be made.
SR: Has your work changed during your 9 months at Root Division?
MH: It's grown a lot. I was working with material in a similar way but more literal, using old maps or Xrays or birth control pill instructions. I've since abstracted that more to complicate. Part of why it's grown is the quantity of work I'm producing. I'm from the philosophy that if I produce quantity eventually I'll find my way and the quality will emerge. I have to practice, I have to make things. So having space here has been more accessible for me and my private studio space has been conducive to helping me grow a lot as an artist.
SR: Do you have any upcoming shows, projects, and/or events after publishing date that you'd like to plug?
MH: I have a two-week residency near Truth or Consequences, New Mexico in October!