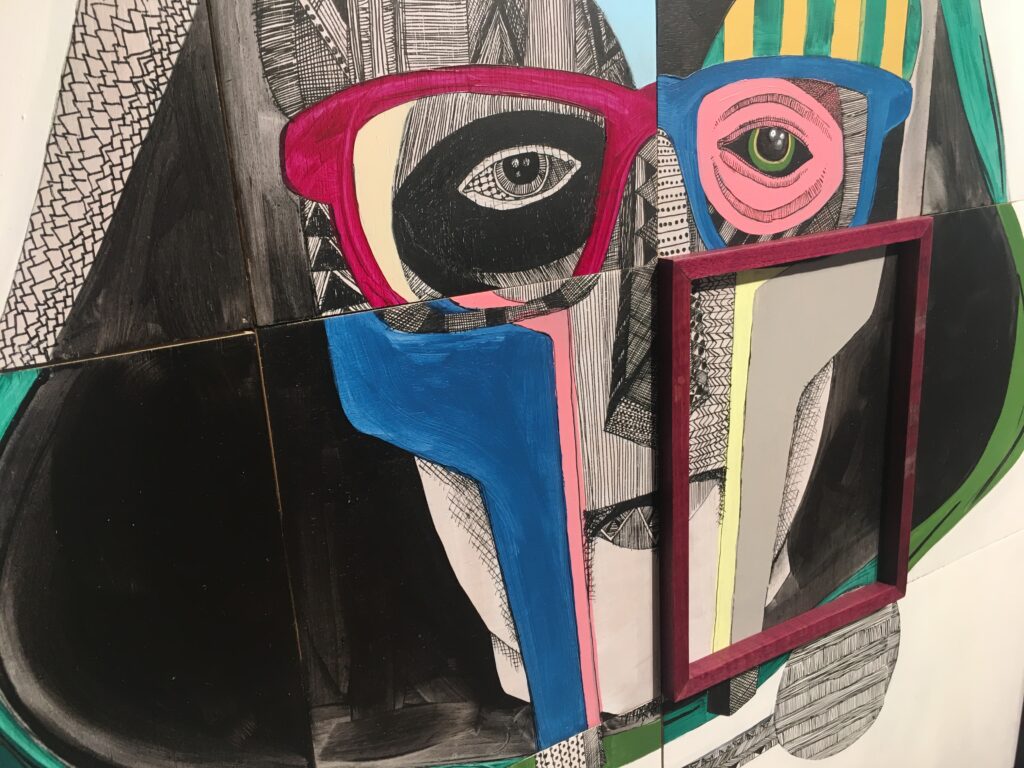 When I walked into Matt Floriani's upper floor studio at Root Division on a Monday afternoon, he was busy cleaning out a screen from just laying down magenta ink on top of paper layered with 60+ layers of comic book strips, paint, crayon, "you name it"– he says. We began talking, and as he shuffled containers and papers around into neat piles, signaling the end of his studio session, his dog Uma silently watched me with exhausted eyes, intently– yet protectively– from underneath two folding tables. Just above her, a large in-progress painting of a masked creature character fittingly reflected her expression.
During the month of December, the Frank-Ratchye Studio Artist Project Space presents Matt Floriani: The Hero Within Me, an installation of autobiographical paintings, collages, prints, and drawings that deal with protection and vulnerability, order and chaos, and facades and masks within constructed narratives of a fictional home. Floriani has an MFA from Mills College and a BA from California State University Monterey Bay. Being at Root Division since March, the artist has been making large-scale paintings on canvas and experimenting with sequenced animations from mixed-media on paper. For the first time, Floriani installs his work in an all-over manner, overlapping frames, mix-matching sizes, creating a topography of shapes that pull away from the wall, and building a narrative experience previously unfound in his work.
Read below for my full interview with Floriani on his story, process, and concepts.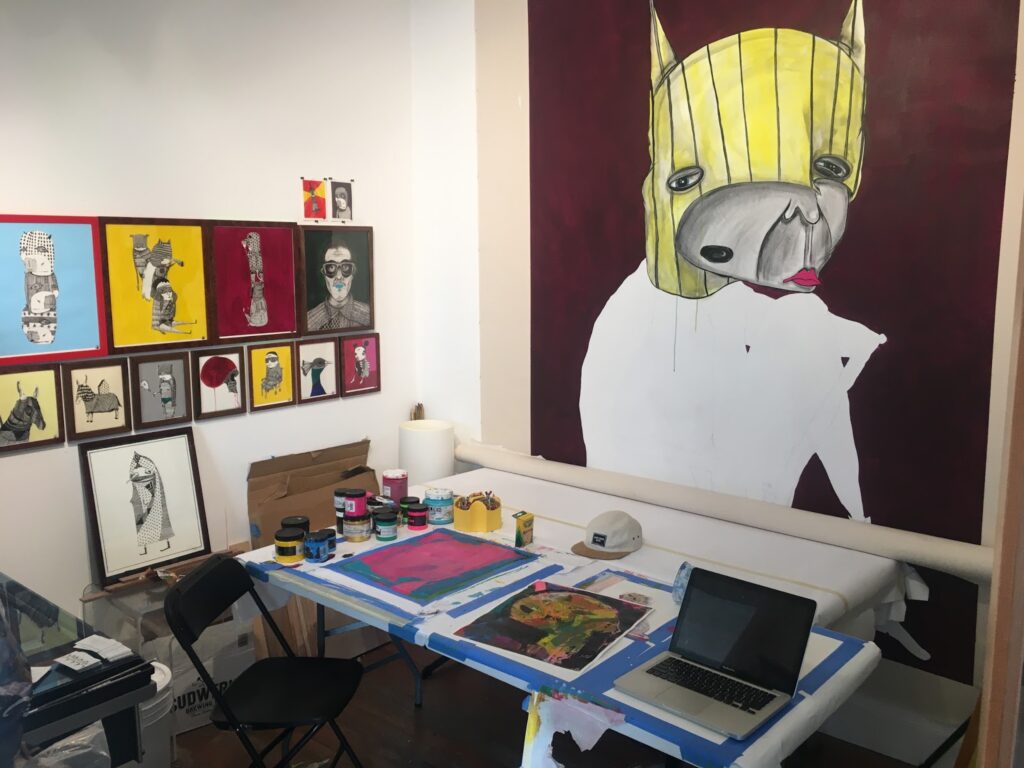 Sherwin Rio (Exhibitions Fellow): Matt, thanks for letting me come by and talk. Could you tell me where you're from and where you went to school?
Matt Floriani (Artist): I am from Sebastopol, CA. I graduated from Cal-State Monterey Bay — actually where I now teach– and I have an emphasis in mural painting, that's what I did for my final project.
SR: And this is your BA?
MF: Yeah, my BA is in mural painting. And I got my MFA in studio art from Mills College in 2017.
SR: What's it been like since graduating from Mills? I imagine you've been busy since then!
MF: Well, I'm trying! Right when I got out of Mills, I worked for a sign company as a CNC operator for about a year and a half, and ever since then I've been pretty busy with painting murals around the Bay and teaching. If I can sustain it, not having to work outside of my practice, I'd much rather do that. I don't think there's ever an "It worked!" moment to balancing work and art but I want to really stay true to painting and teaching, which is working for me right now.
SR: So can you tell me a little about your work, especially with these portraits that I'm seeing throughout your studio?
MF: My work has always been autobiographical in one way or another. I do this work specifically for myself and my state of mind at the time. As you can see I have a lot of flat out self portraits, but I've also been trying to build more compositions with my figures, doing a lot of illustration and gestural work.
SR: Yeah, I remember that piece you had in Auction a few months ago…
MF: Exactly! I like to work with gestures and contorting the body a bit, like Egon Schiele. I really like working with elongated figures, I find that to be very fascinating.
SR: You mentioned that the work is largely autobiographical, and I'm seeing a lot of characters in your work. Can you talk to me a little bit about developing characters and the narrative of unsung heroes in the mask?

MF: All my work is based around this one entity, one that I consider to be the place of home. So the idea of where I'm supposed to be most comfortable in a sense. So with the superhero or vigilante theme that shows up in this work, I'm trying to take the approach of protecting home, protecting those you most care about. There's the juxtaposition of the illustrations themselves– you're looking at these funny, whimsical creatures but you look closer and you think, "They are unhappy!"
The most telling parts of my work are the eyes. They're not necessarily extremely vibrant, not necessarily the first thing you look at, but when you look at them they all have some sort disparity or depression that's super important.
SR: There's a sort of distance…
MF: A distance, yeah. They all have that idea of wanting to protect those that they can't in a sense. Again, going with the superhero thing, the idea of those superheroes or vigilantes is that they are supposed to protect everything or those that are need of it… I'm trying to show that even superheroes are vulnerable in their own way. Even superheroes die.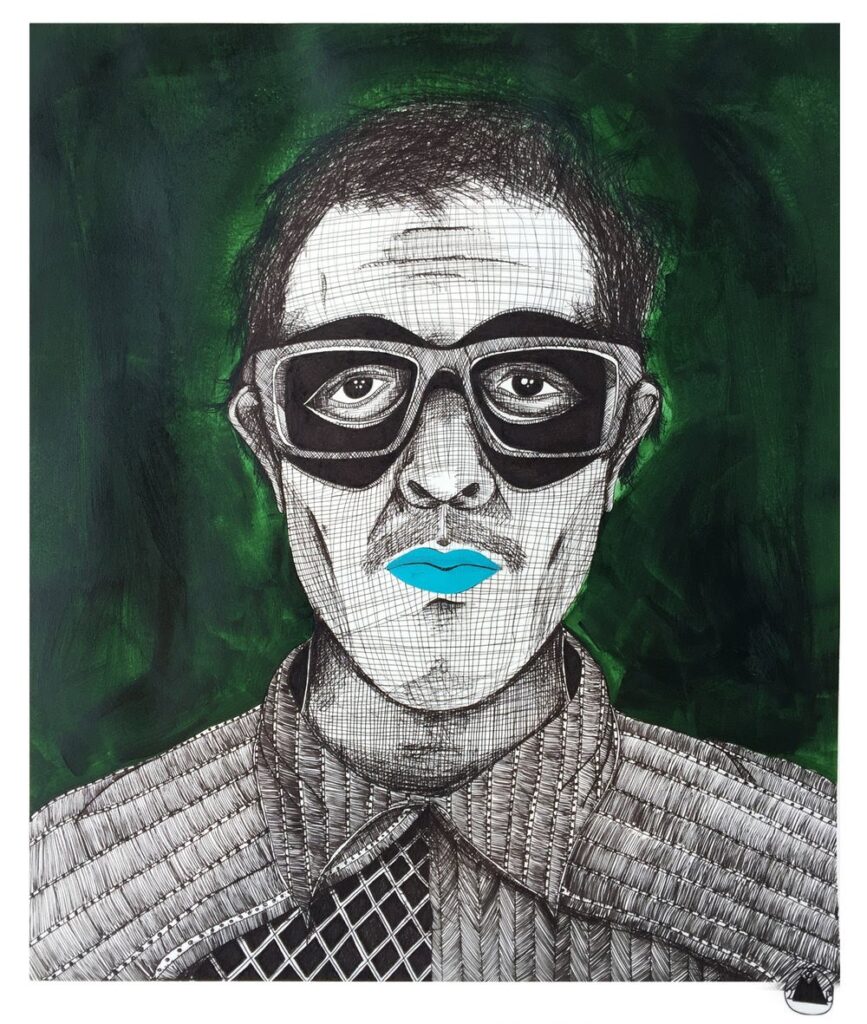 SR: So what is this place of home to you?
MF: Home has always been Sebastopol, however, since I was 17, I have always had a strange relationship to that place.
SR: Do you see these hero characters as being facets of yourself? Or of your home?

MF: This super hero facade is my reaction to a past trauma. It reflects on what has happened in my past and wanting to protect those who need protecting, but we all have our vulnerabilities.
SR: Can you talk a little more about the function of the mask and facade?

MF: I normally use the replica of a house to use as a mask or a covering. I find a house to be protective, sheltering, maybe even comfortable. However, even a structure as safe as a house, or as structurally sound as a house, can be infiltrated.
SR: So have comics always been an influence in your work?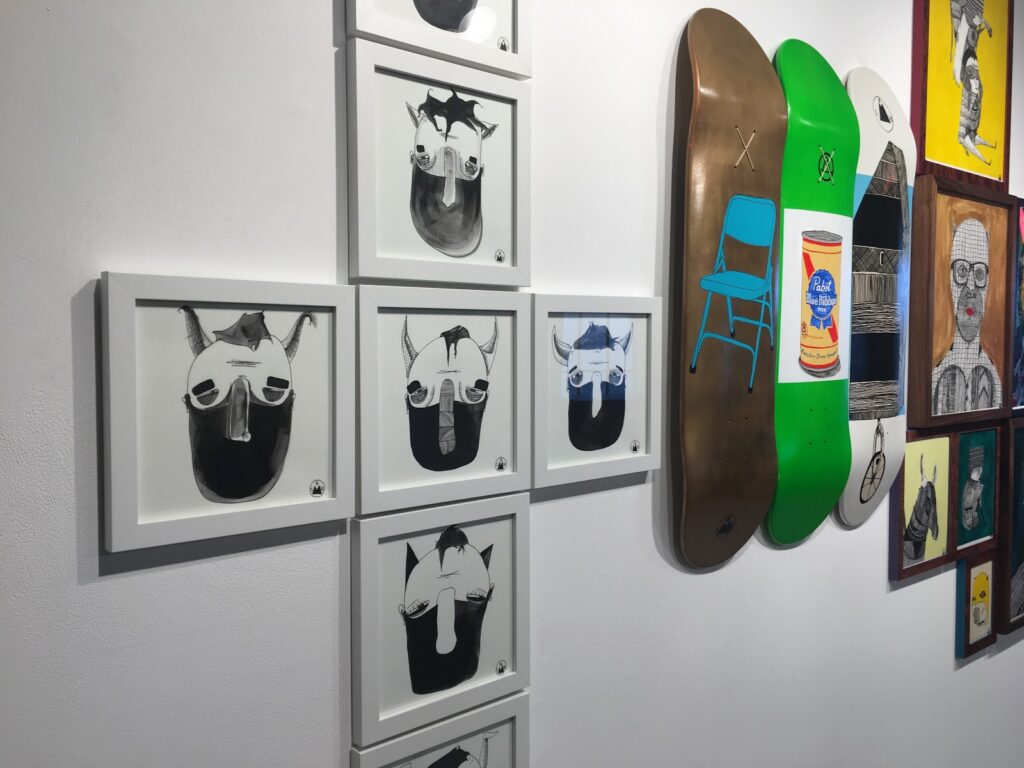 MF: Comics have made a recent push in my work. I've always been interested in comics and I've always loved the idea of superheroes but when it came down to actually using comic books in my work, I've just started using that in the past year.
SR: For the most part your images exist in a singular plane, the figure is isolated on a flat background. So with this notion of home you talked about earlier, I'm searching for place in your work. Can you talk to me about that?

MF: Right, right. Well, one of the reasons specifically behind the portraits and having that flat background is traditional portraiture that doesn't have a place. Maybe that was to confront a feeling but for the most part I think it's just a placement. The subject is the piece. In some of my prior work I build a situation where individuals are interacting with the house or something like that. But in this work, I try to avoid that because the work itself is the subject. I didn't want to put any kind of landscape or anything because it would draw away from what is exactly there.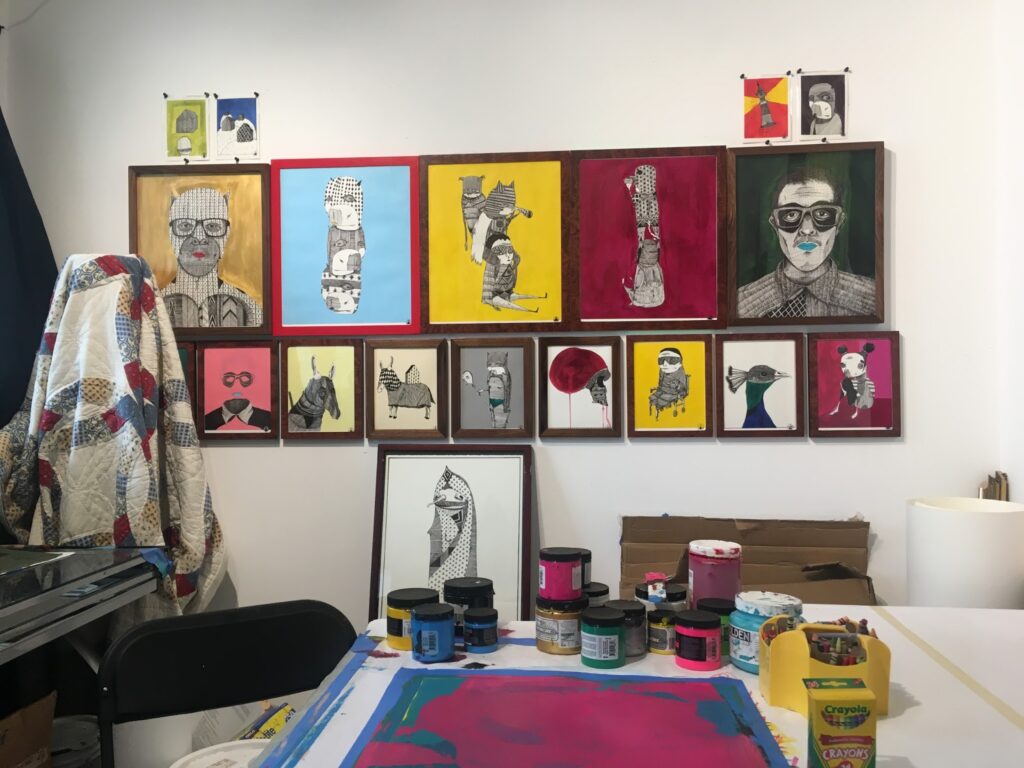 SR: So it's a choice of importance?
MF: It gives you the sense of lack of place. The figures in some way become icons of an untold story. There's a push and pull when building a narrative.
SR: How did you hear about and get involved at Root Division?

MF: I heard about Rood Division when I was in grad school. I can't remember who was showing but they had a show in which I followed some of the artists. After going and seeing the facilities, I realized how great of a place it is– great community, great gallery spaces, great opportunities, great woodshop, and at a great price. I've now been here since March and I really like it. One of the best parts about being here is being able to work with other people, participating in studio visits, just being able to talk to other artists! That's really what it's all about!
Be sure to check out Matt Floriani: The Hero Within Me opening Saturday December 8th from 4 – 8pm.