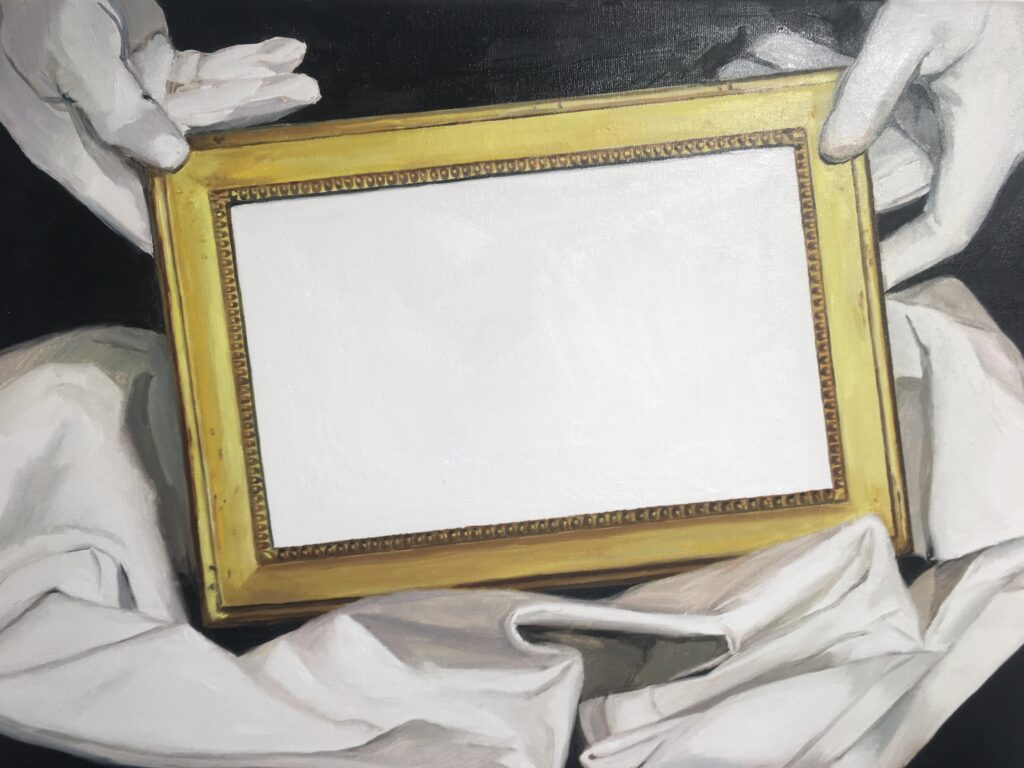 When I met with artist Ruxue Zhang in her Root Division studio in December, I was amazed at how quickly she works. Within the month since my last visit to her studio, she had produced over 10 new paintings for different bodies of work and in differing scales. There are painted sequences of dispersed and pixelated light beams, celestial bodies seen through satellite imagery, lonesome hands, and repeated tesseracts. There are even meticulous paintings of gaudy frames, paintings of paper taped to the wall, and a bright pink painting of a glossy zebra doll. As she sits down in the big cushy red leather chair placed in the center of the room, Zhang tells me when she's not in her studio painting, she's at home painting, and if she's simply not painting…she feels guilty. It's this urge, this self-described addiction to paint that's evidenced in her solo exhibition Burden of Representation on display in Root Division's Frank-Ratchye Studio Artist Project Space during the month of January.
Ruxue Zhang captures insurmountable communication in paintings-within-paintings, presenting a cyclical re-understanding, re-imagining, and re-adjusting of time and space. Zhang's meticulous paintings render scenes completely repeated within each other, wittingly intertwining metaphor and humor in layers of distance and personal history. In Burden of Representation Zhang's work asks the viewer to connect with a multiplicity of realities, a reinvention through repetition, and a present communication with the past to envision a future.
Read my full interview with the artist about her work and process below.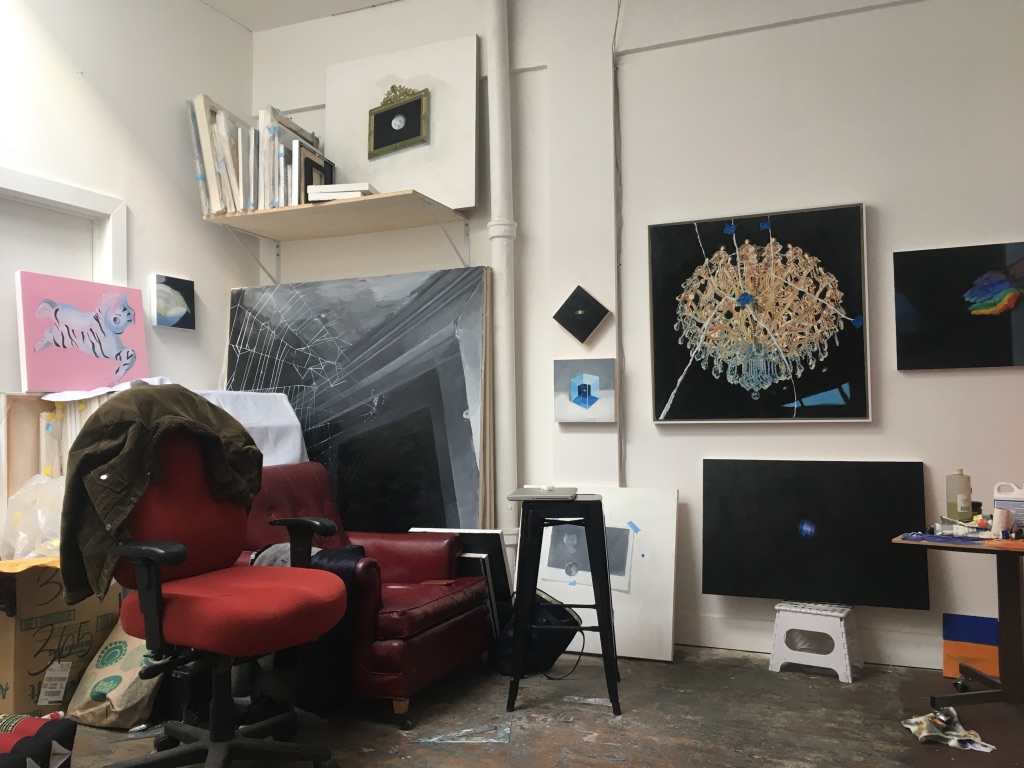 Sherwin Rio (Exhibitions Fellow): Hi Ruxue. To start off, can you tell me about how you got involved in the arts?
Ruxue Zhang (Artist): When I was very young in kindergarten, art was the only thing I was interested in. I went to art school when I was 7 years old, art elementary and middle school, and art high school… so all art schools! I spent lots of time training my technical skills in oil painting, acrylic, and watercolor.
SR: Looking around your studio right now and seeing elements of the stars and cosmos, do you spend a lot of time looking into the sky?
RZ: More than skies, I looked at walls a lot when I was a kid. Two years ago, when I first came to San Francisco, I went to Angel Island and those walls are amazing with the carving and poetry. There's history left by humans, and they always look like abstract paintings. So I began using walls, their textures, and layers as elements in my painting.
SR: There's a recurring layer separation that occurs in your work, something that I notice even in your work from 2015 with the abandoned rooms veiled by plastic sheeting. Even this painting of a window veiled by a spider web. Or the paintings within paintings with paintings. Can you tell me a little more about creating this mediated distance?
RZ: The layers of separation are metaphors for failure of communication in a personal way– losing connection between people, me, and the objects themselves. No one can really understand you or know you and to be an artist is like a way to know myself. To understand yourself is the longest way in life. You know, it's about the failure of communication.
SR: How did you come about creating the tesseract series that I'm looking at now, painting the tesseract image over and over again within itself?
RZ: I got the idea after reading Stephen Hawking's The Grand Design about how we can exist in a multiverse, that maybe we can exist in different spaces and have different possibilities in life. I've been constantly moving to different places— I left my hometown when I was very young so it's a big change for myself to constantly move. I always felt that my paintings are always about myself so when I look at old paintings, they don't feel like me anymore– but the past still makes me. So I connect that idea with the tesseract, doing the paintings again, and again as a new version.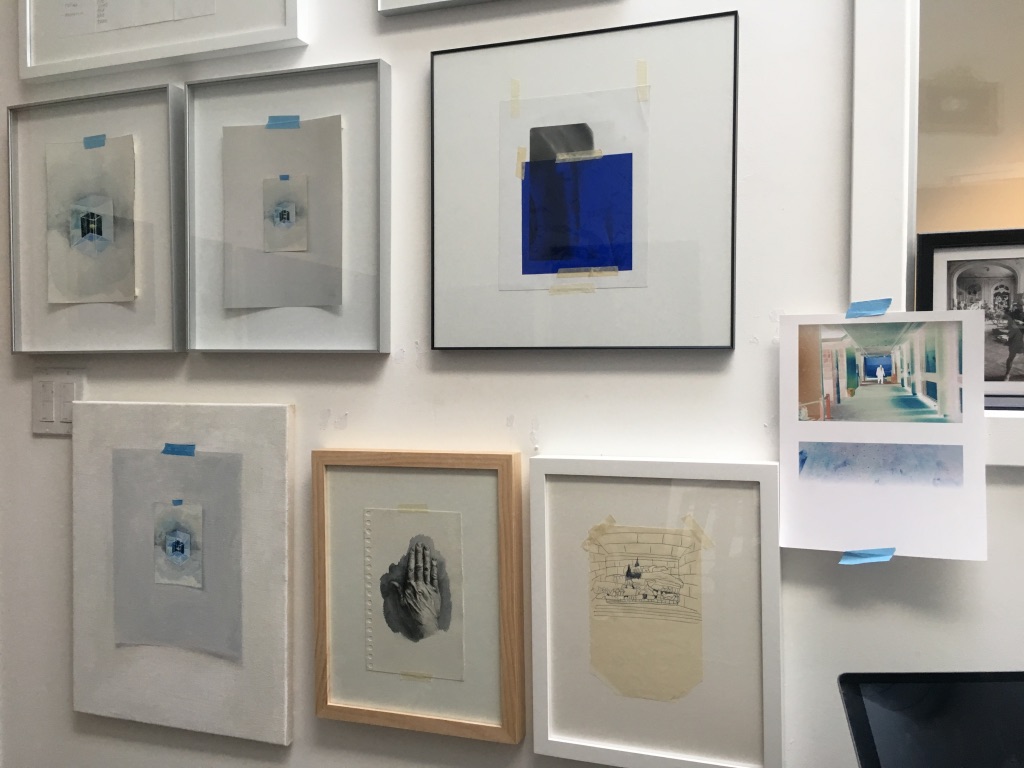 SR: Do you find that you paint differently with each time that you paint these meta-images?
RZ: Each time I paint the image, I paint it differently. The colors are different because I've painted it in different locations– from my old studio at CCA, to my studio at home in Palo Alto, to my studio here at Root Division. I also find that they are chronologically more loose to tight. I've been painting this image for about two years. I think I struggled more with the first one, and this is like when I first came here to the U.S. I wasn't sure about many things. I changed the color many times, spraying colors on the canvas, I tried to add to the composition, but I repainted it over and over. But now I'm more certain and I know what I want for that painting. It's like my experience.
SR: So in your creative process, there's a tie between painting and the act of moving to another country?
RZ: Yes because when I came here in 2016, there was a culture shock and a language barrier. Everything is different. It was a very confusing experience for me– Values about life and society were very different. How people talk about China here and how people talk about the US when I was in China are so different and I didn't know what to believe at first. Now I'm beginning to understand that, although the problems may look different, we're all the same. So I'm not that confused anymore, I'm more calm and my paintings have reflected that.
SR: What kind of research or referential tools do you use during your painting process?
RZ: I've used photography as a reference all the way back to my 2015 hospital series. I brought my mirror to the hospital and put plastic sheets over it so you can see the space through the plastic sheet and photographed the mirror. I became very interested in that process and how photography can influence me. I eventually thought to myself, "Why not just paint photo stuck on the wall? Why not paint the whole process?" I remember reading about Hitchcock's Family Plot, where a character stole a diamond and hides it in a chandelier. This is like how I see painting, it's half obvious and half not obvious. You let the viewer have a clue but you don't need tell the whole information. This drives my practice.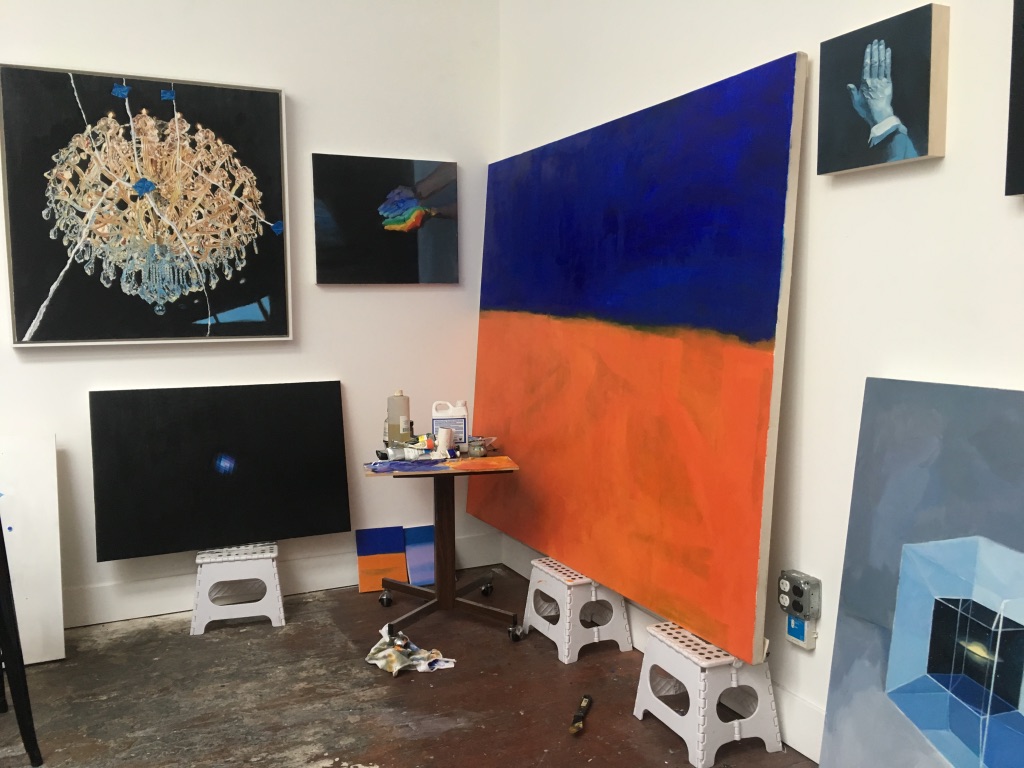 SR: How did you hear about and get involved with Root Division?
RZ: After I graduated I really wanted to find a space in San Francisco. I found out about Root Division through a friend who was a studio artist here. I've now been here since June and it is a really good community with many opportunities for artists. I'm now teaching an oil painting class here in January.
SR: How has your work developed during your time here at Root Division?
RZ: It's allowed me to paint more now after I graduated from CCA. I can paint everyday. I feel guilty if I don't paint. If I have energy I feel like it should be used towards painting. This was something that developed since I came here.
Be sure to check out Ruxue Zhang's solo exhibition Burden of Representation in the Frank-Ratchye Studio Artist Project Space at Root Division at its opening reception on January 12 from 7-10pm. Ruxue Zhang: Burden of Representation is on view for the month of January during regular gallery hours.