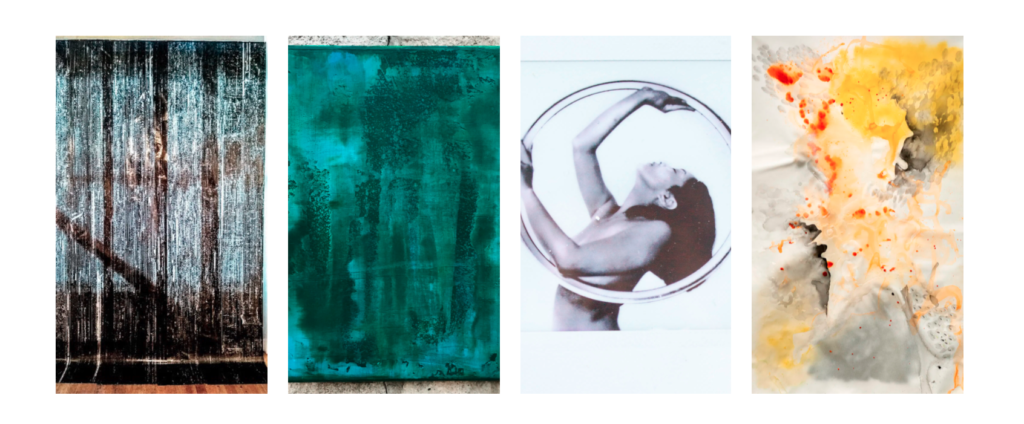 Join us for Root Division's 19th Annual Art Auction! As we traverse the last leg of 2020, this is the perfect opportunity to directly support artists and Root Division during these unprecedented times. A plethora of new original artwork created by prominent emerging and established Bay Area artists are now physically on view in person at Root Division and available online for purchase October 22nd, 2020 sign up here!
Your contributions are essential! Proceeds benefit local artists, free art classes for Bay Area youth, and the sustainability of Root Division's mission of preserving arts and culture via the direct support of artists in San Francisco.
With the 19th Annual Art Auction soon approaching, complete with over 100+ artworks online and in person, Exhibitions Fellow Chanell Stone selected four artworks by Root Division Studio Artists to keep your eyes on: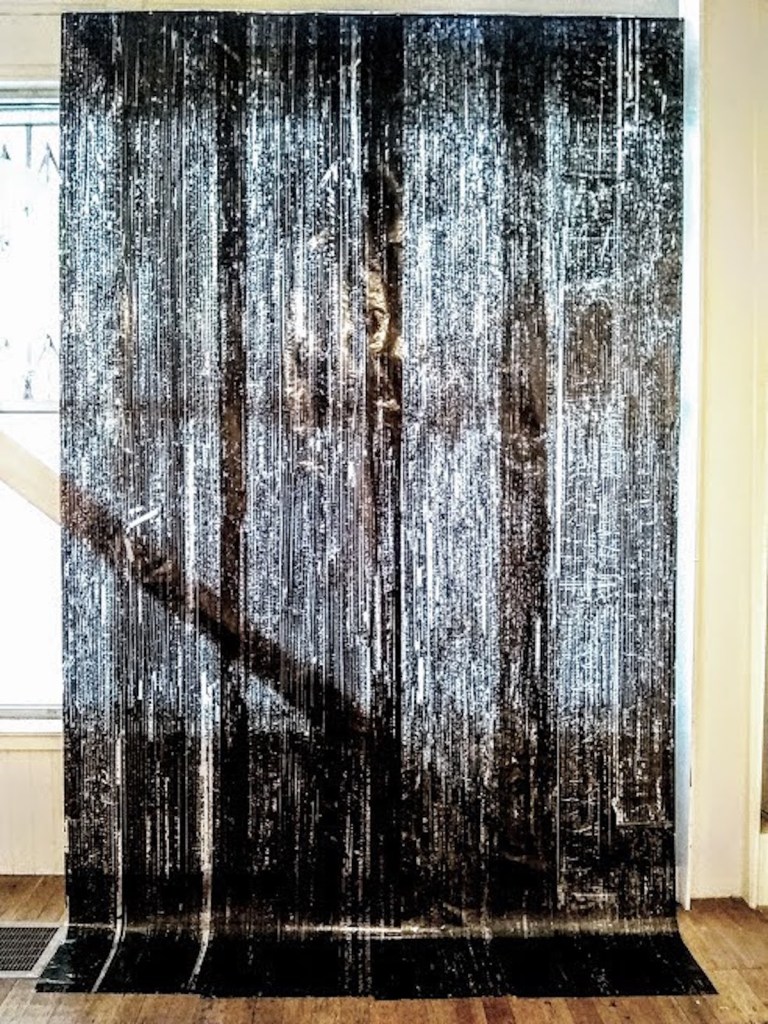 "Currently, I have been selecting material that has a crucial significance with my past memories. The act of making, cutting, twisting, tearing, wrapping, heating, burning, and/or banging provide me with a sense of healing and acceptance." – Joshua Solis
Joshua Solis' interdisciplinary practice includes drawing, painting, sculpture, installation, photography, video projections, and performance. These labor intensive and destructive processes that are associated with violence or torture have allowed Solis' memories to be reawakened and amplified. Solis' beautiful and intrinsic site-specific artwork Breakdown, made from deconstructed VHS tape, is available for acquisition in this year's auction. A perfect invitation to sit and live with the artwork unmediated and undivided.
"Do we exist to experience pain and suffering in order to gain the pleasure of existence?"
– Rafael Bustillos
Born and raised in Culiacan, Sinaloa, Mexico, Rafael Bustillos moved from Mexico to the United States in 1999. His interest in studying the behavior of humans began while teaching literacy to children and adolescents at the Culiacan reformatory centre in Mexico. In California, he provided psychotherapist services to various age groups, non-profit institutes, schools and counseling centers. Bustillo's art practice explores the language of materiality. Materials speak a mute language. This silence allows Bustillos to understand this suffering within human existence. He is currently making paintings and sculptures by using utilitarian materials that are commonly used to build homes. Before Blue is a beautiful meditation of this expression made with vivid rich acrylic on canvas.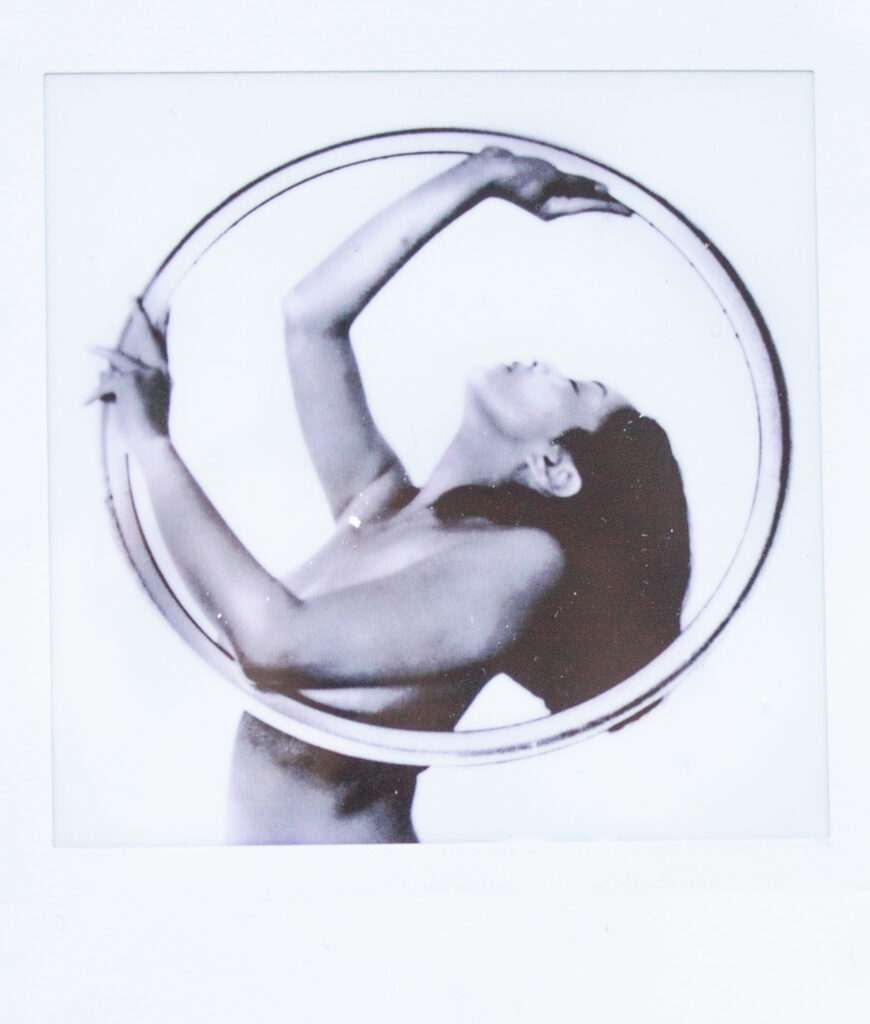 "I reject the notion of monolithic hxstory and seek to disrupt Eurocentric knowing through pieces that center silences and invisibilities that are local, global, personal and familial."
– Angela Hien Buencamino Phung
Angela Buencamino Phung's practice is informed by being a daughter of the diaspora and her concern with intergenerational knowledge. The complex textures unwound in the work are meant to be invitations to engage the audience with a question of how we might reckon with our species-wide epidemic of violence. Phung's fluidity as an artist, community member, educator, and learner are grounded in a persistent curiosity about the potential of a collective imagination. Soft Bounds; Untangling embodies this ethos by way of the ephemeral preciousness of the polaroid photograph.
"My work, in both the making process and finished product, explores vulnerability, beauty, feminism, and the physical manifestations of experience on the body." – Makiko Harris
Makiko Harris's artwork takes a critical view of social and cultural issues about gender identity / feminism, consumerism, and the medical industries. Using material to lend meaning to the work, she explores how everyday objects, looked at through the lens of fine art, can symbolize much larger cultural concepts. The goal is to provoke the viewer into reconsidering a concept they may have taken for granted and to bring to light potentially dark undercurrents of the status quo. "Truth or Consequences #5" is made using unstretched canvas as a parallel for skin wherein it was trampled, scraped, flooded, and burned with the intent to impart life experiences onto the canvas. This work asks: How resilient is the body? When our bodies reveal our reality through signs of aging or trauma such as sagging, wrinkling, stretch marks, or scars, do they become more or less beautiful?
Join first-time and seasoned collectors in bidding on over 100 works by established and emerging Bay Area artists at Root Division's 19th Annual Benefit Art Auction online October 22nd. Get tickets here!